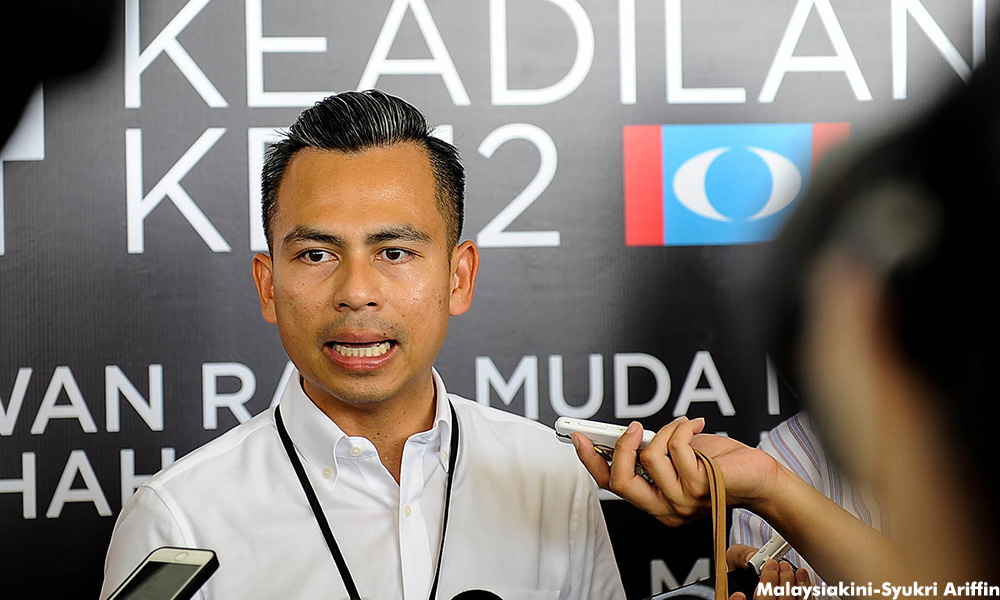 The poser from the prime minister's press secretary, Tengku Sarifuddin Tengku Ahmad, as to whether the DAP can use its logo in the next general election is nothing but a "desperado" political act that also goes against principles of democracy, PKR communications director Fahmi Fadzil said today.
His criticism came after Tengku Sariffuddin, in pushing aside DAP lawmaker Liew Chin Tong's scathing analysis of Prime Minister Najib Abdul Razak's position,
told Liew
and his party colleagues to focus on the DAP's internal matters, such as the use of its logo.
Fahmi in a statement today noted that Tengku Sarifuddin (photo, below) did not answer Liew's analysis and had instead shown that there were hidden hands that could influence the Registrar of Societies (ROS) on the DAP's status as a registered party.
DAP's status as a party is reportedly in limbo, after its 2012 party election was disputed due to irregularities.
"I hope Malaysians won't be surprised to see not only politicians and activists getting arrested come the general election but also political parties like the DAP getting banned, too.
"The prime minister's press secretary's statement has proven what PKR and other opposition parties have been saying – that this regime would do anything, including the abuse of power, to ensure that it will win in the 14th general election.
"I just didn't expect that he would admit it in the open, like this," Fahmi added.
Analysis branded as 'fake news'
Liew, in his
analysis
, claimed that Najib was in a weakened state despite the initial proclamations that he was "unsinkable".
However, Tengku Sarifuddin branded the analysis as "fake news" and asked the DAP lawmaker to focus instead on his party's "serious predicament".
Apart from highlighting DAP's use of its logo in the next election, Tengku Sarifuddin said DAP should ask "Penang Official 1" to resign, get party veteran Lim Kit Siang to quit and install DAP's maverick Kepong MP Tan Seng Giaw as the party's new leader.
The term "Penang Official 1" was coined by Tengku Sarifuddin in reference to Chief Minister Lim Guan Eng as a counter to "Malaysian Official 1", which the US Department of Justice (DOJ) claimed was a beneficiary of allegedly stolen 1MDB funds and which the opposition has used as fodder.
Minister in the Prime Minister's Department Abdul Rahman Dahlan had confirmed that "Malaysian Official 1" is Prime Minister Najib Abdul Razak.
However, Najib denied any wrongdoing or taking public funds for personal gain.
Guan Eng, on the other hand, is facing two charges of graft, which he claimed were politically motivated. - mkini