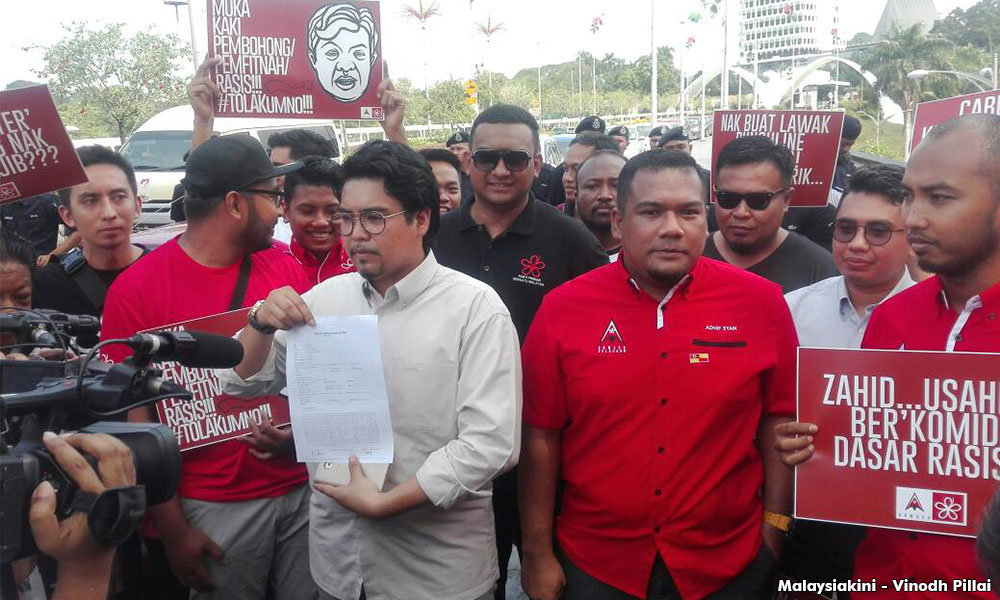 Parti Pribumi Bersatu Malaysia (Bersatu) Youth have urged Deputy Prime Minister Ahmad Zahid Hamidi and National Registration Department (NRD) director-general Mohd Yazid Ramli to apologise for making erroneous claims over their leader's identity card.
The demand was made during a protest in front of Parliament by some 20 Bersatu Youth members. They said Zahid and Yazid had one week to do so, but did not elaborate on what they will do if the duo did not comply.
On Sunday, Zahid attempted to discredit Bersatu chairperson Dr Mahathir Mohamad's Malay credentials by claiming that he had sighted the latter's identity card, which bore the name "
Mahathir A/L Iskandar Kutty
".
Zahid had said this during the Kelana Jaya Umno division annual general meeting, where he also waved his phone and said contained a photograph of the said identity card, which he received from the NRD.
Bersatu Youth Federal Territory chief Zahin Zainal said both Zahid and the NRD had acted irresponsibly and compromised their credibility as public officials.
"We have gathered here today for two things. First, we want Zahid to publicly apologise for what he said.
"Secondly, we want Yazid to release a statement explaining why he gave out such information, and whether or not these accusations are true," he told reporters.
He said that it would be embarrassing for the government if Zahid and Yazid's actions were to become the norm.
"Has he (Yazid) forgotten about the Personal Data Protection Act 2010?" asked Zahin.
When asked if Bersatu Youth would take legal action, Zahin said that this route would not be taken for now.
"We want to resolve this professionally first.
"We understand he (Zahid) is very busy now with Parliament but we will give him one week to respond and publicly apologise," he said.
Dr Mahathir Mohamad said yesterday that Zahid was a "kaki pembohong (liar)" and challenged him to make public the said identity card.