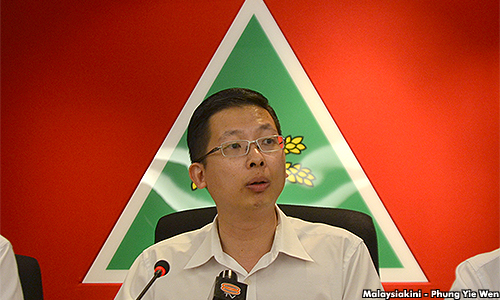 Gerakan Youth chief Tan Keng Liang has urged DAP to adhere to the Registrar of Societies' (ROS) instruction for the party to hold a fresh election for its central executive committee (CEC).
Furthermore, he said DAP should not be concerned about delegates re-electing secretary-general Lim Guan Eng if the latter is innocent of the corruption charges against him.
He was commenting on DAP's legal bureau chief Gobind Singh Deo confirming that the party received an official notification from the ROS regarding the re-election this morning.
"Finally, DAP admits receiving a letter from ROS.
"Can you please proceed with a proper party election and end the drama," said Tan in a tweet, in which he tagged Guan Eng and his father Lim Kit Siang.
"DAP should have faith in delegates to re-elect him (Guan Eng) if (he is) really innocent of corruption charges in court. No worries if innocent," he added.
Tan also pointed out that since it was DAP's members who filed complaints against the previous CEC elections, the party should abide by the ROS' decision.
"Even Umno was not above the law in the 1980s and complied with ROS' rulings," he said, referring to the crisis in Umno during that period.
Earlier, Gobind said the CEC would meet this Wednesday to discuss the contents of the ROS letter and would issue a statement later.
On July 7, ROS director-general Mohammad Razin Abdullah issued a statement saying it has no intention of deregistering DAP, but the party should hold a fresh election for its CEC members.
DAP then issued the 48-hour ultimatum to the ROS to send its notice after the party said it did not receive an official letter from the registrar.
The ROS had stated that it did not recognise the CEC election on Sept 29, 2013, as it failed to meet legal requirements.
On June 30 last year, Guan Eng pleaded not guilty to charges of corruption in the conversion of land from agriculture to housing, and the purchase of a plot of land and bungalow at below market value.
For the first charge, Guan Eng was accused as a civil servant of using his position to obtain gratification for himself and his wife, Betty Chew Gek Cheng, by approving the conversion of agricultural land to residential in the south-west of Penang for a company, Magnificient Emblem Sdn Bhd.
He was charged under Section 23 of the MACC Act 2009 which provides for a jail-term of up to 20 years and a fine of not less than five times the amount of graft involved, or RM10,000, whichever is higher, upon conviction.
On the second charge, Guan Eng was accused as a civil servant of obtaining for himself a plot of land and a bungalow at No 25, Jalan Pinhorn, George Town, at a price which he knew did not commensurate with its value from businesswoman Phang Li Koon, at RM2.8 million, when its market value at the time was RM4.27 million.
Meanwhile, Phang, as the former owner of the bungalow, pleaded not guilty to charges of conspiring with Lim for him to obtain the bungalow at below market price at the same place and date.
The businesswoman was charged under Section 109 of the Penal Code read together with Section 165, which provides for a jail term of up to two years, or fine, or both, if convicted.- Mkini