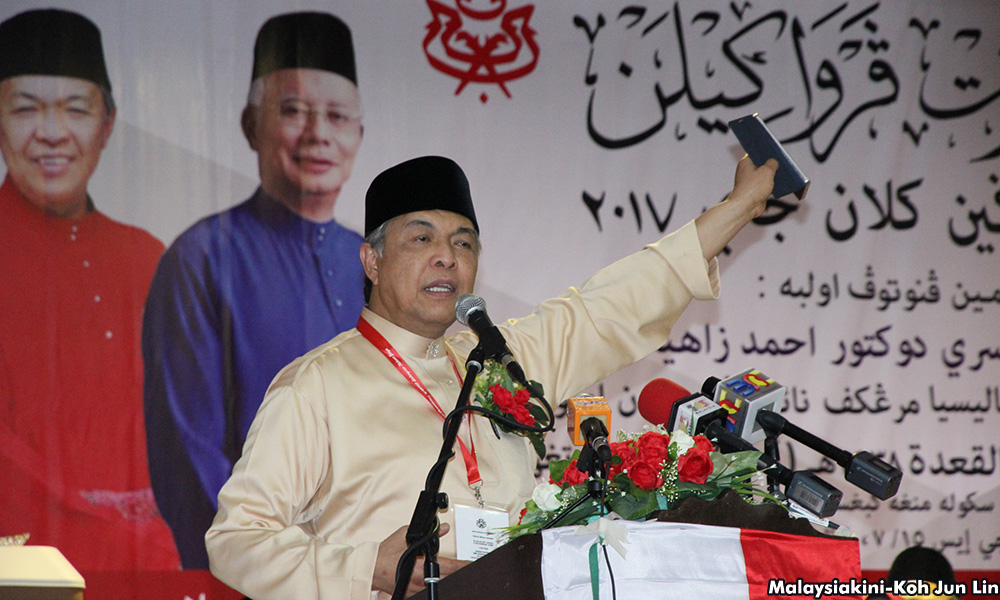 You could hear the pin drop when Ahmad Zahid Hamidi flashed the blue IC of Dr Mahathir Mohamad.
That his true name was Mahathir Anak Lelaki Iskandar Kutty. This in an Umno event and assembly. Many, in light, but bated breath would have said: "Astaghfirullah." (May God forgive). Never mind that Iskandar is actually Mahathir's grandfather.
Melayu mudah lupa? Malays are forgetful? No. The Malays are polite and gentle people, with a strong cultural memory. Tradition, from fasting to prayers, mean a lot to them. Where they become absent minded is when they leaders lead them astray.
Indeed, in every culture that is soft and genteel, insulting a person is a big taboo. By trying to insult Mahathir and his parents and even his grandparents, Umno has lost their plot. They are antagonizing their own followers with mixed parentage.
In fact, the beauty of Malaysia is out unique combo. Tunku Abdul Rahman was a mix of Malay and Siamese blood. He had Chinese wife too. Razak was of Bugis pedigree. Hussein Onn being the Turkic and Malay. Abdullah claims to have Hainan lineage. Najib himself declared he was a Bugis warrior? Zahid Hamidi himself of Javanese origin and has an adopted Chinese foster mother by his own admission.
Yet in spite of this history and personal pedigree, they were the first to forget that in Islam, it is not what colours of the skin you have, but the contents of your merits as the Prophet Muhammad (peace be upon him) said in his Last Pilgrimage.
But Zahid cannot be blamed for his wild and vile attack on Mahathir.
He is under pressure from Najib to attack all and sundry in opposition. Why? For the first time in decades, Najib knows that powers are slipping away from their hands. His political secretaries see their own positions and powers slipping away by the minute and day.
They know because the crowd are not cheering when the leaders defend their vile actions. They know because their own Umno members have to be given many incentives, such as free bus trips and foods, and drinks before they make their way to these events.
Even after they consume the food and drinks, the members too will doubt if the sources came from halal money in Umno?
Why did the Umno crowd react in such a way? They are both embarrassed and ashamed. And, if Zahid has had to stoop so low to tar a national icon, such childish tactics are bound to boomerang on Umno, and it will. The crowds in Umno are already thinking, while the rallies in Bersatu and Pakatan Harapan are swelling.
The true Umno members know in their hearts of heart that Umno is going backwards, as indeed Zahid did, by even reading out the personal IC numbers of Mahathir -- the first by any home minister as the role of a high official is to protect the information of all citizens without fail.
Still, the more missteps they make, the more the opposition knows Harapan is in the right direction and getting stronger and stronger.
Invariably, when we follow the footsteps of Mahathir and reject tyranny and corruption wholesale, we are all Anak Lelaki Malaysia Jati.
Indeed, Anak Anak Malaysia, full stop. As things are, there will be a Malay and Malaysian tsunami, building and ready, to sweep the corruption away. For the first time too, one of Umno's own members Tajuddin Abdul Rahman has warned that Umno has to be ready for a Malay tsunami. And, Tajuddin is from Pasir Salak, Perak, the home state of Zahid.
The parliamentary area where Maharajalela rose in rebellion against James WW Birch, by killing him while he was taking a shower in the Perak River. That's what history teaches when Malay anger hits a crescendo after much patience. And the anger is aimed inward towards Umno, and flowing out to opposition, from a trickle to a torrent.
---
RAIS HUSSIN is a supreme council member of Parti Peribumi Bersatu Malaysia (Bersatu). He also heads the party's policy and strategy bureau.- Mkini