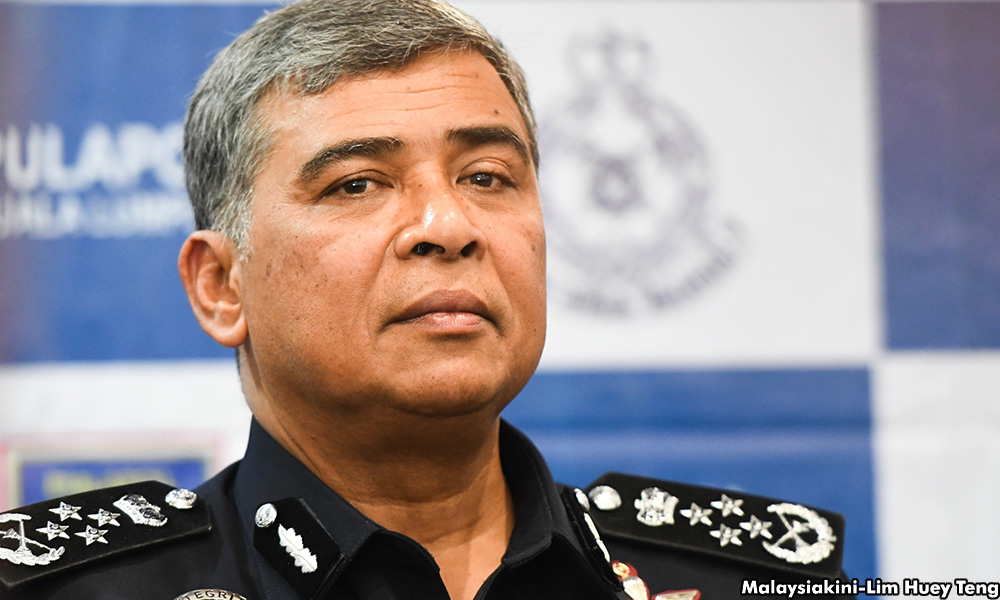 YOURSAY
| 'This case could alter the course of M'sian history if Azmin is successful.'
Fellow Malaysian
: Selangor Menteri Besar Mohamed Azmin Ali has decided to take legal action against inspector-general of police (IGP) Khalid Abu Bakar after the latter ignored his notice of demand to pursue and extradite controversial businessperson Low Taek Jho.
It is hard to imagine how a democratic country with a slew of arcane laws could not even bring back its very own subject to face criminal charges ranging from misappropriation of state funds to money laundering, when no less than six other countries' financial and legal regulators have filed court actions or convicted persons found guilty of crimes related to 1MDB.
How the IGP and attorney-general could remain detached and unperturbed is beyond comprehension. Out of sheer hopelessness did someone like Azmin Ali resort to challenging the IGP in court and, hopefully, bringing him out of his stupor.
Kim Quek:
This is an important case that will alter the course of Malaysian history, if pursued fruitfully.
A judicial decision in favour of rule of law will check this unrelenting downward trend in alleged corruption and abuse of power, and set this country on the course of recovery from the current state of lawlessness, if such judicial integrity can be sustained.
We sincerely hope that the judiciary will rise to the occasion to give this country a much-needed uplift while restoring its once-illustrious image.
And since this is such an important case, no effort should be spared to tap into the best legal brains for a formidable legal challenge.
Hamzah Paiman:
All the best lawyers in the country should pool their resources together and work on this case. It is extremely important to right the wrongs that have been committed, so that the country follows the rule of law.
6th Generation Immigrant:
It's the right legal move on the IGP. Currently, the specific case is related to Jho Low, but if one scrutinises it thoroughly, it's the Federal Constitution that the IGP has allegedly failed to observe on many occasions.
Even the country's Yang di-Pertuan Agong and deputy Agong swear allegiance to protect the Federal Constitution.
In fact, the IGP's oath of office goes something like this: "I, (name), having been elected/appointed to the office of (name of office) do solemnly swear/affirm that I will faithfully discharge the duties of that office to the best of my ability, that I will bear true faith and allegiance to Malaysia and will preserve, protect and defend the constitution."
CQ Muar:
This is the way to go, Azmin. Don't let this IGP behave as if he is invulnerable and above the law. After all, he's just another law-enforcer insofar as we are concerned, who is paid using taxpayers' money.
In other words, he is just another employee of the government, who should be serving and discharging his duty without discrimination, justly and equally without fear or favour. He should remain impartial.
Anonymous Hotplate:
In Malaysia, can legal action be taken against the IGP? Although he is actually a government servant who is paid with the rakyat's money, most of these government servants often appear untouchable.
Newday:
I'm not sure how you can sue the IGP on the basis that he hasn't made an effort to get Jho Low. There are no charges against him in Malaysia that I am aware of, so how can you sue? He should be charged, but there is nothing now, so it's pointless.
Don't Just Talk:
Azmin, why do you throw good money after bad by issuing a legal notice of demand on the IGP for not pursuing and to extradite Jho Low in relation to the 1MDB financial scandal, when the attorney-general Mohamed Apandi Ali has said that there is lack of evidence on the matter, except allegations and attempts to topple the ruling government?
To extract and charge Jho Low would open a can of worms involving many parties and the best thing to do is to hear no evil, see no evil and speak no evil.
Annonymous:
Great job Azmin! The suffering victims and good people of Malaysia and the whole world are with you and strongly support you.
Please prepare your case and subpoena all those responsible to court. Pour out everything from the US Department of Justice, the convictions in Singapore, Switzerland, the Public Accounts Committee's report, the attorney-general's report in the courts.
May Allah walk with you to do justice for the people and save the country. - Mkini