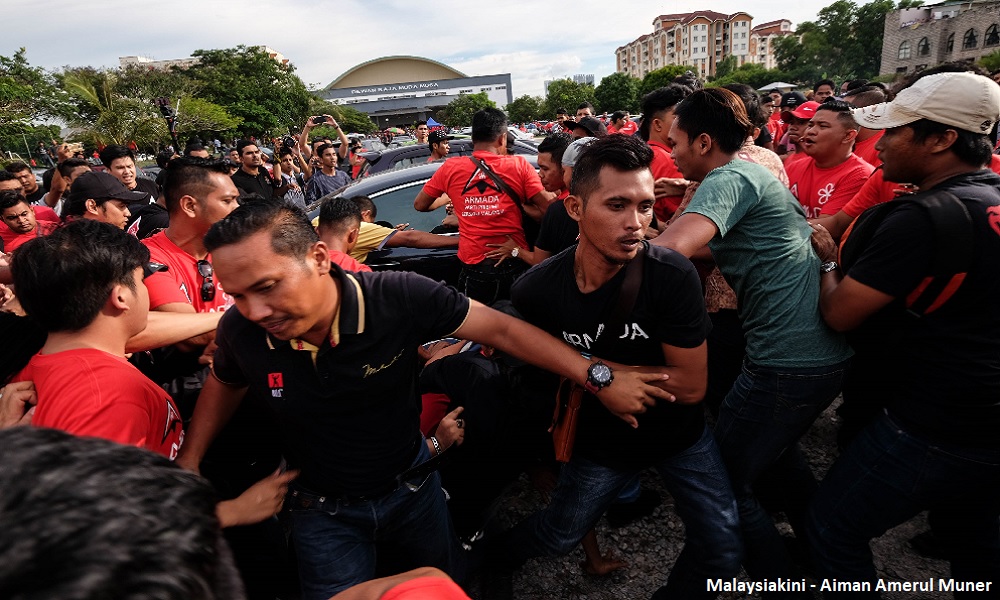 The Nothing to Hide 2 forum organised by Parti Pribumi Bersatu Malaysia (Bersatu) descended into pandemonium after an unidentified person threw a slipper at the party's chairperson Dr Mahathir Mohamad.
Bersatu had invited Najib Abdul Razak to debate Mahathir at the Shah Alam function but with the prime minister not expected to attend, it was initially a one-sided affair.
The event got off to a slow start with Mahathir churning his usual salvos against Najib but something appeared amiss during the question and answer session as several confrontational questions were hurled at Mahathir.
While Mahathir was answering a question on the Memali tragedy, a slipper was suddenly hurled in his direction.
The situation quickly escalated as Bersatu supporters countered and soon chairs were also flying in the hall.
At least two flares were also released at the venue.
Security personnel quickly scrambled to protect Mahathir.
A fight ensued between Bersatu members and the unidentified provocateurs which quickly spilled outside the venue and into the parking lot.
Sporadic fighting took place outside the hall as suspected troublemakers were pursued.
Bersatu supporters later detained at least two suspected troublemakers, who appeared to have suffered some beating.
They were later handed to the police.
- Mkini