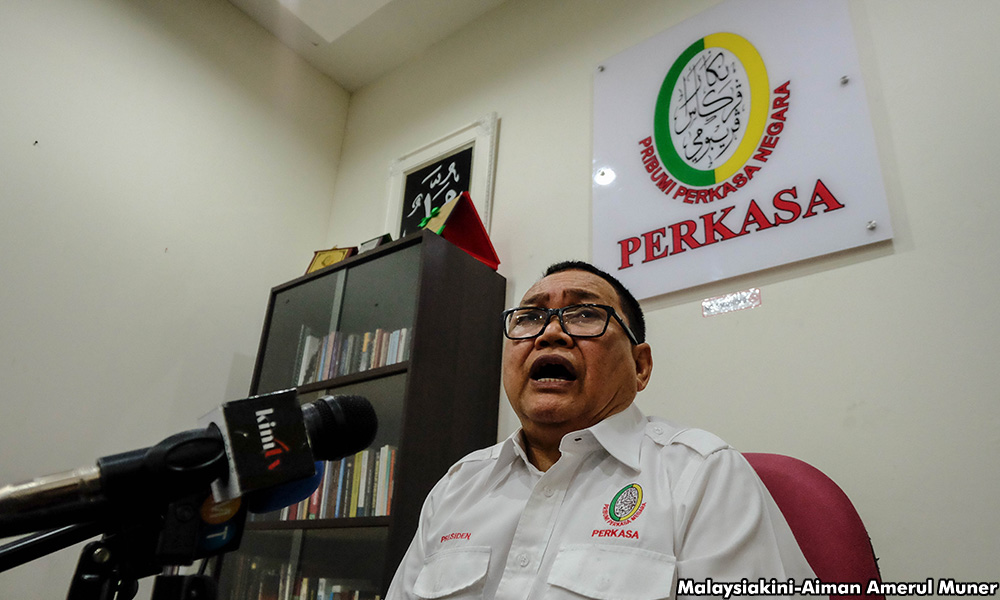 Perkasa president Ibrahim Ali has likened Deputy Prime Minister Ahmad Zahid Hamidi's swipe at Dr Mahathir Mohamad's lineage to firing blanks.
He said if Zahid wanted to open fire at the former premier under the present political climate, he should use "chemical weapons".
"Make sure when you fire at someone, the person is dead.
"Don't fire with blanks, the person shot at does not die, but the person who shoots dies instead," he told a press conference in Kuala Lumpur.
Ibrahim also said Zahid should not have resorted to such attacks against Mahathir as it is not befitting of his position.
"A person who has reached the level of DPM or PM, or even minister, must display statesman-like behaviour...," he added.
On the same note, the former Pasir Mas MP believes that Zahid's remarks regarding Mahathir had stemmed from the deputy prime minister's inability to keep his emotions in check.
"I believe Zahid failed to control his emotions to the point of raising an issue which has incensed the people," he added.
Ibrahim also said there is nothing wrong if Zahid apologised to Mahathir, adding that as a top government leader, he must set an example for the younger generation.
"There is nothing wrong with Zahid apologising. There is nothing to lose by apologising," he added.
Speaking at an Umno event over the weekend, the deputy prime minister claimed he had
seen a copy
of Mahathir's identity card which purportedly bore the name "Mahathir a/l Iskandar Kutty".
The patronym "a/l" (short for 'anak lelaki', meaning 'son of') is commonly used by Indian Malaysians, although it is also used by some indigenous groups. "Kutty" is a common Tamil name.
Malay male names normally carry the "bin" title instead, which is the Arabic term meaning "son of".
Zahid said that he had received a copy of the so-called identity card from the National Registration Department director-general.
However, Zahid came under fire for revealing personal data for political purposes, resulting in police reports being lodged against him.
Yesterday, Mahathir branded Zahid a "
liar
" and dared him to produce the so-called identity card.- Mkini