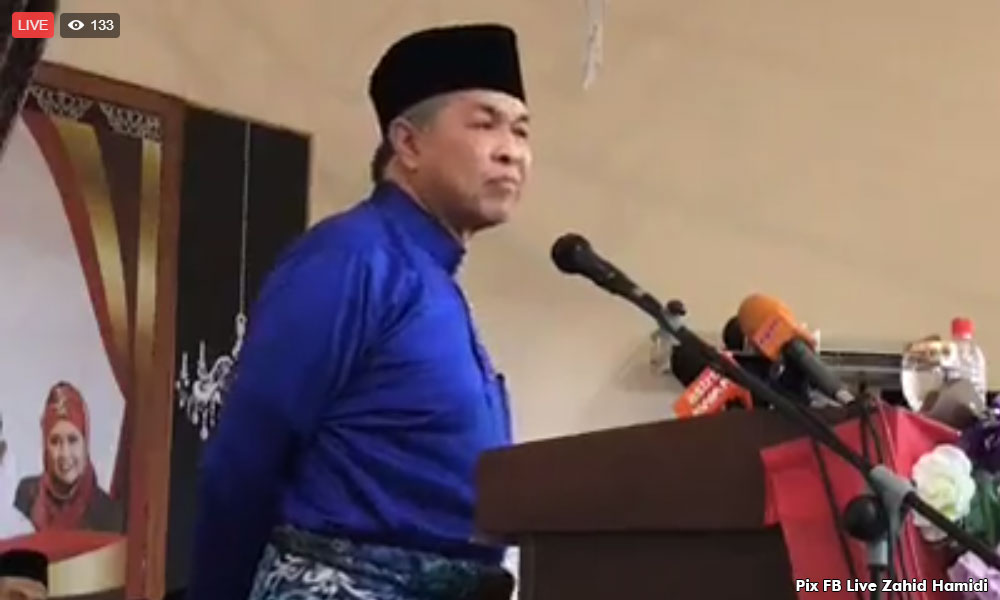 Deputy Prime Minister Ahmad Zahid Hamidi claimed he was forced to resign as Umno Youth chief while under Internal Security Act 1960 (ISA) detention in 1998.
Zahid said he was never liked by the then Umno president Dr Mahathir Mohamad and therefore not favoured to win the Umno Youth chief election two years earlier.
"The Umno president at the time was never happy that I won and he did not want me to be the Youth chief. So I only held the post for about two years.
"And because that person did not like me, a way was found to kick me out of the Umno Youth chief post," Zahid said in his speech at the Jerlun Umno division annual general meeting today.
He said he complied with the request because he felt that he might no longer be needed by the party or that he was now considered a "pain in the neck".
"When the police came to my detention cell and asked for my letter to be forwarded to the Umno leaders, the next night they came again to ask for another letter.
"The second letter was to force me to state that I did not sign the letter under duress," he recalled.
Zahid was arrested under the ISA and held for 11 days following the start of the Reformasi movement, triggered by the sacking of Anwar Ibrahim as deputy prime minister.
Upon his release, Zahid immediately held a press conference to formally announce his resignation.
He told the Jerlun Umno division today that although he felt mistreated and received overtures from PAS at the time, prayers and advice from then PAS advisor Harun Din, he followed the dictates of his heart and remained in Umno.
Loyalty, said Zahid, was always a principle of his.
"Although I was thrown into the ISA. I have never left Umno. I have never set up a new party to attack Umno from outside," he said.
On Sunday, Zahid caused a stir by drawing attention to Mahathir's "
Indian ancestry
" and accused Mahathir of using the Malays to achieve his personal agendas. - Mkini