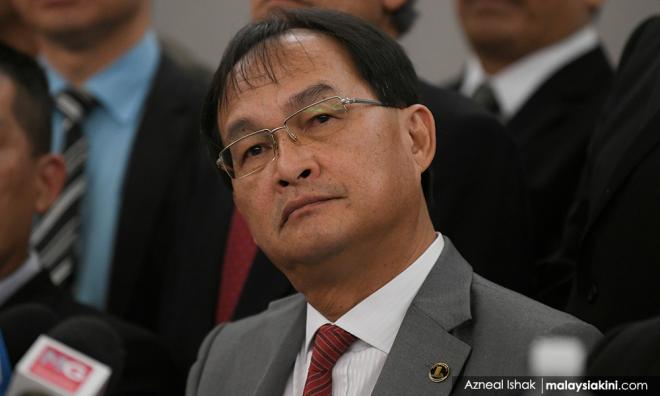 Works Minister Baru Bian has declined to comment on PKR's decision to sack his former political secretary Zakaria Abd Hamid over allegations of corruption and bribery.
"No political questions today," Baru (photo) said when asked by reporters about Zakaria's sacking in a press conference in Kuala Lumpur today.
He was at the Works Ministry in Kuala Lumpur to witness the handover of letters of acceptance to work package contractors and Pan Borneo Highway project consultants.
Zakaria, who was the Bera PKR chief, was sacked on Nov 24 after the party was advised by the MACC via a letter dated Oct 23, 2019.
Zakaria was said to have offered contracts worth RM20,000 and allocations amounting to at least RM300,000 at a meeting with local leaders on Sept 1, around the time he was running for a seat in the PKR central leadership council.
Baru was reported to have said at that time that if the allegation was true, it cannot be tolerated and must be investigated.
However, Zakaria has since
claimed
he was sacked from PKR without being given the chance to defend himself.
Baru also declined to comment on other issues related to the PKR infighting between PKR president Anwar Ibrahim's faction and PKR deputy president Azmin Ali's faction.
"I have no comment, don't ask me about politics," he said.
Reporters also pressed him about speculation that there would be a separate, "parallel" congress held by Azmin's camp in Kuala Lumpur aside from the PKR congress scheduled to be held in Malacca over this coming weekend.
"That one, I do not want to comment," he said.
When asked whether he was aware of such speculation, he again declined to comment.
There have been rumours going around that a group aligned to Azmin plans to hold their own congress on the same day as the party's national congress.
PKR Advisory Council chairperson Dr Wan Azizah Wan Ismail has since said that there will only be
one official
national congress for the party, which is the one held in Malacca from Dec 5-8. - Mkini