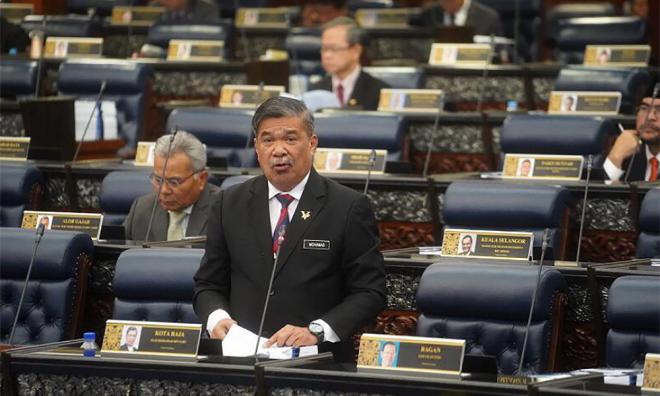 PARLIAMENT
| The government will amend a paragraph in its Defence White Paper tabled in the Dewan Rakyat today to omit the reference to 12 individuals arrested for alleged support of the Liberation Tiger of Tamil Eelam (LTTE).
Defence Minister Mohamad Sabu (above) said this in response to Wong Hon Wai (Harapan-Bukit Bendera) who raised the issue during his debate of the white paper this afternoon.
"We take note and we will amend that paragraph to not make reference to any parties," he said in his winding-up speech this afternoon.
The Defence White Paper was later passed.
Wong earlier referred to a paragraph on page 25 of the 90-page document which stated, as an example of a terrorist threat, the arrests of 12 individuals including two DAP state assemblypersons.
He argued that the case is still in court and could be considered as sub judice.
Shahidan Kassim (BN-Arau) stood up and agreed with Wong, although he added that matters surrounding 1MDB had been discussed in Parliament despite an ongoing court case.
Wong, in response, merely said: "I read through the white paper from the first page to the end, I didn't see the word 1MDB."
Meanwhile, Mohamad also addressed questions from opposition lawmakers on the government's commitment to fund plans and projects outlined in the white paper.
In their debates, lawmakers from Umno, PAS and GPS raised questions over the apparent lack of details in terms of budget required to procure more defence assets and develop local capacities to meet the goals listed.
Mohamad admitted that there were no specific amounts stated in the white paper as it was drafted as a general policy guideline.
He said the white paper could be seen as the government's letter of intent, but efforts are also being made to ensure adequate fundings for its 10-year plan.
"We stated in general that we need about 6.5 percent from the annual budget.
"Under the 12th and 13th Malaysia Plan, the Defence Ministry has also come up with a procurement plan for assets needed to meet goals in the white paper," he said, adding that discussions are ongoing with the Finance Ministry as well as Economic Affairs Ministry.
Among others, Khairy Jamaluddin (BN-Rembau) and Ahmad Maslan (BN-Pontian) had raised concerns of the government being seen as having no political will to execute its plans, without a clear commitment on total fundings allocated.
Ahmad and Azman Ismail (Harapan-Kuala Kedah) also questioned Malaysia's readiness to face new cybersecurity threats, an area which Mohamad said the white paper intended to address.