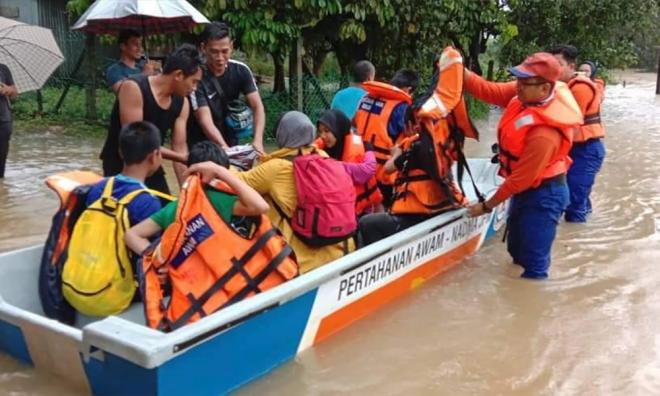 The number of flood victims in Terengganu continues to increase to 5,935 people from 1,796 families compared with 5,807 people (1,719 families) this morning.
Another five temporary relief centres were opened in seven districts, bringing the total number in operation to 126 centres.
Terengganu Civil Defence Force Director Che Adam A Rahman said Besut, the worst affected area, continued to record an increase in the number of evacuees to 1,927 (520 families) at 52 relief centres compared to 1,787 people (484 families) in 45 centres earlier.
"The number of flood victims in Setiu rose to 1,795 people (545 families) at 31 relief centres compared to 1,691 people (523 families) at 28 centres this morning.
"However, the number of flood victims in Hulu Terengganu dropped to 1,600 people (563 families) compared to 1,751 people (553 families) following seven relief centres that were closed this morning. Currently, a total of 26 centres are operating in the area at the moment," he added.
He said the number of relief centres operating in Dungun remained at eight locations, but there was a slight increase in the number of evacuees from 352 people (from 101 families) to 343 people (98 families) earlier.
In Kuala Nerus, one new relief centre has been opened, which accommodates 23 evacuees (from five families) compared to just 16 people (three families) in the morning.
In addition, in Marang and Kemaman, the number of evacuees is 71 victims (16 families) and 167 people (46 families) who were housed at two and three relief centres respectively.
Meanwhile, the Drainage and Irrigation Department reported on its website that five rivers in three districts have so far exceeded the danger level.
The level of the three rivers located in Setiu, namely the Sungai Nerus in Kampung Langkap is at 22.11m (warning level 21m), Sungai Chalok at Chalok Bridge (8.46m/ warning level 8.40m), and Sungai Setiu at Jambatan Permaisuri (9.10m/warning level 8.80m).
In Hulu Terengganu, Sungai Telemong at Kuala Ping is at 20.81m, which continued to be above the danger point of 19.7m while Sungai Besut at Kampung La was measured at 22.74m (warning level 21.8m).
- Bernama