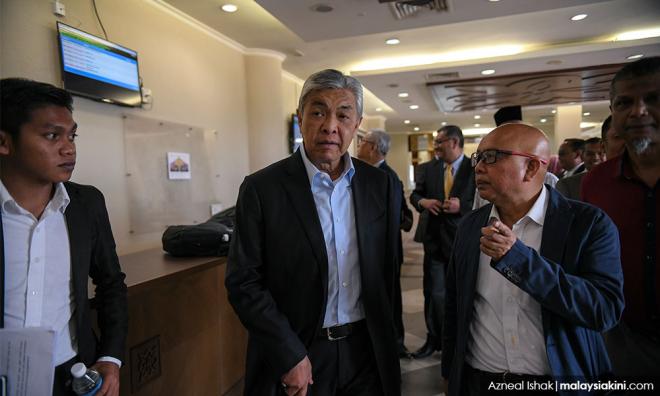 ZAHID TRIAL
| Former deputy prime minister Ahmad Zahid Hamidi did not sign the six cheques used to pay his outstanding credit card bills, the Kuala Lumpur High Court heard today.
Instead, the signatures on the Maybank cheques were made via stamping without his knowledge.
This was revealed by Zahid's lawyer Hisyam Teh Poh Teik during the cross-examination of the ninth witness GS Anoop Singh in the trial which has now entered the fifth day.
Anoop is the Maybank vice-president in charge of credit card fraud and dispute management department.
During the proceeding before Justice Collin Lawrence Sequerah, Hisyam referred to a report by the Chemistry Department dated Feb 28, 2019, which states that of all cheques sent for an analysis it was found that the signatures on 32 cheques were not based on handwriting.
They included the six cheques mentioned by Anoop in his previous statement.
"The signatures in question showed similar characteristics. Hence, these signatures were produced using a stamp," said the report.
The report added that the six cheques corresponded with each other in design, size, alignment and spacing, which led the chemist to conclude that the signatures could have been made using the same stamp.
However, the report could not conclude on the person who authored the signatures.
On the fourth day of the trial on Nov 21, Anoop presented the transaction record of two credit cards and one charge card belonging to Zahid.
The bank recorded RM47,762 in spending, while payments totaling RM65,321.83 were made to the Maybank card centre between Feb 2014 and July 2015.
The payments were made in nine cheques where one cheque was returned to the sender.
Hisyam
: Based on this report, the signatures are not handwritten.
Hisyam also put it to the witness that the six cheques were stamped by Zahid's personal assistant at the time, named Major Mazlina, without his knowledge. To this, Anoop replied: "I don't know."
Zahid is facing 47 charges, including 12 counts of criminal breach of trust, eight counts of receiving gratification, and 27 counts of money laundering involving Yayasan Akalbudi's funds.
All the charges were made under Section 409 of the Penal Code (for criminal breach of trust); Section 16(1)(a)(B) of the MACC Act 2019 (bribery); and Section 4(1)(a) of the Anti-Money Laundering, Terrorism Financing and Proceeds of Unlawful Activities Act 2001 (Amlatfapua).
The trial adjourned to 2.30pm tomorrow. - Mkini