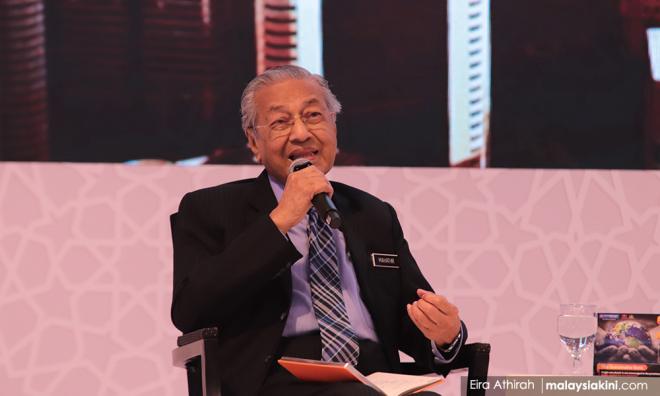 Dr Mahathir Mohamad has defended Pakatan Harapan as an administration committed to eradicating corruption and taking action against those involved in such practices, regardless of their status.
Speaking at a public dialogue with Bank Rakyat chairperson Noripah Kamso this morning, he cautioned that a country plagued by corruption would struggle to progress due to inflated costs.
"Of course, lots of people say, 'well, when you were PM you were also corrupt'. Well, that is the accusation levelled at me, but what is the proof?
"Did I ever buy diamonds or take RM37 million and give to my wife? I didn't.
"In fact, we live a very ordinary life, even my house is not something very grand but still you are accused of corruption. But we have to accept it, the accusations will come (but) what is important is that you don't get corrupted with the power that you wield," he said at the bank's Integrity Forum.
Mahathir was last prime minister from 1981 to 2003 before assuming the role a second time in 2018.
Elaborating, he said there was no corruption at "high levels" in the Harapan administration.
He stressed that combating graft remained a priority.
'Eradication of corruption has been given priority'
"On other things, of course (we) may be inexperienced (and) it takes us a little bit more time to do, but the eradication of corruption has been given priority by this government...
"No one is above the law, even if there is evidence that the prime minister is corrupt, action must be taken.
"People must be free to discuss, to talk (and) to accuse (if) there is evidence. But of course, sometimes the people also make full use of freedom of the press to create fake information, and that we have to deal with," he said.
Mahathir's comments were in response to Noripah's question on what the government's plans were to strengthen ethics, integrity and governance at regulatory and oversight bodies.
Today's dialogue was followed by an integrity oath-swearing ceremony by some 90 Bank Rakyat management officials.
An agency under the Entrepreneurship Development Ministry, the bank also launched its "no gift" policy at the forum. - Mkini