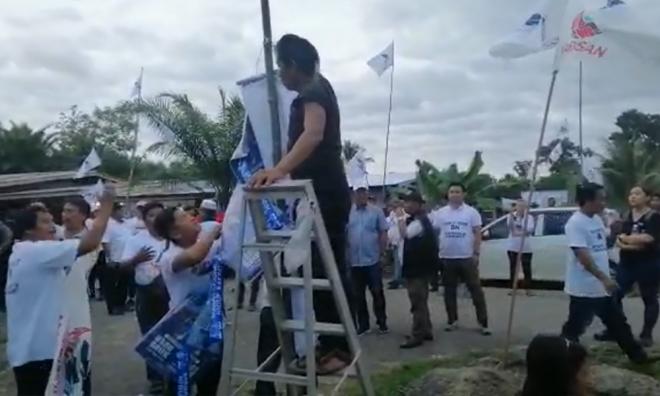 KIMANIS POLLS |
An Umno member today lodged a police report over an incident where a group of Warisan supporters took down BN flags following the defection of Umno members to Warisan, allegedly.
The report was lodged by Awang Hashim Masri at Membakut police station after he saw a viral video clip allegedly featuring Warisan supporters taking down BN flags and posters.
At a press conference today, Sabah BN Youth chief Abdul Aziz Julkarnain said the video clip showed Sabah Infrastructure Development Minister Peter Anthony and Warisan Sukau state assemblyperson Saddi Abdul Rahman at the scene when the incident took place at Pimping yesterday.
"We should uphold the rule of law but they (the group who took down flags and posters) have violated Section 4(a) of the Election Offence Act," Abdul Aziz said, adding that this constitutes a crime.
The video allegedly shows a man climbing up a ladder to take down BN posters and several people were assisting him.
The two lawmakers were purportedly spotted in the video.
Malaysiakini is in the midst of contacting Peter (below) for comments.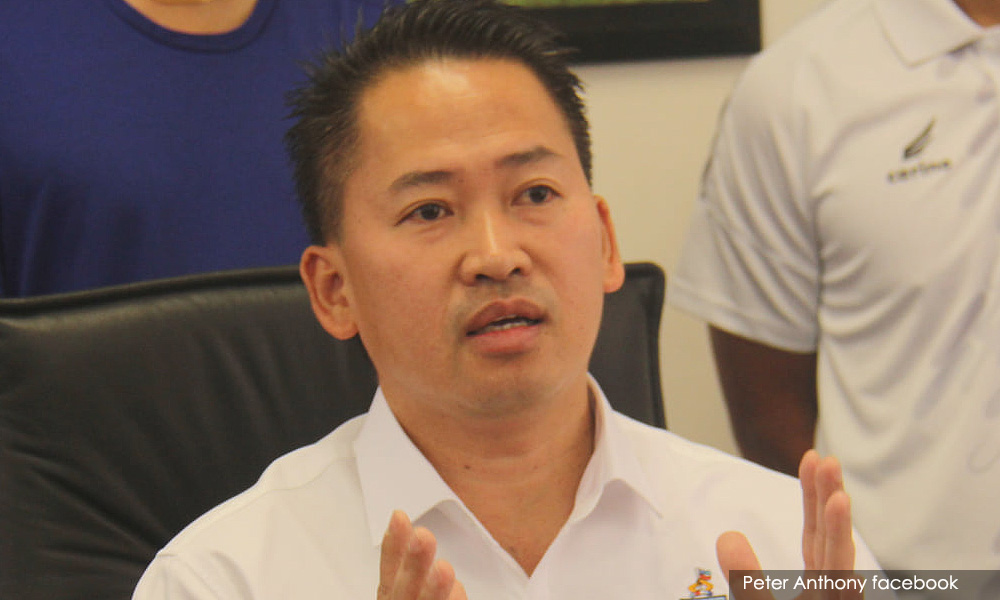 Meanwhile, Abdul Aziz also accused Peter of stoking religious discord when campaigning in the Kadazandusun Murut community.
"We want to lodge (a report) on Peter Anthony uttering certain statements in his speech that could create disharmony among the Muslims and Christians and further stoking religious tension," he said.
In a video clip played at the press conference, Peter was allegedly heard saying BN need to respect the sensitivity of other religions before asking for the locals for support in the by-election.
He was also alleged to have said Umno shouldn't have lodged a police report against a Christmas and New Year celebration event at Membakut on Jan 4.
Umno had lodged the police report not against the Christmas event, but to urge the authorities to probe possible bribery as lucky draws were given out during the Jan 4 celebration, which was the first day of campaigning for the by-election.
Peter, who is also the Kadazandusun Murut Malaysia president, is entrusted to secure the community's votes for Warisan in the Kimanis polls.
The Kadazandusun makes up approximately 45 percent of the Kimanis constituency.
Kimanis is an agricultural district with 29,644 registered voters, where 63.16 percent are Muslim bumiputera, 30.67 percent non-Muslim bumiputera, 3.59 percent Chinese and 2.58 percent others.
The by-election was called after the Election Court voided the Kimanis election results on grounds that the Election Commission (EC) failed to comply with election procedures.
Umno's Anifah Aman had won Kimanis with a razor-thin 156-vote majority in the last general election.
Umno is represented by Mohamad Alamin, who is contesting under BN's banner, while Karim Bujang is representing Warisan. - Mkini