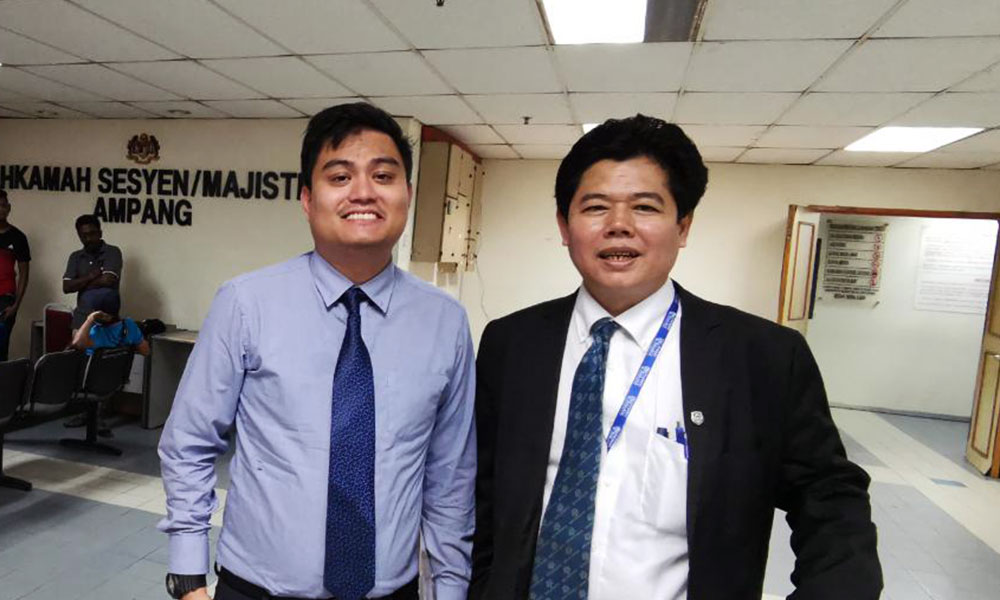 After having his case stretch over two years and handled by four Ampang Sessions Court judges, a blogger has had his charge of putting up an offensive post bearing the image of the former prime minister, dropped.
He was acquitted after the Attorney-General'
s
Chambers agreed to representation by his counsel.
This was informed by Deputy Public Prosecutor Goh Ai Rene to Sessions Court judge Suzana Hussin today.
Abdul Muhaimin Mohd Muhayeddin, 27, was charged on May 18, 2016, with making an offensive Facebook post at his Pangsapuri Ampang Mewah apartment, at 9:45am on Oct 22, 2015. He was arrested with doctored images of Najib.
He had claimed trial to the charge under Section 233 (1) (a) of the Communications and Multimedia Act (CMA) whereby he had denied creating the images, and claimed to only share them.
His lawyer, Syed Iskandar Syed Jaffar Al Mahdzar, told Malaysiakinithat three witnesses including the complainant, who is an Umno Bandar Tun Razak member, testified.
The lawyer said during the trial, the complainant was caught lying when he wrongly named the investigating officer, and was caught lying about his occupation when he was actually unemployed.
Syed Iskandar said he had written a letter of representation last year to then attorney-general Mohamed Apandi Ali but this was rejected.
After the change of government, he had written another letter of representation.
Syed Iskandar further commented that Najib's purported fake image is less important owing that Najib had been arrested and is facing multiple serious charges.
He also said that it was stated that the intention of Parliament passing the CMA Act, was to regulate telephone companies and not individuals.
Abdul Muhaimin, who was elated with being acquitted, said now the tables had been turned against Najib. Now that the former leader is facing charges, Abdul Muhaimin said: "now the whole world knows that you are the real criminal, and not me, an ordinary citizen". -Mkini