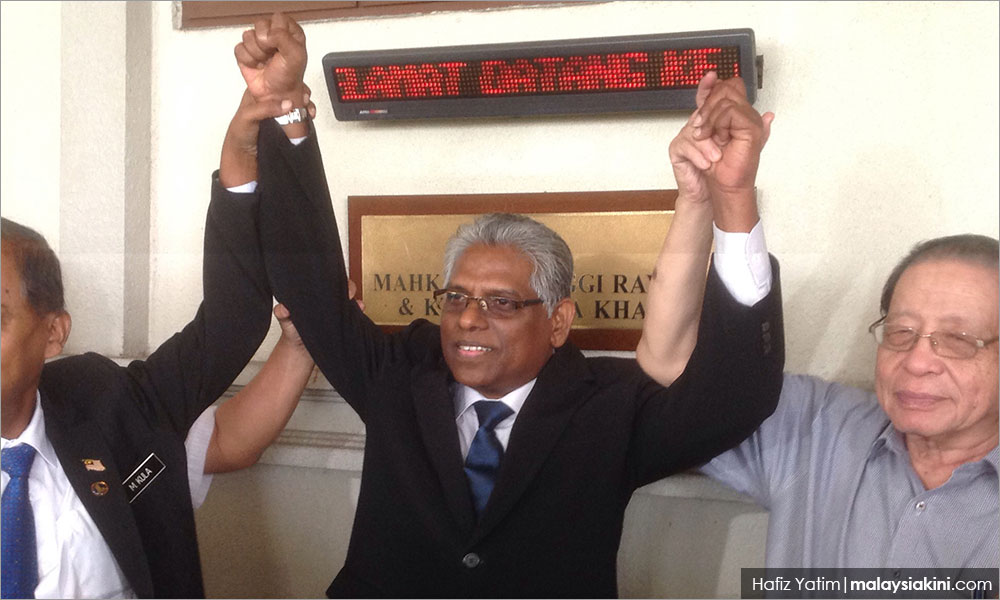 The Election Court in Kuala Lumpur has declared the
Cameron Highlands
parliament seat vacant, paving the way for a re-election.
Justice Azizah Nawawi said DAP candidate M Manogaran proved that there were corrupt practices which led to BN candidate, MIC vice-president C Sivarrajh, winning the seat in the May 9 general election.
In his election petition filed on Jun 5, Manoragan claimed that Sivarraajh and Jelai assemblyperson Wan Rosdy Wan Ismail had met nine village heads and gave them money to distribute between RM30 and RM1,000 each to Orang Asli constituents.
Wan Rosdy is the current Pahang menteri besar.
Sivarraajh won the seat with 10,307 votes while Manogaran polled 9,710, PAS' Wan Mahadir Wan Mahmud (3,587), PSM's B.Suresh Kumar (680) and Berjasa candidate Mohd Tahir Kassim (81).
In an immediate reaction, the MIC vice-president said he would appeal the decision.
"I am discussing with my lawyers now," he told Malaysiakini in a text message.
Cameron Highlands is one of MIC's two parliament seats. The other is Tapah, which is held by the party's deputy president V Saravanan.
Yesterday, former Negeri Sembilan menteri besar Mohamad Hasan had
filed an appeal
with the Federal Court after the Election Court in Seremban invalidated the results for the Rantau state seat.
Hasan, who is also the Umno deputy president, won the seat after PKR candidate Dr S Streram was not allowed to file his nomination papers on April 28 on the grounds of not possessing an Election Commission (EC) pass.
On Nov 16, the Election Court ruled that there was no written law or requirement for a candidate and his seconder or proposer to have a pass to enter the nomination centre.