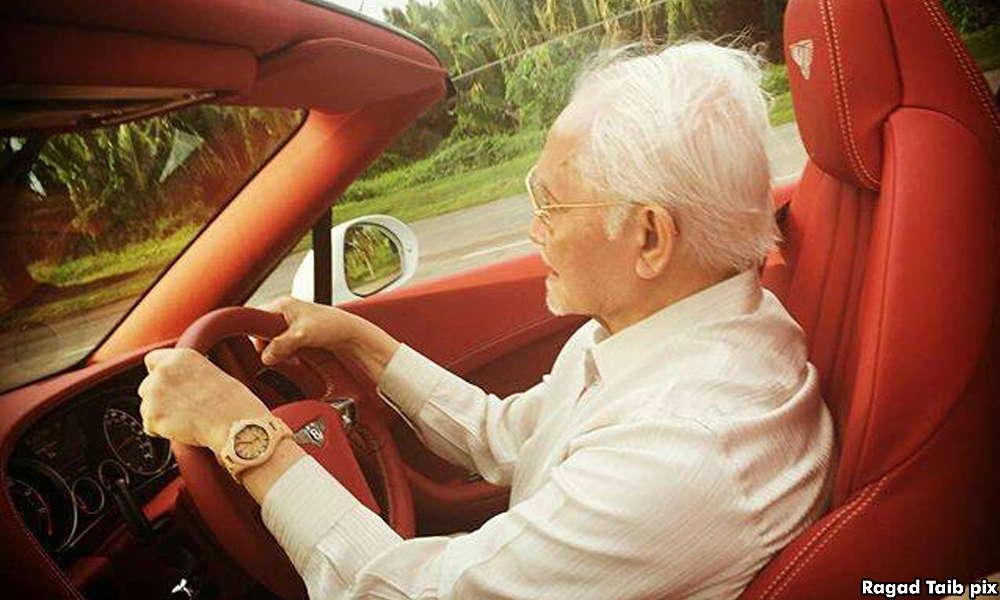 In the first quarter of 2017, Sarawak exported RM1.4 billion worth of timber and timber products. During the same period, only RM11.2 million worth of wooden furniture was exported, approximately 0.0000008% of total timber exports.
This comparison shows the easy way the state's authorities have taken to manage the state's timber resources which is simply to cut down more forests instead of focusing on higher value-added products.
They simply rubber stamp the logging and log exports by Sarawak's large timber concerns without bothering about the forest sustainability for the future or in developing more downstream activities.
This after its former governor Abdul Taib Mahmud (above) took over as chief minister in 1981.
Tropical timber exports from Malaysia (of which Sarawak accounts for almost 70 percent of the total) has been steadily dropping from more than 26 million cubic metres in 1991 to less than 9 million cubic metres in 2011.
If Sarawak had preferred to grow its resources sustainably while creating an eco-system of support industries and further developing the downstream value-add chain, it would by now have an established range of Sarawakian furniture or wood product brands.
Sarawak would also be a world leader in forest regeneration.
Sarawak's narrow focus on short-term and immediate gains by simply felling the trees and selling the logs to overseas markets does not augur well with how the state will manage its crude oil reserves.
Petroleum Sarawak Berhad (Petros) which has been entrusted with the state's oil & gas (O&G) resources, is likely to be influenced to follow the same model in the coming years. Petros is a state-owned O&G exploration firm established and owned by the state government of Sarawak.
My analysis of Sarawak's timber industry clearly shows the "licensing" model that is likely to be implemented once Petros commences enforcing "state rights" as there is likely to be little or no downstream activities or human resources development to turn the black gold into real gold.
Research into producing higher value-added petroleum products or derivatives that can drive whole new industries will take a back seat.
When the oil eventually runs out (in 2016, Sarawak only contributed 27% of the total crude oil production in Malaysia ), the state's economy will be left in a much worse position.
Too many cooks spoil the broth – with political and business elites' interest foremost, Sarawak's natural resources will inevitably get depleted. This is a historical fact which is highly likely to be repeated. - Mkini