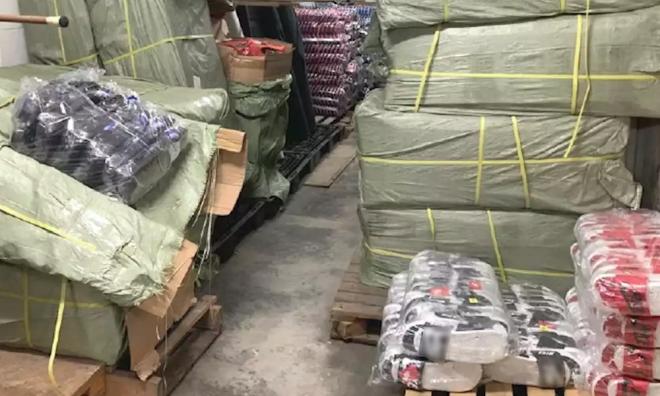 The Negeri Sembilan branch of the Domestic Trade and Consumer Affairs Ministry (KPDNHEP) seized counterfeit footwear and clothing worth RM72,420 at a shopping mall in Seremban, on Friday.
State KPDNHEP director Ain Arjuna Aziz Zaman said the raid under "Ops Barang Tiruan" took place around 4pm involving 11 personnel from the state branch.
They detained four individuals believed to be workers selling the counterfeit goods at the premises.
"Their modus operandi was to rent a lot at the mall in question and during the raid, four individuals comprising two men and two women, aged between 20 and 30, were detained to have their statements recorded.
"The location is a site to sell Adidas brand clothing and footwear that has been in operation since April 15," he told reporters after the Hari Raya Aidilfitri Maximum Price Scheme (SHMMP) survey today.
Also present was State Health, Environment, Cooperatives and Consumerism Committee chairperson S Veerapan.
Ain Arjuna said among the seized items were 304 pairs of fake Adidas shoes of different colours and sizes and 116 multi-coloured t-shirts of the same brand, adding that the items were sold at prices similar to those of the original.
"The items were priced at RM80 to RM300," she said, adding that the case was being investigated under Section 102 (1) (c) of the Trademarks Act 2019.
In another development, Veerapan said 805 Maximum Price Control Scheme inspections were carried out in Seremban, Port Dickson and Kuala Pilah.
"Five complaints were received among them for not displaying price tags and not displaying red and pink tags. However, there were no seizures and compounds imposed in the period from May 20 until yesterday," he said.
Meanwhile, Veerapan said during the movement control order (MCO) and the conditional MCO from March 18 to yesterday, they had received 389 complaints, namely 158 complaints regarding prices, SHMMP in conjunction with Aidilfitri (five complaints), about controlled items (19) and 207 other complaints.
"There was one case that failed to display price tags and we issued an RM1,000 compound on the spot.
"We hope the people of the state continue to cooperate and lodge complaints through the channels provided so that we can continue to monitor the prices of goods from time to time," he said.
- Bernama