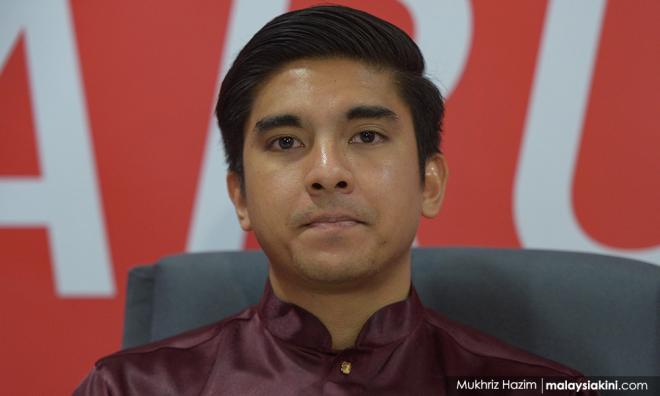 The move by Bersatu to nullify Syed Saddiq Abdul Rahman's membership in the party appears to have split his Muar division.
A day after the division released a statement to back Syed Saddiq, 12 out of the original 21 signatories are now distancing themselves.
"We stress that all party matters must comply with the party constitution. As the party announced Syed Saddiq's membership had been nullified, we abide by that view.
"We thank Syed Saddiq for his contributions and will continue with the agenda to strengthen the party and will discuss with the party's headquarters on the next step.
The latest statement was inked by Syed Saddiq's division deputy Basut Nin, vice-chief Zainudin Sayuti and information chief Hasri Salim.
The other signatories are committee members Abul Bakar Al Sidek Ahmad, Jamil Mohd Noh, Edzhar Jasmary, Hairil Anuar Md Noh, Mohammad Hatta Mahfodz, Kamariah Baharom, Sailan Daim, Hisyam Othman and Jasmi Awang.
Two other signatories who were not part of the initial statement supporting Syed Saddiq were also added, namely permanent chairperson Ahamad Atan and deputy permanent chairperson Shamsudin Abdul Rahman.
Notably, the divisional leaders who did not disown Syed Saddiq were party secretary Taib Suhut, treasurer Afiqah Zulkifli, youth chief Riad Ahmad, Srikandi chief Zarina Hasshim and committee members Noraini Yahya, Zaid Hasshim, Adli Othman, Aluwi Abu Bakar and Nazri Ghani.
On Thursday (May 28), Bersatu executive secretary Muhammad Suhaimi Yahya issued letters to five MPs including Syed Saddiq informing them that their membership had been nullified for sitting with the opposition during the Parliament sitting on May 18.
The other MPs were Dr Mahathir Mohamad (Langkaw), Mukhriz Mahathir (Jerlun, above), Amiruddin Hamzah (Kubang Pasu) and Maszlee Malik (Simpang Renggam).
Suhaimi cited Article 10.2.2 and Article 10.2.3 of the Bersatu constitution.
The Bersatu constitution states that members who declare they are leaving the party (Article 10.2.2) or joining any other political party (Article 10.2.3) will have their membership automatically nullified.
The five MPs did not declare they were leaving Bersatu or joining any other political party but have maintained that Bersatu should side with Pakatan Harapan instead of Perikatan Nasional.
Bersatu president Muhyiddin was sworn in as the new prime minister on March 1, after Mahathir refused to lead a new coalition Muhyiddin put together, comprising Bersatu, BN, PAS, GPS, PBS and STAR.
Mahathir, whose position as Bersatu chairperson is disputed, has indicated he plans to take Bersatu back to Pakatan Harapan but at present, Muhyiddin appears to have the upper hand in the party.
Prior to the nullification, Syed Saddiq was the Bersatu Muar division chief and also national youth chief. - Mkini