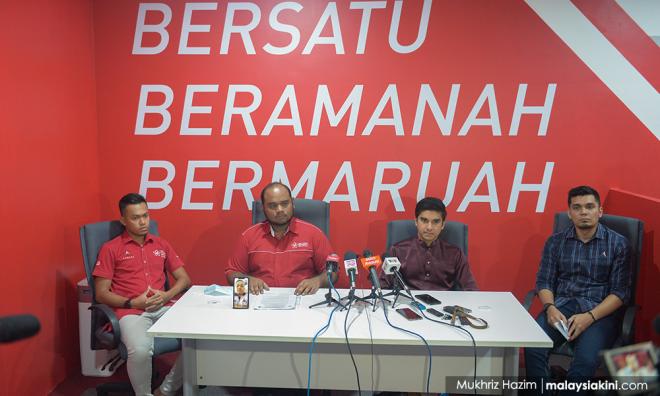 A group of 236 Bersatu Youth members have urged the party's leadership to hold an emergency general meeting (EGM) to allow party delegates to vote on several issues plaguing Bersatu.
At a press conference today, the youth wing's elected leader Syed Saddiq Syed Abdul Rahman, whose party membership was withdrawn under controversial circumstances on May 28, said the party grassroots should be allowed to make decisions for the party.
"Let the grassroots decide on the party's future. If we (Dr Mahathir Mohamad's faction) do not have the support (of the grassroots), let them punish us.
"Don't (allow the decision to be made by) those who were from Umno and (only recently) joined Bersatu," he said.
It should be noted that the press conference was held at a commercial office in Putrajaya instead of the party headquarters.
Syed Saddiq, Mahathir and three other Bersatu MPs were "sacked" from the party last week. However, the legitimacy of their sacking is being disputed.
The call made by the 236 members comes ahead of the party's national delegates meeting scheduled for June 20. It is uncertain if this event, which will also see an election for the party's leadership, would continue in view of the Covid-19 pandemic.
Syed Saddiq belongs to a faction within Bersatu who are in opposition to party president Muhyiddin Yassin, who commandeered the leadership from Mahathir - the party founder, chairperson and party member with the registration number "1".
Meanwhile, Syed Saddiq said his "sacking" from the party was not fair as he and the four others did not violate the rules as no one had the absolute authority to remove a party member.
Furthermore, he said he and the four others were not subject to a disciplinary hearing.
"Our party constitution was based on Muhyiddin's experience where he was stripped of his position as Umno deputy president (in 2015). He was not granted a disciplinary hearing," he said.
Instead, he said Bersatu's constitution was intended to exclude clauses in Umno's constitution that granted such powers. - Mkini