Individuals choosing to show their support and solidarity on people's rallies on freedom should not be subjected to police investigations, civil society organisations that came together as the Freedom of Express Cluster said today.
The coalition of civil society organisations working on the rights to freedom of the press, freedom of expression and freedom of information also urged police to respect the people's right to voice dissent.
"Civil society organisations view this as tactics of intimidation to silence dissent and disallow freedom of expression.
"Standing in solidarity is an integral aspect of the right to expression, which must be respected without compromise," the individuals said in a statement.
This follows the police questioning of eight individuals, including Lembah Pantai MP Fahmi Fadzil, over their presence outside Dang Wangi police station last April 24 in solidarity with graphic designer Fahmi Reza.
Rights group Article 19 programme officer Nalini Elumalai said she was among six of them being called to have their statements recorded at Dang Wangi, from 11am to around 12.30pm this afternoon for investigations under Section 9(5) of the Peaceful Assembly Act 2012.
"Fahmi (Fadzil) was investigated on May 4, six of us today and (Edict executive director) Khalid Ismath will be called tomorrow," Nalini told Malaysiakini.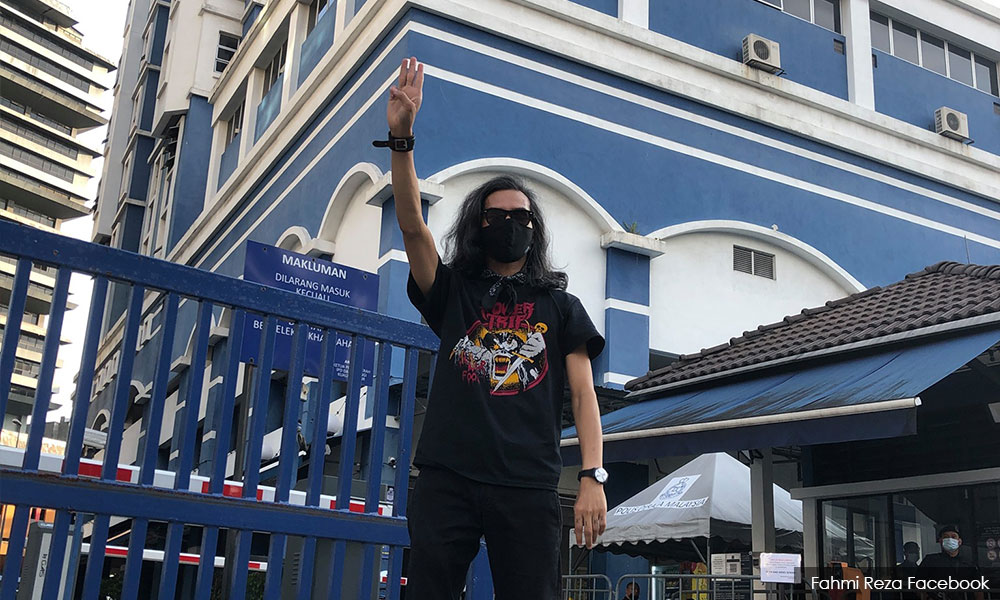 Police arrested Fahmi Reza on April 23 to investigate a jealousy-themed Spotify music playlist he made that featured Raja Permaisuri Tunku Hajah Azizah Aminah Maimunah Iskandariah on the cover.
He was later released after being detained overnight.
The playlist, titled "This is Dengki Ke?", alludes to a comment the queen allegedly made in response to a netizen on Instagram.
Aside from Fahmi, Nalini and Khalid, the five others summoned today were PSM deputy chairperson S Arutchelvan, PSM central committee member M Sivaranjani, Suaram executive director Sevan Doraisamy, youth activist Wong Yan Ke and rights activist Numan Afifi Saadan.
Nalini also said that she, together with Wong, Arutchelvan, PSM Youth chairperson Nik Aziz Afiq and PSM secretary-general Sivarajan Arumugam, were separately questioned this afternoon over their presence at a May Day rally in Kuala Lumpur.
Arutchelvan previously urged the police to record witness statements online instead of summoning individuals for questioning at a police station, to avoid a gathering of their supporters. - Mkini