Dr Mahathir Mohamad has announced the formation of Gerakan Tanah Air (GTA), a loose political group which he will lead that aims to go against Umno in the 15th general election.
At a press conference today, the Pejuang chairperson said the movement would contest 120 parliamentary seats, particularly those won or previously contested by Umno in the peninsula.
While the movement consists exclusively of Malay and bumiputera, it also aims to fight for the interest of all races.
"We only invite Malays to join the movement, not because we are racist, but we would like to focus our effort on fighting Umno, a Malay-based party that has deviated from (its original struggle).
"If we are not forming a Malay-based movement, there is no way the Malay will support us," he said.
The movement, he said, is open to all the Malay parties, NGOs and individuals who are suspicious of the future of the Malay under BN's rule.
The priority of GTA is to address poverty in the Malay community so that they get their share of wealth, said the former prime minister.
"Today, we also discussed naming the movement. We don't want a political party because parties in Malaysia only split the people, and they become weak because there are too many parties but few followers.
"We decided to name it Gerakan Tanah Air, a movement for the country and the people," he said.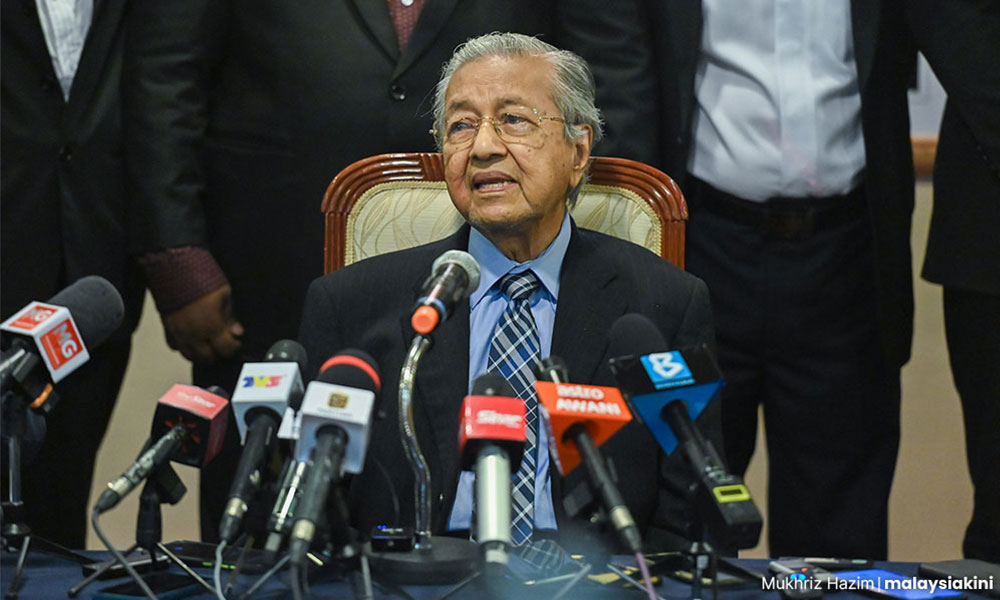 Contesting in GE15
To a question, Mahathir said the movement would only name its prime minister candidate after the election.
"We don't have (a prime minister candidate) yet," he said, adding that he would not be the poster boy of GTA in upcoming polls.
Mahathir, however, did not provide a direct answer when asked if he would contest in the upcoming general election.
"Me (contesting)? I am already 97 years old. You can see I can't talk properly also... I may contest, but it depends upon your approval," he said.
The Langkawi MP said he is confident of securing the support of Malay voters.
"Umno became the government with only the support of 35 percent of votes, and some among the 65 percent voters who did not vote for Umno felt there was no benefit (in supporting Umno), and they are fed up with politics.
"We are confident many of them will support us following our explanation," he said.
Political parties and NGOs joining the movement include Pejuang, the National Indian Muslim Alliance Party, Parti Bumiputera Perkasa Malaysia (Putra), and Parti Barisan Jemaah Islamiah Se Malaysia.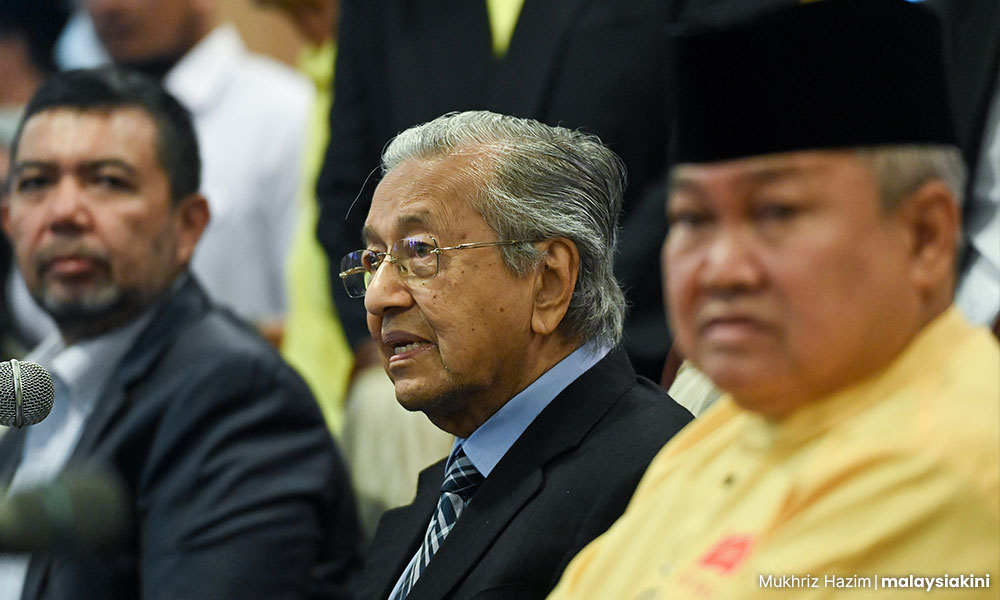 Mahathir has been appointed as the chairperson of the movement, while his son and Pejuang president Mukhriz is also the new deputy chairperson of the movement.
Three other deputy chairpersons are Berjasa president Zamani Ibrahim, Putra president Ibrahim Ali, and Iman president Mohammed Mosin Abdul Razak.
The former prime minister also said over 100 Malay-based NGOs are interested in joining or expressing their support for GTA.
Mahathir left Umno in 2016 amid the 1MDB scandal and formed Bersatu, which later expelled him in May 2020, a few months after the Sheraton Move.
He then founded Pejuang in August 2020. - Mkini