Najib Abdul Razak said his current situation is as if he is without a defence counsel despite the apex court earlier today not allowing his lawyer Hisyam Teh Poh Teik to discharge himself.
During a press conference at the Palace of Justice in Putrajaya this afternoon, the former prime minister recorded his objection in the strongest terms of the appeal proceedings where he claimed that his right to life, liberty, and a fair hearing is at stake.
The former finance minister explained that it was as though he does not have a lawyer because Hisyam was not allowed to adjourn the main SRC appeal hearing to mount a proper defence of the appellant.
Najib contended that his defence could not be put across today and that only the prosecution was able to present their arguments.
He claimed it is unprecedented in such a high-profile case for the appellant to be in effect left without effective legal representation while the prosecution continued to present oral arguments before the apex court.
Najib explained that the SRC matter was a complex and documentary-heavy matter that required his new legal team more time to prepare proper legal representation.
He expressed hope that the court would take into account the seriousness of the matter and make remedial measures at some point in time.
Najib claimed he switched from the legal team headed by Muhammad Shafee Abdullah to that of Hisyam and lawyer Zaid Ibrahim as he is looking for a "fresh perspective".
"Now I am left in reality without a defence counsel.
"That is the unfortunate part and I am unable to present my defence. I believe I have a credible defence and Hisyam, if given reasonable time, would have been able to defend me.
"I pray for a full trial and for justice," the former premier said.
'We are in fact not prepared'
Meanwhile, during the same media briefing, Hisyam claimed he informed the apex court he was in no position to participate in proceedings as he needed adequate time to mount a proper defence.
He explained that, as a result, his legal team could not adequately act for Najib and that is why they earlier sought the application to be discharged from representing the appellant.
"I can see no meaningful way that I can play as far as proceedings are concerned because we are in fact not prepared.
"Under the circumstances, I am not able to play an effective role so, in essence, Datuk Seri (Najib) has got no legal representation, that is the bottom line," Hisyam explained.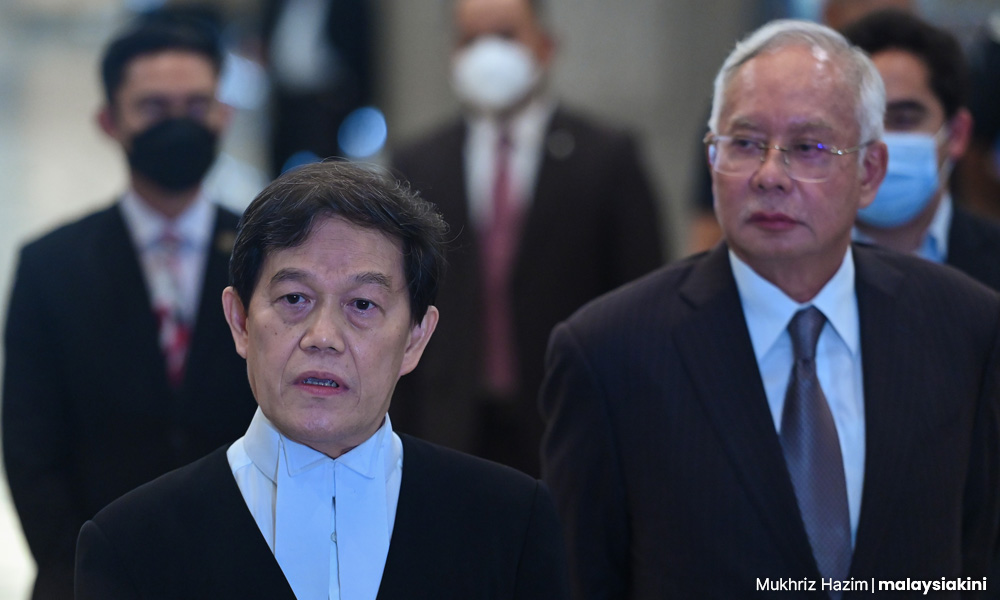 Proceedings before the Federal Court will resume tomorrow, with deputy public prosecutor V Sithambaram set to continue his arguments against Najib's appeal.
Two days ago, the five-person bench chaired by Chief Justice Tengku Maimun Tuan Mat unanimously dismissed Hisyam's application for a three to four-month adjournment of the main SRC appeal, only allowing one hearing date (yesterday) to be taken off.
The other Federal Court bench members set to preside over Najib's main SRC appeal are Chief Judge of Sabah and Sarawak Abang Iskandar Abang Hashim and senior judges P Nallini, Mary Lim Thiam Suan, and Mohamad Zabidin Mohd Diah.
On July 28, 2020, the Kuala Lumpur High Court found Najib guilty of one count of abuse of power, three counts of money laundering, and three money laundering charges involving RM42 million of funds from SRC.
Having meted out the sentence of 12 years in jail and a RM210 million fine, then trial judge Mohd Nazlan Mohd Ghazali however, allowed the defence's bid to stay the execution of the sentence pending disposal of the appeal.
Nazlan has since been elevated to the Appellate Court.
On Dec 8 last year, the Court of Appeal upheld the lower court's ruling and dismissed Najib's appeal.
The appellant also used to be SRC's adviser emeritus and chairperson of the board of advisors of sovereign wealth fund 1MDB.
The Minister of Finance Incorporated (MoF Inc) fully-owned both SRC and 1MDB.
Initially a subsidiary of 1MDB, SRC's ownership was later transferred to MOF Inc. - Mkini