A group of food and delivery riders spoke of allegedly unfair wages and shrinking incomes at a press conference today, amid a 24-hour nationwide strike.
One of them, Boo (not his real name), lamented seeing his earnings falling by more than half over the years.
"During the MCO or before the pandemic, riders who worked from morning to afternoon could earn about RM100, but it's tough for us to reach even RM40 nowadays," he said.
He also claimed that riders taking double orders from the same restaurant to two different clients used to earn full wages for both orders, but this is no longer the case.
"For example, if you get a double order, previously you can get RM12 or RM16 for two orders, but now there are riders who only get RM8 for two orders even though the delivery is quite far.
"Then they reduced the rate per kilometre without notice. Recently they said it's a technical issue, but it's the same excuse repeated again and again - technical error."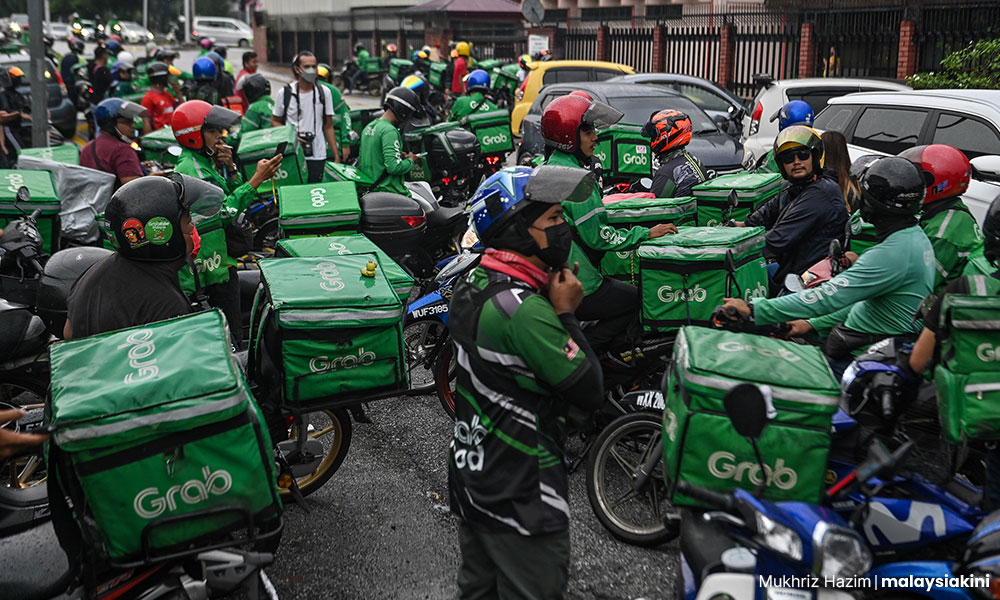 In addition, Boo pointed to a discrepancy between Grab's navigation service and popular navigation apps such as Google Maps and Waze.
"There was once the map showed (the route) is 15km, but (Grab's) map might show it is 12km long, or maybe less.
"They would also calculate based on shortcuts, but not all shortcuts can be used. There are some that are impassable," he said.
'The longer you work, the less you earn'
Mohd Firdaus, another p-hailing rider, said these issues have been raised since July 2020 when they sent a memorandum to Human Resources Minister M Saravanan.
However, the problem remains unresolved and has even worsened.
"It's quite unique working as a p-hailing rider – The longer we work in this industry, the less we earn.
"Previously, we may get RM90 for taking 10 orders, but now maybe only RM50 for nine orders."
He voiced disappointment that despite inflation, p-hailing companies kept cutting their wages. On top of that, riders have to pay for insurance and make EPF contributions out of their own pocket.
Other riders at the press conference complained that they often get punished by p-hailing platforms when a customer makes a complaint, without their explanations being taken into account.
They said p-hailing companies treat them as "expendable" since there will always be new riders joining the industry.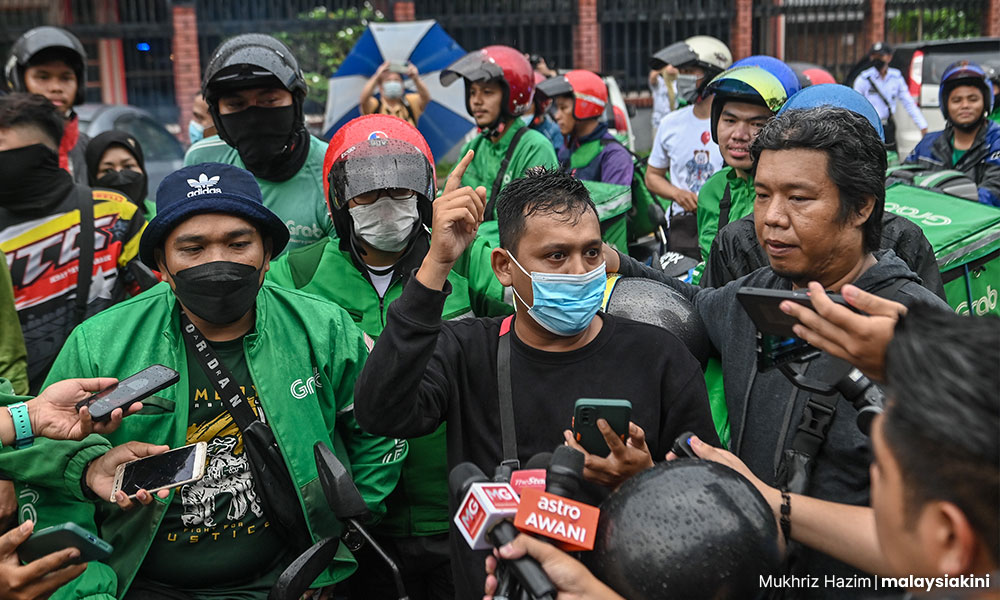 Also present at the press conference at PKR's headquarters are the party's youth chief Adam Adli Abdul Halim, deputy youth chief Kamil Munim, and PKR Youth strategic director Bryan Ng Yiih Min.
Adam likened the p-hailing riders' predicament to "modern slavery" since neither the government nor p-hailing platforms have clear laws or regulations to protect the riders.
"This issue has been fought over for three to four years and has been brought to many political parties, the government, and NGOs; but it has not yet reached any resolution.
"We urge the government, especially the Human Resources Ministry to take serious steps and not just give Panadol or candy.
"We also reject Grab's response claiming this to be a technical issue. As the riders mentioned, this excuse was used by the company many times."
'Freelancers', not employees
Ng urged the government to amend the Employment Act 1955 such that p-hailing riders would be recognised not as "partners" or "freelancers" but as employees.
"The riders have to wear the company's uniform and bags while delivering food, and observe minimum working hours, but they cannot negotiate their pay rates with the companies.
"It shows that the p-hailing companies have full control of the riders and there is a similar case in the UK where the court ruled that the riders should be employees," said Bryan.
Although p-hailing companies were initially touted as a way for people to earn a side income, Kamil said they have now become a large economic sector that is raking in huge profits.
Hence, he said these companies should provide the necessary protection to the riders who have helped their business prosper.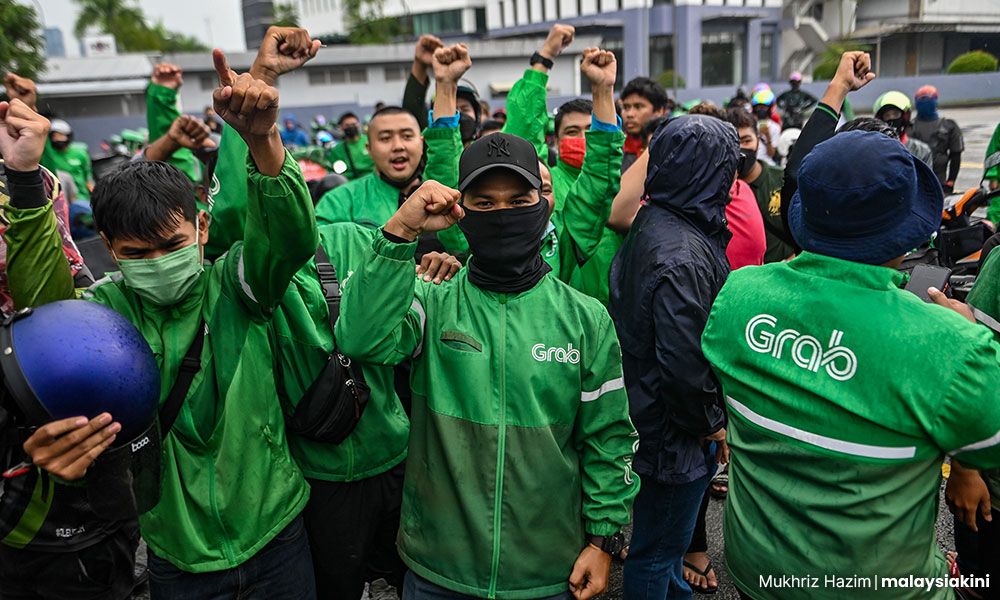 Today, p-hailing riders from multiple platforms are holding a 24-hour nationwide strike since midnight to protest their working conditions.
A group of about 100 riders also gathered at multiple locations in the Klang Valley today at 4pm today before converging on Grab's headquarters in Petaling Jaya to hand over a memorandum.
The "Food Delivery Blackout" protestors urged Grab to evaluate fare payment rates according to the pick-up and delivery distance.
Following the announcement of a strike, Grab issued a statement yesterday saying the income reduction faced by "a small group" of delivery partners last month was due to a technical glitch which has been rectified. It said it is committed to supporting its delivery-partner community. - Mkini