Opposition leader Anwar Ibrahim has urged the government to put a stop to the next phase of the littoral combat ship (LCS) project.
He criticised the government, saying that RM6 billion had already been "squandered" with no progress to show, adding that the funds for the next phase of the project should be redirected to assist the people instead
"The next phase (of the LCS project) must be stopped as there have yet to be any commitments made," he said at a press conference in Parliament.
He added that the half a billion sum allocated for the next phase of the project should be spent on protecting the welfare of veterans - who have been seeking greater support from the government.
Further, he alleged that there was a misappropriation of funds in the procurement of the LCS by the Defence Ministry and Boustead Naval Shipyard Sdn Bhd (BNS).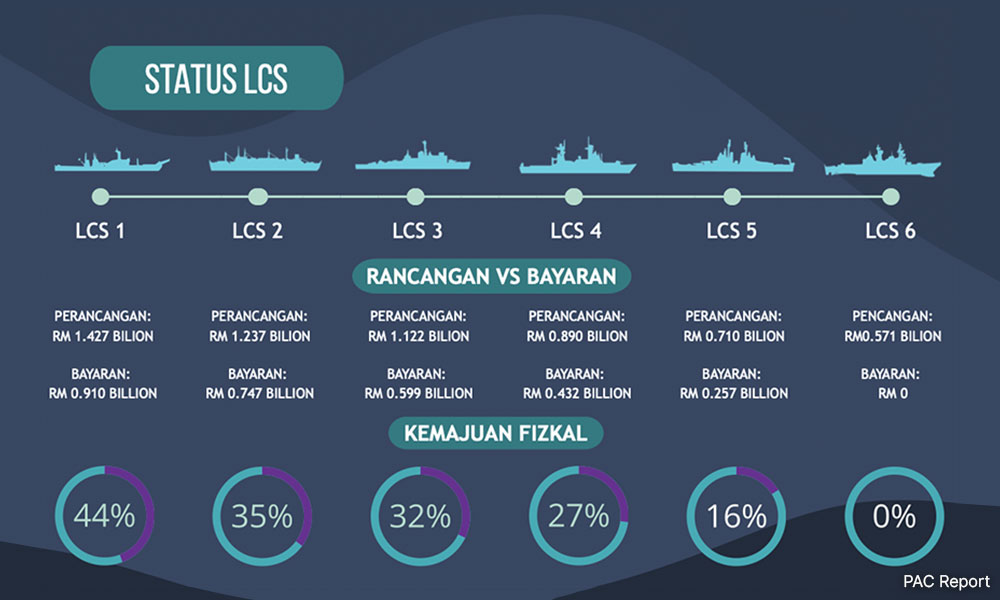 Anwar spelt out his suspicions on the matter in a press conference held at Parliament today.
"I'm alleging there is clearly (a) misappropriation of funds, not only leakages," he said.
Additionally, he urged the MACC to investigate Defense Minister Hishamuddin Hussein, the chief secretary to the government, and top players in the defence ministry.
This came after the PAC chairperson Wong Kah Woh issued a statement earlier today regarding the committee's findings, which examined the handling of the LCS project, which has been ongoing since 2011.
Wong pointed out that not a single ship had been completed, although Putrajaya had spent RM6 billion over the project given to BNS via direct negotiations
He added that the navy's view was ignored by the Defence Ministry and BNS.
PKR deputy president Rafizi Ramli earlier claimed that an internal investigation showed that at least RM890 million had been misappropriated from LCS, both in terms of fraud and money transferred to parties, with the aim of defrauding the contract, duplication of contracts with multiple claims, and various other irregularities. - Mkini