A candlelight vigil for detained Bersih leader Maria Chin Abdullah at the Penang Esplanade was briefly disrupted by about 20 rowdy hecklers.
The confrontation took place the Bersih supporters as soon as the vigil got under way at about 6pm as Northern region Bersih coordinator Toh Kim Woon was about to begin his speech.
The hecklers could be heard shouting "sokong Najib (support Najib)", "Bersihkan diri dulu (clean yourselves first)" and also accused Bersih of being supported by Jews.
Several of the hecklers repeatedly screamed: "Where is the permit for this rally?"
Eventually, police personnel managed to separate the hecklers from the Bersih supporters.
Riot police were later deployed to watch over the event.
After the hecklers were removed, the 100-odd Bersih supporters began chanting slogans to demand for Maria's freedom.
The incensed group tried to confront the Bersih supporters again, but were prevented from doing so by the police.
Toh and DAP Bukit Mertajam MP Steven Sim later thanked the police for their professionalism and Bersih supporters gave them a round of applause.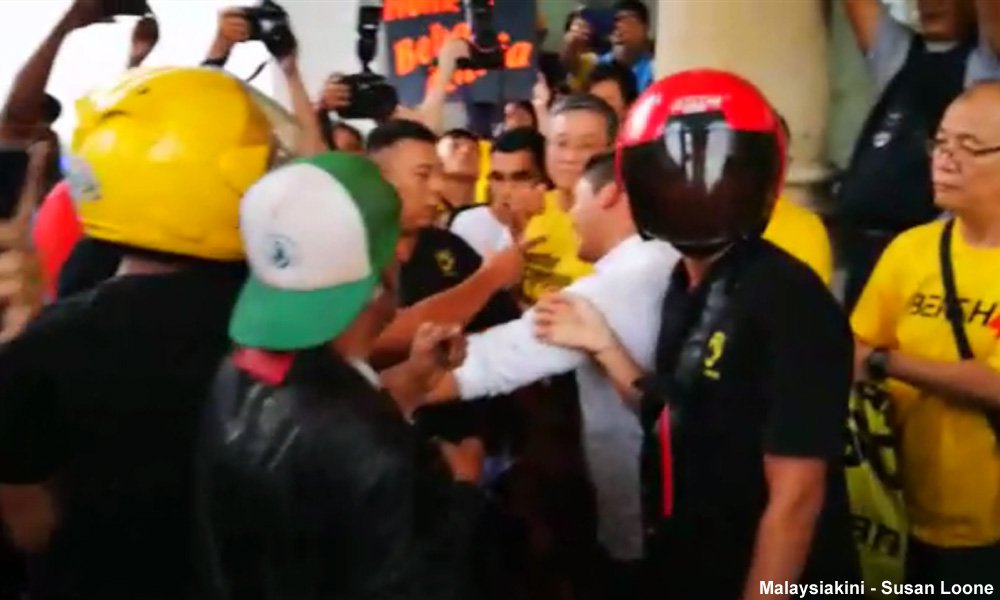 Solidarity vigils have been held nightly in Kuala Lumpur for Maria, who was arrested on the eve of the Bersih 5 mega rally.
She is held under the Security Offences (Special Measures) Act which allows 28 days detention without trial.
Her habeas corpus hearing is on Tuesday.
The Kuala Lumpur vigils have been held at Dataran Merdeka, before moved to the roadside next to the historical square after the Kuala Lumpur City Hall shut down the square from 5pm every day on the second night of the vigil.
Up to 1,000 people have attended the vigils every night, including last Thursday when chicken carcasses were found strewn around the area.- Mkini