Mahathir and Kit Siang are the two most toxic politicians in recent Malaysian history. On their own they are toxic enough, but combined they become explosive. The explosions are just beginning with the resignations in Melaka and Dr Wan Azizah's comment regarding Mahathir's meeting with Anwar on Friday. Stay tuned as Pakatan Harapan disintegrates, as the next general election looms over the horizon, after which I can gleefully tell you, "I told you so!"
PAKATAN'S GAME OF THRONES
Raja Petra Kamarudin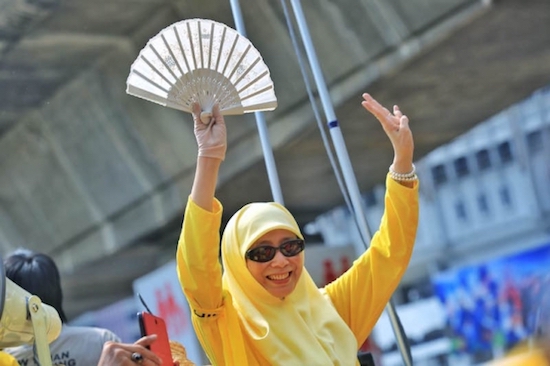 Wan Azizah: If Dr M was so good, he wouldn't need to meet Anwar
(NST, 12 Feb 2017) – Tun Dr Mahathir Mohamad did not have to meet PKR's de facto leader, Datuk Seri Anwar Ibrahim, if he was so good at uniting the opposition. PKR president Datuk Seri Dr Wan Azizah Wan Ismail took a swipe at Dr Mahathir for doing so.
"He came to see Anwar. I think if he is so good at uniting (the opposition), he didn't need to come, but he came. There is more than meets the eye," she said. Wan Azizah was responding to a question of whether Dr Mahathir had assumed the role of Pakatan Harapan's de facto leader.
"I think it is not easy because we are already seen to be fragmented. Give him (Anwar) some credit for holding the fort for some time," she said, adding that holding the opposition together was tough.
Wan Azizah spoke to reporters when met here on Saturday. Dr Mahathir had met Anwar on Friday when the latter was briefly out of jail for a case at the Kuala Lumpur High Court. This is Dr Mahathir's second meeting with Anwar since last September when the former sought to resolve their disputes.
********************************************
That was what was reported today, which you can also read on pro-opposition news portal, Malaysiakini.Dr Wan Azizah says Mahathir went to meet Anwar on Friday not to unite the opposition, — the excuse they gave for the meeting. "He came to see Anwar. I think if he is so good at uniting (the opposition), he didn't need to come, but he came. There is more than meets the eye," said Dr Wan Azizah.
Yes, there is more than meets the eye, said Dr Wan Azizah. And Malaysia Today has already reported why Mahathir went to court to meet Anwar Ibrahim on Friday in the previous articles below:
As mentioned in those articles, Mahathir is worried about the Royal Commission of Inquiry (RCI) that may be set up to investigate the US$10 billion disaster that practically bankrupted Bank Negara. So Mahathir wants Anwar to try to get Abdul Murad Khalid, the then Assistant Governor of Bank Negara, to withdraw his allegation. Mahathir told Anwar that if he goes down then both are going to go down together because while Mahathir committed fraud Anwar lied to Parliament to conceal the fraud.
It appears that Dr Wan Azizah does not think much of Mahathir. And neither do those four DAP reps from Melaka who resigned out of disgust regarding Lim Kit Siang playing footsie with Mahathir. I was told there are many more unhappy DAP grassroots leaders but their dilemma is if they resign due to no confidence with Lim Kit Siang and Son Sendirian Berhad it would be DAP that suffers and not the father-and-son Lim circus.
Dr Wan Azizah also confessed that Pakatan Harapan is in trouble and is badly divided. "I think it is not easy because we are already seen to be fragmented," said Dr Wan Azizah. And with DAP and Pakatan Harapan playing footsie with Mahathir the division has got even worse. And today's resignations are just the beginning of many more problems to come.
When the Don kisses you be prepared to die
The danger with playing footsie with Mahathir is that his kiss is a kiss of death. He kissed Anwar on Merdeka Day in 1998 and 24 hours later he sacked Anwar on grounds of sexual misconduct. Mahathir even asked the crowd whether he needs to prove that Anwar is his anointed successor by kissing him in public. Then Mahathir revealed he had known about Anwar's sexual misconduct a long time ago and the plan to remove Anwar was mooted when Mahathir took two months leave and appointed Anwar the Acting Prime Minister.
Mahathir is a master at playing two games at the same time. And he can even give an impression he is allowing you to use him when he is actually using you. When Mahathir was Prime Minister he condemned those who left Umno and then turned around to whack the party. Today he is doing what he condemned others of doing.
Mahathir on ex-Umno people who whack Umno
The thing that most people cannot take is the hypocrisy of these politicians. Mahathir says one thing when he is on one side and then says the opposite when he crosses to the other side. Kit Siang does the same thing, which even the late Karpal Singh could not stomach.
I remember back in 2006, when I supported Mahathir to oust Tun Abdullah Ahmad Badawi, Anwar and Selangor Menteri Besar Azmin Ali were very angry with me and they whacked me in public. Now Anwar, Azmin, Kit Siang and semua orang yang sewaktu dengannya are flirting with Mahathir.
Drinking from Mahathir's cup is drinking from the poisoned chalice. Mahathir's kiss is the kiss of death. You never know whether he is demonstrating affection or signalling that you are about to die.
Pakatan Harapan's first voyage may prove its last as well in the next general election
One thing for sure, though, is that Pakatan Harapan is like the Titanic on its first voyage, which proved to be the last voyage as well. Mahathir's party, Pribumi is cargo Pakatan Harapan cannot afford to take on board. That is like loading a time-bomb into your cargo hold that is set to explode once the aircraft reaches 25,000 feet. And many know that Mahathir is nothing but bad news.
It is good that Lim Guan Eng stays the Chief Minister of Penang and Mahathir stays the de factoOpposition Leader. The damage that these two cause the opposition is irreparable. Many Malays hate Kit Siang and son while many Chinese hate Mahathir. It is like two toxic chemicals that explode when combined. Never have two toxic persons like Mahathir and Kit Siang danced across Malaysia's political stage and performed as a duo and brought the house down.
As Leonardo DiCarpio said to Kate Winslet in the Titanic, "You jump, I jump"…and Mahathir and Kit Siang are both going to drown together