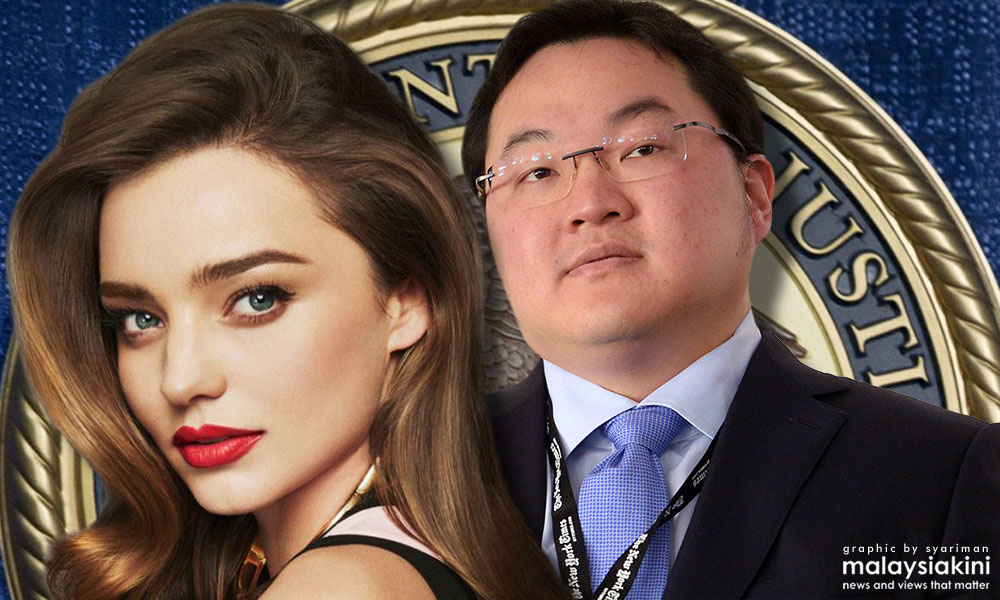 The US Department of Justice (DOJ) in its third civil forfeiture suit on the 1MDB affair alleged around US$4.5 billion from the firm was misappropriated and also highlighted the purported masterminds, chief among them, it claimed, was Penang-born businessperson Low Taek Jho, better known as Jho Low.
The DOJ covered in detail the alleged money trail from 1MDB to the bank accounts of Low and his associates, but on the side, also provided a glimpse of how he apparently courted the women of his dreams, supposedly using 1MDB-linked funds.
The filing revealed how Low had showered Australian model Miranda Kerr with increasingly expensive jewellery, all in a matter of nine months.
Kerr's divorce with Hollywood actor Orlando Bloom was first publicised in late 2013 and Low allegedly began showering the Australian model with diamonds beginning February 2014.
However, the most interesting details of the apparent courtship were between July and August 2014 when Low invited Kerr' on his
US$250 million
superyacht
, The Equanimity, which he also allegedly purchased with 1MDB-linked funds.
The DOJ filing claimed Low brought Kerr on a "multi-day excursion" onboard the Equanimity. It did not specify where the trip took place but it was likely to have been in the Mediterranean Sea.
The Equanimity is hard to miss
While Low took measures to hide his tracks from services such as flight trackers, he could not escape the cameras of the international community of plane and ship spotters, a hobby similar to bird watching.
Low's superyacht was
spotted multiple times
at Marina Real in Valencia, Spain between July 10 and July 17, 2014. In August that year, the superyacht was
again spotted
in Faliro Marina in Athens, Greece.
The Equanimity's location between these periods was unclear but it places the superyacht within the Mediterranean Sea.
During the apparently romantic trip somewhere in the waters between Valencia and Athens, Low had allegedly meticulously prepared to present Kerr with multiple jewellery pieces over a period of a few days.
"The excursion was planned at Low's direction by a high-end concierge service, and meticulous planning went into arranging the manner in which Low would present each piece of the matching diamond jewellery set to Kerr," said the DOJ.
The whole thing took a month's worth of planning with Low first approaching jeweller Lorraine Schwartz on June 17, according to the DOJ.
Low had apparently even sent a picture of a woman with jewellery, possibly that of Kerr, as a reference of what he would like to acquire.
He allegedly finally settled on a matching diamond necklace, earring, bracelet and ring worth US$1.98 million.
According to the DOJ, it was delivered in London on or about July 30. Low's jet was in Munich a day later.
The DOJ claimed that Low also had a penchant of inscribing Kerr's initials on the jewellery he gifted to her.
For Valentine's Day, Low allegedly gifted Kerr an 11.72-carat heart-shaped diamond, which cost US$1.29 million, in which he had her initials inscribed.
He also instructed for the jewellery pieces he gifted to Kerr during their excursion in the Mediterranian to be inscribed with her initials.
Two months after Low's multi-day excursion with Kerr in the Mediterranean, he again allegedly gifted her jewellery, this time an 11-carat diamond earrings which he bought for US$1.05 million.
Finally in November 2014, Low allegedly bought his most expensive jewellery for Kerr yet, an 8.88-carat diamond pendant.
Low was allegedly billed US$4.8 million but only paid US$3.8 million. It was unclear if he paid the remaining sum at a later date.
Kerr married Snapchat founder and billionaire Evan Spiegal in May 2017.
Earlier today, it was reported that Kerr had
surrendered
all the gifts to the DOJ, valued at around US$8 million.
Interestingly, prior to the alleged attempts to court Kerr, the DOJ said Low had purchased an engagement ring at US$1.147 million for an unidentified woman in 2012.
The engagement ring was invoiced in November 2012.
In 2012, Low's courtship of Taiwanese singer Elva Hsiao was made public through a video of an
extravagant and romantic dinner
which was uploaded on the internet.
The dinner was rumoured to cost GB£1 million, took place on a private beach at the luxury Atlantis Hotel Resort at the Palm in Dubai.
The video showed them arriving in a black Rolls-Royce and later strolled on the beach where candles were laid out in a gigantic Valentine heart.
After dining on a luxurious set while being serenaded by a harpist and violinist, several parachutists descended from the sky to present Hsiao with jewellery by Swiss luxury brand Chopard.
Low reportedly proposed to Hsiao, who was moved to tears.
However, Taiwanese news organisation Apple Daily reported that Hsiao rejected Low's proposal and saw him as a "little brother".