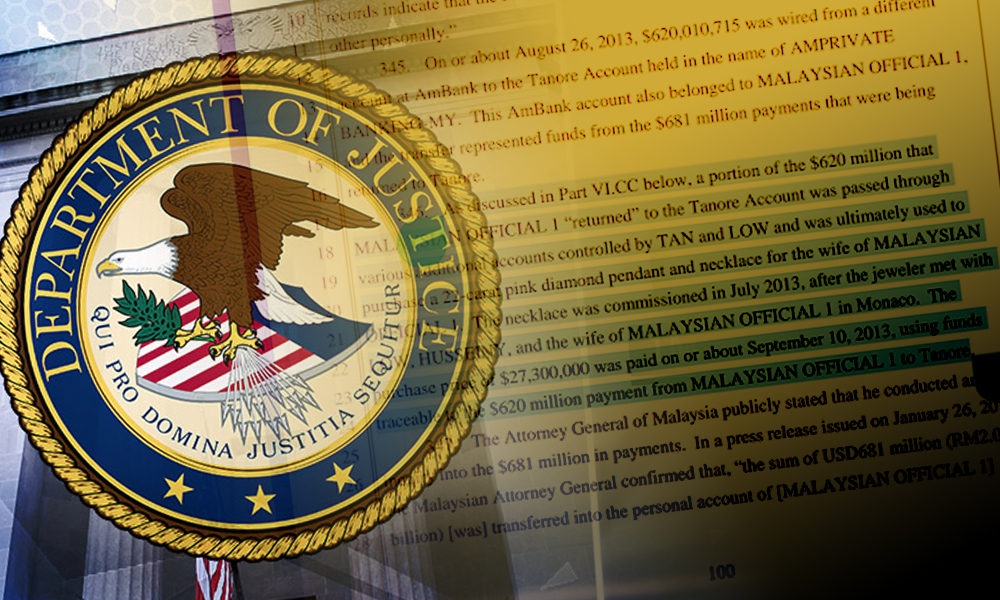 The US Department of Justice (DOJ) has confirmed that the investigation into funds allegedly misappropriated from 1MDB is still ongoing.
A representative from the department however declined to comment further about the nature of the investigation, including "whether the investigation is criminal or what its scope may be".
Nevertheless, as the probe is ongoing, the DOJ is therefore expected to make further announcements if it finds additional evidence of wrongdoing in the matter.
Meanwhile, the representative also confirmed that the DOJ was not seeking to seize jewellery purchased by or for the "wife of Malaysian Official 1 (MO1)", who was mentioned in the latest filing.
"But the facts regarding the source of the funds is highly relevant to the charges alleged in the complaints," the representative told Malaysiakini in an email communique.
The DOJ in its latest filing on Thursday claimed that the donations that MO1 supposedly returned to a Saudi prince had instead been used to purchase jewellery for MO1's wife, including a US$27.3 million necklace featuring a 22-carat pink diamond pendant.
Despite claiming the pink diamond necklace, together with 27 different 18-carat gold necklaces and bracelets worth US$1.3 million, were procured with money allegedly stolen from 1MDB, all these items were not on the DOJ's list of current forfeitures.
In the third and latest filing, the DOJ puts the allegedly misappropriated figure at US$4.5 billion and is seeking to seize US$1.7 billion in assets purportedly acquired using funds stolen from 1MDB.
Among the list of items to be seized are a yacht, jewellery, a fitness chain and artworks.
Following the DOJ's civil forfeiture suit filed last year, Minister in the Prime Minister's Department Abdul Rahman Dahlan had identified MO1 as Prime Minister Najib Abdul Razak.
However, Rahman stressed that Najib was not named in the DOJ filing, claiming this demonstrated that the prime minister was not a subject of US investigation.
Najib has repeatedly denied misusing public funds, while attorney-general Mohamed Apandi Ali announced the former had committed
no wrongdoing
. - Mkini