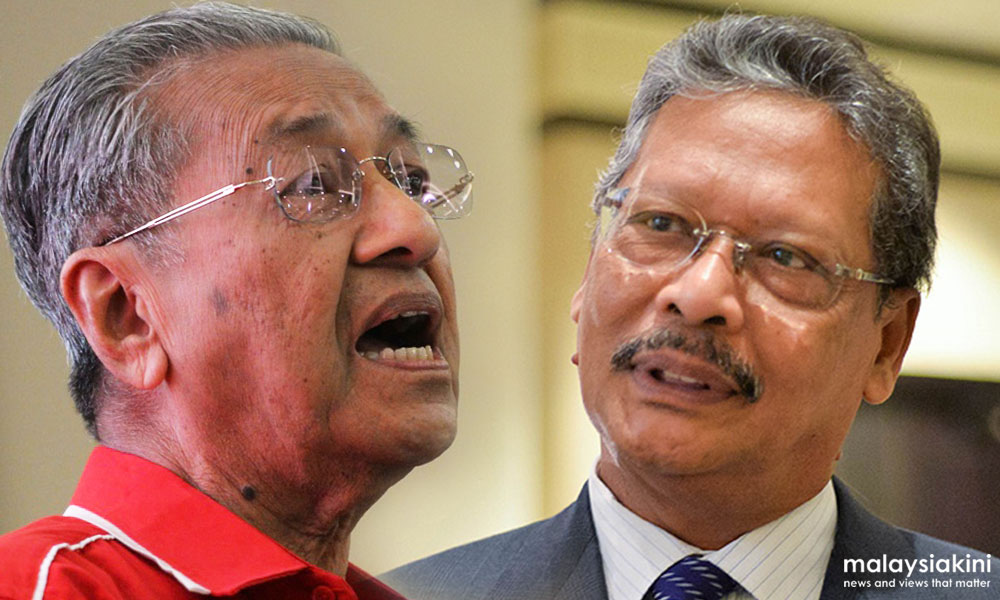 Attorney-general Mohamed Apandi Ali's reaction to the latest US Department of Justice (DOJ) allegations on the misappropriation of 1MDB funds was "laughable", said Parti Pribumi Bersatu Malaysia (Bersatu) chairperson Dr Mahathir Mohamad.
In his first blog post since the DOJ's
latest court filing
last Thursday, the former premier said Apandi's "
frustration
" that Malaysia was not consulted by their US counterparts was a mystery because Malaysia's prosecutors never cooperated with Swiss investigators.
"But the AG is not known for cooperating on 1MDB investigations with foreign counterparts. The Swiss attorney-general has said this clearly.
"He
stated
'despite repeatedly saying it (the Malaysian AG's Chambers) will cooperate with any foreign agencies investigating the 1MDB scandal, (it) refused to reply to the Swiss attorney-general office request for detailed information on the issue'," wrote Mahathir.
He was referring to Swiss attorney-general Michael Lauber's repeated claims that his Malaysian counterpart had
not responded
to mutual legal assistance requests.
What wa
s
Apandi
expecting?
Mahathir also argued that Apandi's "frustrations" with the DOJ for failing to inform Malaysia's AG's Chambers were unfounded since the alleged money laundering took place in the US.
"Whether the criminals are Malaysian or not is irrelevant. Is the Malaysian AG expecting to intervene in the release of the 250-page statement?
"Is he expecting to get the DOJ to declare that the statements are official secrets, to be hidden from the public? Does he expect the DOJ to declare that there have been no wrongdoings based on the statements?
"Does he expect the DOJ to ask 'Malaysian Official 1' for confirmation that he was not involved in any wrongdoings?
"Does he expect the DOJ to close the case after the alleged criminal has denied he had committed any wrongdoings?" asked Mahathir.
AG's sense of self-importance
Mahathir also said that Apandi and other authorities locally were quick to brush off the "hair-raising" allegations by the DOJ, but were willing to set up a
task force
to probe Bank Negara's alleged forex scandal.
"In Malaysia, the AG and the police blatantly declared that no wrongdoings have been done to require investigations and criminal charges to be made.
"Yet, they were quick to set up an 'independent' commission to investigate alleged crime committed 40 years ago because of a request by a party member, while serious allegations by a DOJ are simply brushed off.
"The AG's sense of self-importance is laughable," wrote Mahathir.
As soon as news broke on the DOJ's latest court document, Apandi hit out at US authorities for making "insinuations" of criminal wrongdoing against Prime Minister Najib Abdul Razak.
Apandi said 1MDB has been the subject of multiple investigations locally which showed no evidence that the company's money was misappropriated.
However, Singaporean and Swiss authorities have taken punitive action against banks and bankers in relations to money laundering involving 1MDB-linked accounts.- Mkini