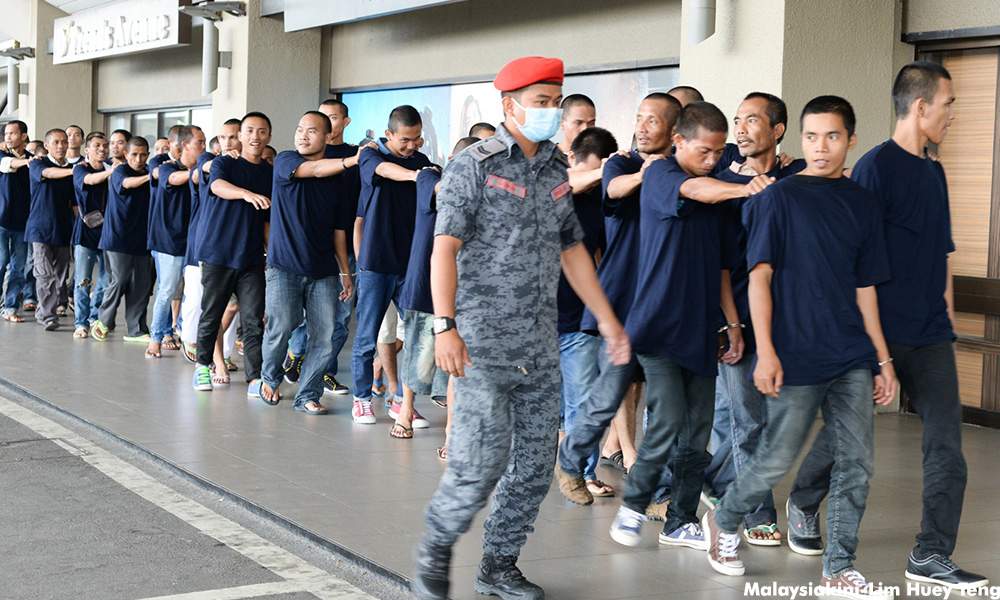 A PKR leader wants the authorities to not only deport illegal immigrants from Malaysia, but ensure that they do not return.
PKR treasurer-general Tan Yee Kew said this in response to Immigration Department director-general Mustafar Ali who had been reported as saying that more than 23,000 illegal immigrants had been deported between January to May this year for various criminal offences.
Indonesia topped the list of illegal immigrants deported with 6,849 people, followed by Bangladesh with 4,220 people.
Although Tan said she appreciated the work of the authorities thus far on this issue, she believes that it was more important to ensure that deported illegal immigrants do not return to Malaysia easily.
"If this is not stopped, illegal immigrants will return to repeat their criminal offences such as prostitution and (illegal) massage centres which are among the highest criminal offences involving illegal immigrants," she said in a statement today.
Tan said most illegal immigrants had stayed in the country longer than they were supposed to until many had committed crimes such as snatch theft, kidnapping and murder.
"Illegal immigrants involved in crime will be a burden to the authorities. The fact is, the country's rising crime rate is related to the overwhelming number of foreigners," she added.
Citing statistics from 2014, Tan said 167 or 49.4 percent of 338 murders between January to August of that year were committed by foreigners.
"Apart from murder, some foreigners who are working or studying in the country have been reported to have been involved in robbery, rape or snatch theft, too."
Tan believes that foreigners in the country, both legal and illegal, currently number around six million people.
"The government will not be able to control this problem in light of the trend of taking in more foreign workers.
"The government must review suggestions of accepting more foreign workers so that their number can be reduced and to give assurance on the people's safety here," she said.- Mkini