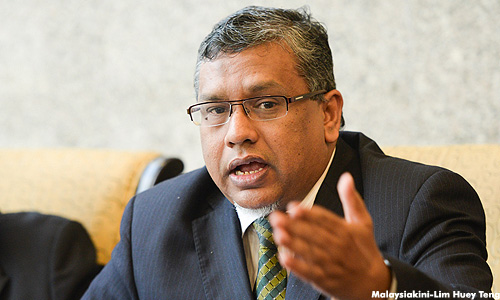 Why fear Sarawak Report and block it if the website only spun lies?
That's the question put up by Sepang MP Mohamed Hanipa Maidin in a Facebook posting last night.
Without mentioning names, Hanipa said he "pitied" a minister from the "kleptocratic government", who was reported urging the people not to believe reports published on the whistleblower website.
"When you ask the people to not believe, the logic is Sarawak Report has no credibility, and therefore, its reports does not have any impact on the kleptocratic government.
"Then, there is no reason for the kleptocratic government to fear or even ban (Sarawak Report) through the Malaysian Communications and Multimedia Commission," he said.
The Amanah lawmaker's posting is in reference to Communications and Multimedia Minister Salleh Said Keruak, who earlier this week, asked Malaysians to cast doubts on reports by Sarawak Report as the website only published reports that are allegedly untrue - a fact that he claimed had been confirmed by one of the website's former editors.
"Sarawak Report is an online paper with the sole purpose of slandering our leaders.
"As we already know, there are documents that they tampered with. Their credibility was questioned. So the fact is, all of it was untrue. Their former editor had said so," Salleh was quoted.
Salleh was referring to former Sarawak Tribune editor Lester Melanyi, who claims to have worked with Sarawak Report - an allegation that the website has denied.
Lester admitted in 2015 that he had been paid to make a confession video about how the whistleblower site's exposés on scandal-riddled 1MDB were fabricated.- Mkini