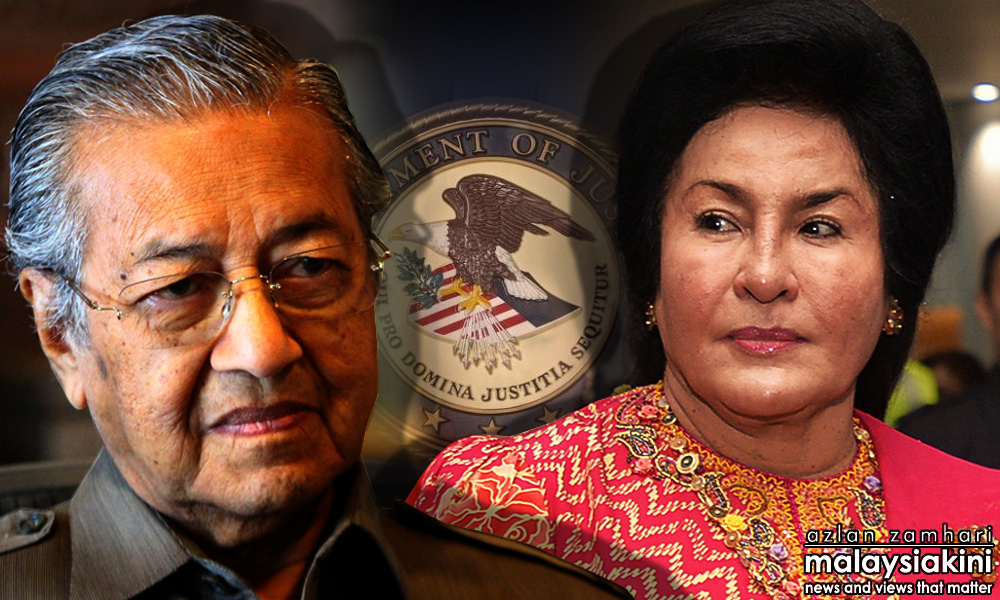 Prime Minister's wife Rosmah Mansor should take legal action against the United States Department of Justice if she feels she has been slandered, said former premier Dr Mahathir Mohamad.
The Parti Pribumi Bersatu Malaysia chairperson said this after Rosmah's lawyer issued a statement warning publications and social media users of the risk of legal action if Rosmah is slandered.
"I heard Rosmah will sue whoever who accuses her in relation to the jewellery mentioned in the filing by the United States Department of Justice.
"Why didn't she pose the same challenge to the DOJ?" Mahathir asked via video recording uploaded onto his Facebook page.
The DOJ in a court filing last Thursday said the wife of an unnamed "Malaysian Official 1" received a diamond worth US$22 million from 1MDB-linked individual Jho Low, which was allegedly bought using funds originating from 1MDB.
Low bought about US$30 million worth of jewellery for MO1's wife with funds siphoned from 1MDB, the DOJ alleged.
The DOJ does not identify MO1 except to say he is a relative to Rosmah's son Riza Aziz, but Minister in the Prime Minister's Office Abdul Rahman Dahlan last year said MO1 is Najib.
Low said the filing is baseless while Najib denies any wrongdoing.
"Rosmah says she wants to hunt down slanderers so I am not afraid because this is not slander. I am brave because I speak the truth...
"Sue us if she dares. I am ready," Mahathir said in the caption of the video.
Newswire Reuters also reported that the jewellery was bought for Rosmah.
The article was carried by various news publications.
Speaking on general terms soon after the latest filing hit headlines, Rosmah urged the public not to listen to slander.
Besides Reuters, PKR communications director Fahmi Fadzil also urged Rosmah to take legal action against five other publications which linked her to the jewels.
They are the Wall Street Journal, the New York Times, Al Jazeera's AJ+, Singapore's Straits Times and the Guardian, as well as Wall Street Journal journalists Bradley Hope and Tom Wright who tweeted on the matter.
Malaysiakini has contacted Rosmah's aide for comment. -Mkini