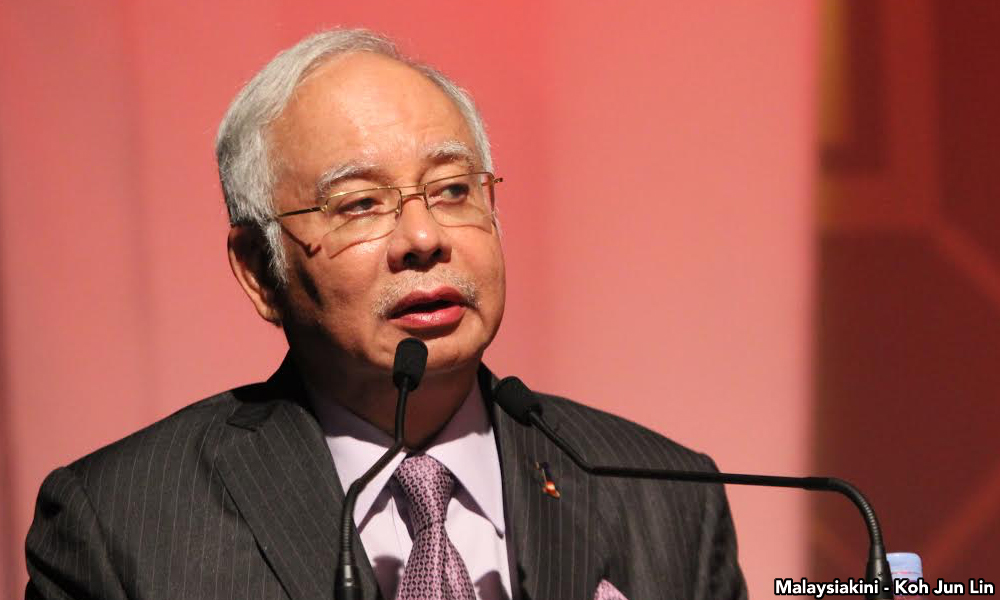 Malaysia's efforts to combat human trafficking are bearing fruit, Prime Minister Najib Abdul Razak said in response to the country being taken off the United States' Tier 2 watch list for human trafficking.
"Well done to those who have worked tirelessly together! We remain committed to protect the victims, prosecute the traffickers and stop trafficking," Najib tweeted today.
The US State Department's latest "Trafficking in Persons Report" (TIP) yesterday
upgraded
Malaysia to its Tier 2 list.
The Tier 2 list differs from the Tier 2 watch list, in that countries on the Tier 2 list are countries that do not fully meet the US Trafficking Victims Protection Act's minimum standards but are making significant efforts to meet those standards.
Countries on the Tier 2 watch list subscribe to the same definition above, in addition to having a significant increase in the absolute number of victims, and failing to provide evidence of increasing efforts to prevent human trafficking, among other yardsticks.
"The government (of Malaysia) demonstrated increasing efforts compared to the previous reporting period; therefore, Malaysia was upgraded to Tier 2.
"The government demonstrated increasing efforts by expanding trafficking investigations, prosecutions and convictions," the TIP report states.
The TIP is a diplomatic tool the US uses to engage with other governments on methods to tackle human trafficking. It is published annually.
HRW: It's a 'poor to mediocre record'
Malaysia was placed on the Tier 2 watch list between 2010 and 2016, save for 2014 when the country was placed on the Tier 3 list, alongside countries such as North Korea and Libya.
Human Rights Watch criticised the latest TIP report for allegedly whitewashing what it calls Malaysia's "poor to mediocre record" on combating human trafficking for the second year in a row.
"The reality is that Malaysian officials identify very few victims compared to the numbers present in Malaysia. Foreign workers from Southeast and South Asia are debt-bonded and controlled, and the government's efforts to shelter and care for victims is really sub-par and marred by bureaucratic red-tape," Human Rights Watch's deputy director for Asia, Phil Robertson, said in a statement today.
In Kota Kinabalu today, Communications and Multimedia Minister Salleh Said Keruak said Malaysians, driven by their shared values of care and respect, remained united against human trafficking.
Selleh said Malaysia's upgrade to Tier 2 from the Tier 2 Watch List reflected the government's efforts led by Najib in battling this inhumane crime.
"More importantly and, in addition to international partnerships, Malaysia remains committed and will continue efforts in prevention, prosecuting of traffickers and the protection of victims," he said in commenting on the Trafficking in Persons Report 2017.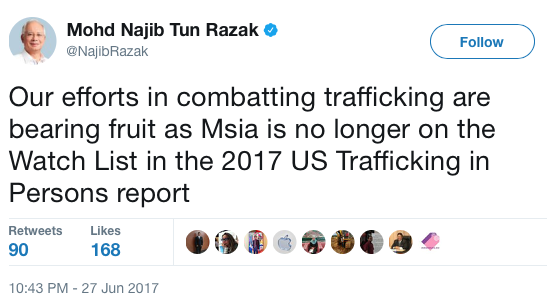 -Mkini