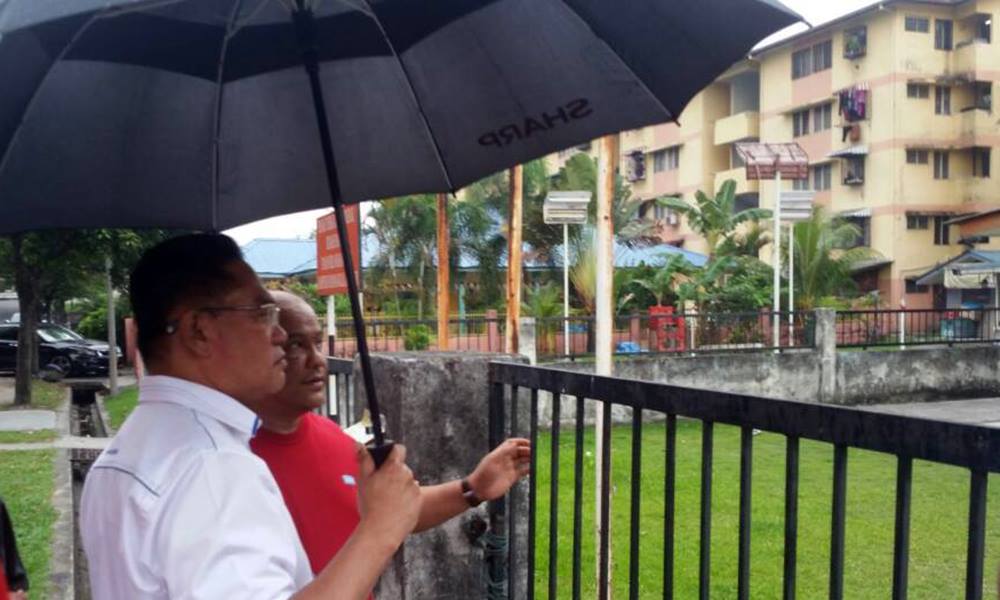 Since becoming Urban Wellbeing, Housing and Local Government Minister, Selangor Umno chief Noh Omar has actively visited dilapidated homes, particularly apartments, across the state.
Every time he visits one, Noh Omar drives the message that the Selangor menteri besar Azmin Ali, despite all his boast about the state's massive reserves, is merely hoarding it.
While painting Azmin as a reserve hoarder, Noh Omar contrasts himself by being generous in loosening the purse strings, announcing allocations to repair rundown apartments.
In his latest visit to one such housing in Ampang yesterday, Noh announced an allocation of RM1.6 million.
The money was to repair the apartment's lifts, water pumps and leaking roofs.
After the announcement, Noh Omar broke fast with firemen at Pandan Indah Fire and Rescue Department but he couldn't help boasting about his generosity and Azmin's supposed hoarding.
"I was shocked when I visited the Chempaka state seat whose representative is the the exco in charge of housing but the housing problems I witnessed earlier at Angsana Hilir were so terrible.
"Its roof was leaking, it has not had a paint job for 20 years, only three of the six water pumps were working and Iskandar only helped them once and never came again.
"I would like to reiterate, how can the menteri besar boast about billions in reserves but we have no idea what he is doing with it.
"The (housing) situation) in his parliamentary constituency is just as bad," said Noh.
Azmin is the state assemblyperson for Bukit Antarabangsa and MP for Gombak.
As for the constituency of Chempaka, Noh said Iskandar should convince the state government to make good use of the reserve in restoring the housing in the state.
"I've visited two, three places here and there are many more that need help, make use of the state funds that the menteri besar doesn't seem to know how to use," he said.
On Tuesday, Azmin said the state's reserve had grown to RM3.18 billion.
This was in contrast to a reserve of RM1.4 billion when the PKR-led Selangor government came into power.- Mkini