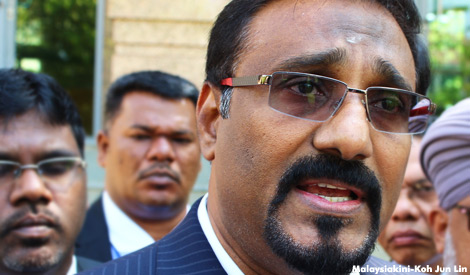 There is nothing wrong with MIC receiving funds from Prime Minister Najib Abdul Razak, who is also the chairperson of BN, said party treasurer-general S Vell Paari.
"All component parties receive money from BN, that is politics.
"From the first prime minister, second prime minister, and even during the time of (former prime minister) Dr Mahathir Mohamad, all (BN) parties receive money for programmes and things," he told Malaysiakini.
He was responding to whistleblower site Sarawak Report, which claimed that MIC received about RM19 million between 2012 and 2014.
Vell Paari pointed out that the funds were given to MIC and not its leaders, while the money had been declared in the party's annual report and audited.
"Indirectly, what she (Sarawak Report editor Clare Rewcastle-Brown) has done, in her effort to discredit me and MIC, is to show how much the prime minister has helped MIC and the Indian community.
In its report regarding the funds, Sarawak Report had described Vell Paari as a vocal defender of Najib, claiming that he had come out with a list of "top comical excuses drummed up over 1MDB".
This is in relation to the MIC leader's remarks concerning the latest United States Department of Justice (DOJ) filing over 1MDB.
However, Vell Paari said he is grateful to Najib for the help extended to MIC.
"Of course when somebody helps you, you have to be grateful, isn't it? You don't have to be a rocket scientist (to figure this out).
"She (Rewcastle-Brown) says I am a staunch supporter of Najib. Of course, only supporters support their leaders. Do you expect enemies (to do so)?" he added.
Sarawak Report had also alleged that the prime minister gave RM650,000 to the wife of former MIC deputy president S Subramaniam following his serious illness.
Quizzed on this, Vell Paari said Rewcastle-Brown should not pick on someone who is unwell.
"Stick to me. Why pick on a person who is not well?" he said.
On the same note, Vell Paari said Najib's gesture showed that he is a kind-hearted person.
"This shows the humanity in our prime minister, to settle his (Subramaniam) medical bill," he added.
Following the DOJ's latest civil forfeiture suit, Vell Paari had described it as a political conspiracy of the opposition to topple a democratically-elected government.
He also said the failure of the DOJ to call up anyone from 1MDB to provide statements related to the matter proves that it has no case against the firm.
Previously, Sarawak Report claimed that Selangor MCA had received RM10 million which could be linked to 1MDB.
Following Selangor MCA's denial, a DAP lawmaker cited a 2015 interview in which former MCA president Dr Chua Soi Lek admitted to the party receiving funds from the BN chairperson ahead of the last general election.
"I had admitted that Najib was the first prime minister who cared for BN component parties. At least, I had the integrity to say MCA received funds from the BN chairperson," he had said.- Mkini