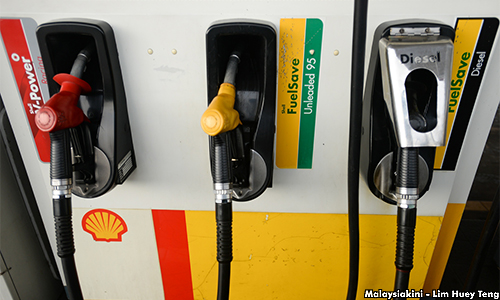 Fuel prices will see its fourth consecutive week of decline, bringing prices to a new low since the implementation of the weekly fuel price system on March 30.
Effective midnight, the retail price of RON95 and RON97 will go down by seven sen per litre respectively, according to Bernama.
This puts the new retail price at RM1.91 per litre for RON95 and RM2.17 per litre for RON97.
The retail price of diesel remains unchanged, at RM1.88 per litre.
Fuel prices are determined based on the average fuel price under the Means of Platts Singapore (Mops) as well as the average Malaysian ringgit strength against the US dollar in the previous week.
According to Bloomberg, Brent crude oil stood at US$46.92 per barrel last Thursday and saw a gradual decline through the week, sitting at US$45.95 earlier today.
However, the ringgit also weakened against the USD dollar, sitting at US$4.288 to the US dollar compared to US$4.268 last Thursday.- Mkini