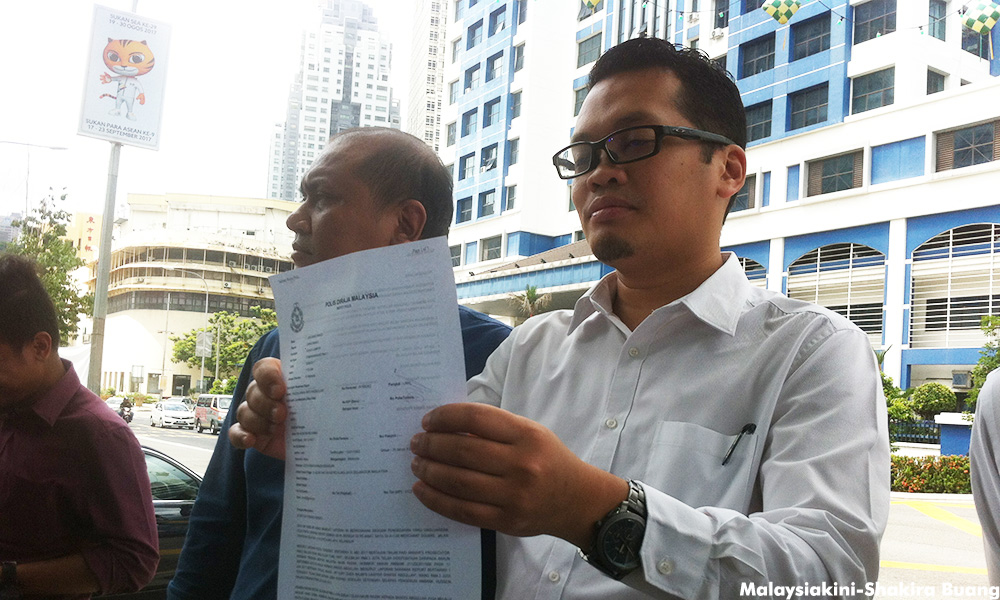 PKR and Parti Amanah Negara (Amanah) leaders have urged the authorities to investigate claims that senior lawyer Muhammad Shafee Abdullah - who had acted as prosecutor in the Sodomy II case - received RM9.5 million from the prime minister.
After lodging a police report on the matter at the Dang Wangi district police headquarters today, PKR Youth chief Nik Nazmi Nik Ahmad said Shafee must "rest" from handling cases involving PKR de facto leader Anwar Ibrahim.
Nik Nazmi lodged the report together with PKR communications director Fahmi Fadzil and PKR Youth religious bureau chief Wan Ji Wan Hussin at 11am and met reporters who were waiting outside an hour later.
The Seri Setia state assemblyperson in his report posed four questions, namely:
What is the reason behind the purported RM9.5 million payment from (prime minister) Najib (Abdul Razak) to Shafee?

What is the relation between the two that such a huge amount was paid?

Was the payment in relation to Anwar's sodomy case?

Were there others who had received payment from former SRC International through Najib's personal accounts?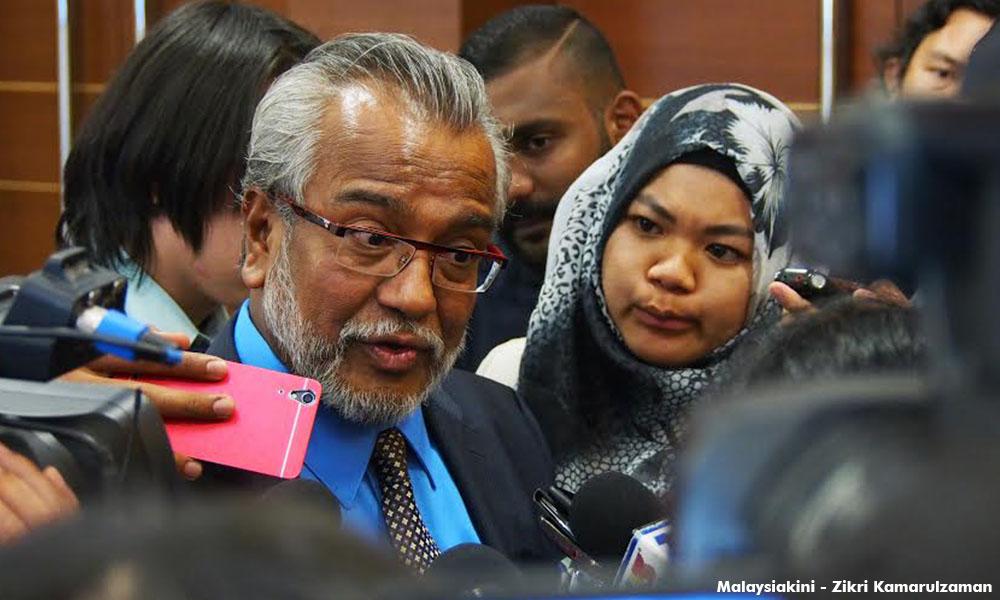 Despite his queries, Nik Nazmi claimed that both Najib and Shafee (
photo
) will continue to keep mum on the allegations.
He is therefore contemplating on lodging similar reports with the Malaysian Anti-Corruption Commission (MACC) and the Bar Council.
"As a lawyer, he is bound by the Bar Council's code of ethics," added Nik Nazmi.
Whistleblower website Sarawak Report had claimed that it had seen documents from investigators which claimed that Najib paid the money using funds he received from state-owned SRC International Sdn Bhd, a former subsidiary of 1MDB.
Shafee had
allegedly received
the funds from Najib in two tranches - on Sept 11, 2013, and on Feb 17, 2014.
The prominent lawyer had acted as prosecutor in Sodomy II when the matter was brought to the Court of Appeal and Federal Court, which saw Anwar being found guilty and sentenced to five years in jail.
Parliament was told in 2015 that Shafee was paid merely RM1,000 for his services as prosecutor.
Malaysiakini cannot independently verify Sarawak Report's allegation or ascertain if the alleged payment was related to Shafee's role in Anwar's case.
Malaysiakini has repeatedly contacted Shafee for comment but has not received a response. The news portal has also contacted the prime minister's press aide Tengku Sharifuddin Tengku Ahmad over the matter.
'Purported conflict of interest'
Meanwhile, Amanah lawmaker Mujahid Yusof Rawa in a statement similarly urged the police to investigate the allegations, pointing to Shafee's purported conflict of interest in the Sodomy II case if the allegations were true.
He cited attorney-general Mohamed Apandi Ali who had, at a press conference in January last year, held up a document showing at least RM32 million that went into the prime minister's personal bank accounts from SRC International.
This, said Mujahid, was proof that the prime minister had committed breach of trust.
"The police, MACC and attorney-general should conduct investigations including under the Anti-Money Laundering Act on all individuals and organisations who have been paid by the prime minister with funds from SRC.
"If investigations are not conducted promptly, the rakyat's confidence in these institutions will continue to erode and Malaysia's credibility will also be affected," he said.
Mujahid also agreed with Amanah Youth deputy chief Faiz Fadzil that the Bar Council must issue a show-cause notice to Shafee over the allegations to "clear the legal profession's good name".
"Shafee must be given the chance to provide a positive and concrete explanation on the matter," he said.
Apandi had cleared Najib of wrongdoing on the grounds that the prime minister was not aware of receiving the money.
Najib has consistently denied taking public funds for personal gain.- Mkini