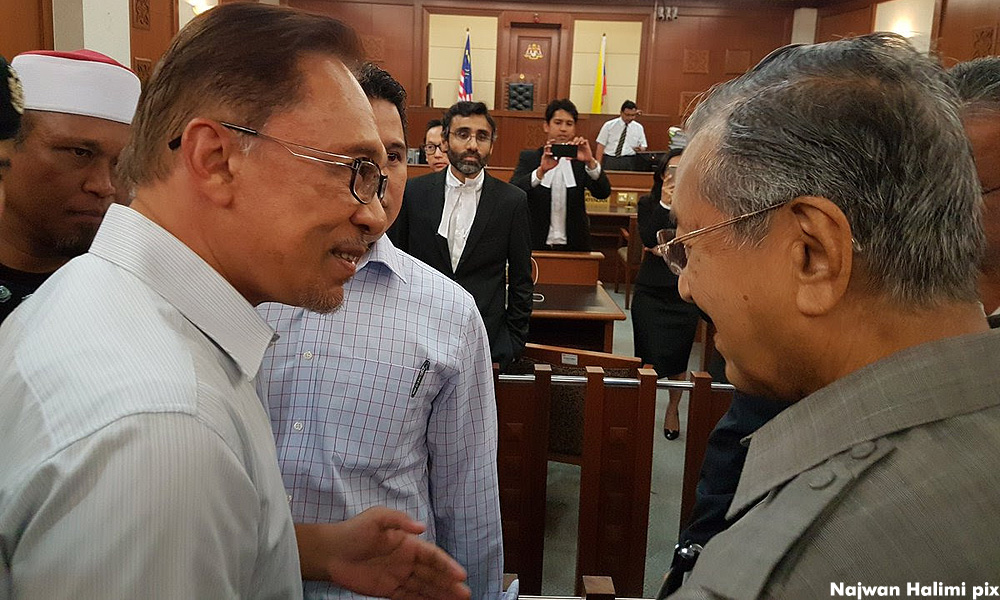 At one time, the silence of night was broken by the murmurs of gossip. An Umno stalwart had left the organisation, and a new party had been born.
The defection at the time raised serious questions among opposition leaders.
Would this new entity just be an Umno splinter party? Could their old foe be trusted?
These were the doubts expressed by DAP and PAS almost 20-years ago when then deputy prime minister Anwar Ibrahim left Umno and formed PKR, according to a party leader.
Today, Dr Mahathir Mohamad - the man who spurred Anwar's departure from Umno - is facing the exact same problem as his Parti Pribumi Bersatu Malaysia (Bersatu) negotiates with other Pakatan Harapan parties on their shared future.
Ironically, it is now PKR that is primarily among those who are still wary of working with the former prime minister and his new party.
Mahathir, who is Bersatu chairperson, in a recent interview lamented that distrust in him had stalled negotiations on Harapan's protem committee, particularly on whether to give him a position in the coalition and whether he should have executive powers.
PKR vice president Tian Chua, a main figure in Anwar's Reformasi movement in the late 90s, said it was a relatable situation.
"PKR had a similar history. When we were formed, we were seen as an Umno splinter group led by Anwar, and there was similar distrust towards us from DAP and PAS.
"Would Anwar go back to Umno if the whole thing fails? Are we genuinely committed to multiracial politics?
"These were the sorts of questions asked. So I can understand why this is happening with Bersatu," Chua told Malaysiakini.
The Batu MP is however confident that with continued talks, consensus and mutual trust can be reached among all Harapan parties including Bersatu.
But the issue of what to do with Mahathir - PKR's foe of 17 years - remains a tricky question.
Malaysiakini understands that within PKR, there are two main schools of thought on the subject.
While both camps agree that Harapan should capitalise on Mahathir's stature, staunch Anwar loyalists are not in favour of granting the former premier an executive role.
One such leader who shared this view was PKR parliamentary whip Johari Abdul, who believed there was no need to "lock" Mahathir to such a post.
Johari said the nonagenarian could operate just as Anwar does in PKR, as its de facto leader
"The position (de facto leader) doesn't exist in our party constitution, but Anwar was able to exert his influence almost across the board.
"We expect (Mahathir) to do the same thing... We feel he should be an advisor. It is more noble and transparent," the Sungai Petani MP told Malaysiakini.
He said by being an advisor, Mahathir would also be above executive matters, and could operate in a more fluid manner.
He added Bersatu insisting on their chairperson getting an executive position had degraded the former premier by implying he could not exert influence without a title.
Mahathir himself has said he had offered to back down and take on no other role except to communicate with the public.
His party however appears to have different plans.
Bersatu strategist Rais Hussin Mohamed Ariff was at first reluctant to talk about the ongoing Harapan negotiations, saying it was a delicate matter.
But when pressed on whether the party would concede on giving Mahathir a non-executive role, Rais stressed the need for strong leadership.
"When you are in a leadership position, you must be empowered. If you are not empowered you can't be a leader
"You can't have a non-executive chairperson to lead. No matter how you want to put it, you still need someone with sufficient teeth to lead," he said.
However, he said any decision on Harapan's leadership must be done by consensus.
He also stressed the need for a checks and balances mechanism, so that power is not concentrated on just one person.
Currently, it has been established that Bersatu wants Mahathir to be Harapan's chairperson, and has conceded to appointing Anwar's wife and PKR president Dr Wan Azizah Wan Ismail as coalition president.
PKR however has yet to agree to the arrangement, as they have to consult Anwar.
What direction the Harapan negotiations will take next is unclear, but one thing is certain: all parties are focusing on the need to settle this quickly, so they can focus on campaigning to capture Putrajaya from BN in the coming general election.- Mkini