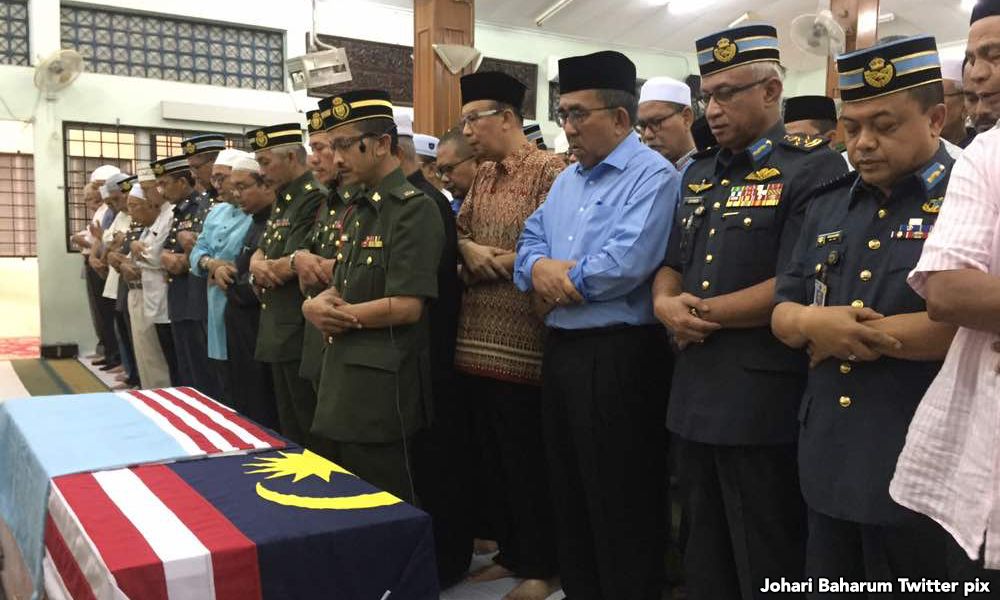 Members of the public have been advised not to be hasty in viralising unverified information on Thursday's incident involving the Royal Malaysian Air Force (RMAF) Hawk 108 fighter jet, which crashed and claimed the lives of its two pilots.
Deputy Defence Minister Johari Baharom said such acts would only hurt the feelings of the victims' families even more, while at the same time mocking the said incident.
"Do not be hasty in viralising the information. Yesterday's viral news about the discovery of an old aircraft wreckage, for example, has nothing to do with the (Hawk 108) fighter jet incident. So, do not add to the confusion."
The deputy minister said this after attending a National Transformation 2015 (TN50) programme with the National Service Volunteer Brigade and the breaking-of-fast event last night.
The jet they were flying was believed to have crashed into a swamp forest in Chukai, Terengganu.
Last home-bound trip for Raya
Meanwhile, the wife of Major Mohd Hasri Zahari, Asysyuhadak Ahmad was excited when her late husband planned to return to his hometown in Felda Lui Muda to celebrate the upcoming Aidilfitri - but little did she know that it would be his last Raya home-bound trip.
Asysyuhadak, 30, said according to the plan, her husband had wanted to return home on Saturday and stay there until the second day of Aidilfitri.
"Now, it seems that he had returned home forever. I didn't notice anything odd, but before this, whenever we wanted to return to hometown, he will ask me to pack up, but this time he never mentioned anything about packing up," she told reporters after Mohd Hasri's funeral.
Asysyuhadak, said she planned to go back to work after quitting her job as an engineer a year ago.
"For the time being, I want to stay here (Felda Lui Muda) and maybe I will take up a job in Kuala Lumpur," said the mother of a six-month daughter.
Mohd Hasri's father, Zahari Md Din, 65, said he accepted the passing of his only son but sad for not being able to celebrate the upcoming Aidilfitri together.
"When he was home in April, he said he couldn't come home for Raya because he
didn't get leave. But after that he contacted me, he was so happy that he was given 10 days' leave and I was supposed to fetch him from the Subang (Sultan Abdul Aziz Shah) Airport," he said.
Zahari described the third of four siblings as an easy-going and good person.
Quit university to become fighter pilot
The late Major Yazmi Mohamed Yusof, 39, was so determined to become a pilot and serve the nation that he quit his university studies half way.
This was disclosed by his colleague, Major Hassan Basri Tajul Arifin, 38, who said Yazmi left his studies at the International Islamic University Malaysia to pursue his dreams.
"We were in the same squad in 2001 but split up in 2003 as he opted to become a fighter pilot while I became a commercial pilot... I expected it because it had always been his ambition," he told reporters after Yazmi's funeral at the Titiwangsa Muslim Cemetery on Friday.
Hassan Basri said they never lost contact after that and kept in touch right until just before the crash.
He added that Yazmi was a responsible man and was always concerned about his friends' problems.
"He was a cheerful person and often gave useful advice on how to solve problems, this will be something I will always miss," he said.
Meanwhile, Yazmi's eldest brother Yusfi Mohamed Yusof, 52, said there was no more joy in celebrating this year's Hari Raya Aidilfitri as the family had lost their youngest brother.
Yusfi, an engineer with a private company said the last time he met his brother was in early Ramadan this year.
"I was surprised when he brought durians and springrolls to break the fast because I was not really into both. However, after some persuasion, I ate a bit," he said.
On Thursday Mohd Hasri and Major Yazmi Mohamed Yusof, 39, were killed after the Hawk 108 aircraft they were flying crashed in a swamp forest in Chukai.
Their bodies were found at 2.30pm, about 53km from the Kuantan Air Base with the parachutes still attached.- Mkini