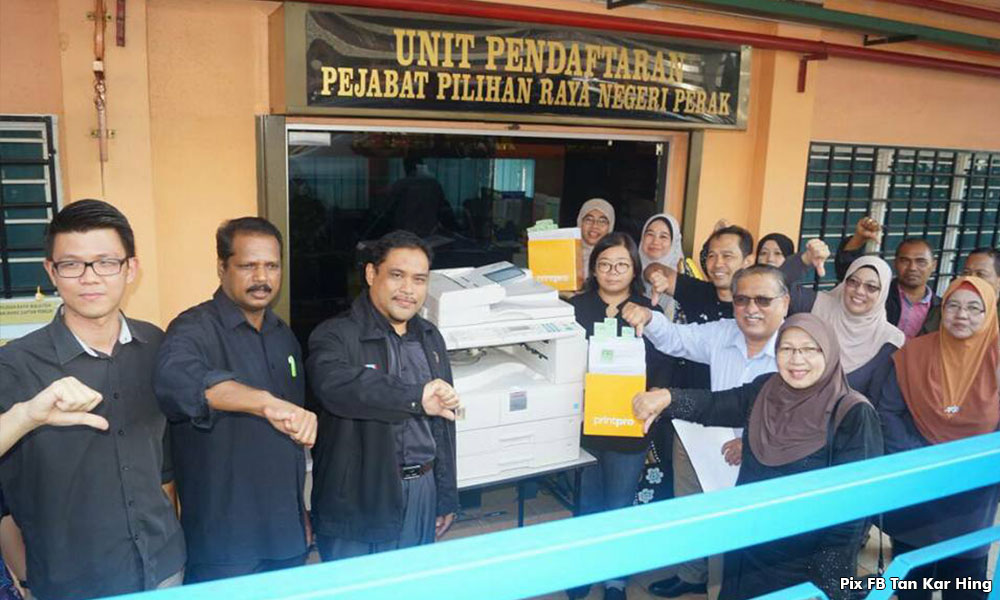 YOURSAY
| 'I smell something fishy. If everything is squeaky clean, why hide behind the law?'
Mosquitobrain:
The Election Commission (EC) is constitutionally bound to carry out clean, free and fair elections. Providing the draft electoral roll to political parties who participate in elections is part and parcel of clean, free and fair elections.
The EC should comply and clear all negative perceptions. It must not only be seen to be independent, it must act without interference from the 'higher ups'.
Drngsc:
It looks like the letter of the law allows for not providing a draft electoral roll, but good electoral practice by the EC dictates that it should provide it.
If they have nothing to hide, and are for free and fair elections, then they should, of their own volition, provide the draft.
Sepang MP Hanipa Maidin is correct. The EC's mandate is to conduct free and fair elections for Malaysia, not to help ensure Umno remains in power, by hook or by crook.
Hamzah Paiman:
They do all these things that arouse suspicion and unease among the rakyat. A job which requires high accountability and integrity is done in a slipshod way.
We laugh at other Third World countries, but we are no better.
Basically:
Regardless of the law and the lame excuses, the question is moot. Why stop providing access and transparency? Is there something fishy?
The EC claims the elections are clean, they are fair, yada, yada, but despite all the allegations claiming otherwise, they refuse to show the details to prove that perceptions are wrong.
Which only means one thing. The allegations hold water. There is no need to give technicalities.
Go ahead, hide behind the letter of the law (made by BN), but we know the truth.
Anonymous_1375701728:
Yes, I smell something fishy. If everything is squeaky clean, why hide behind the law which previously was not adhered to?
Hmmmmm:
"He (a legal expert on election laws) also argued that only those who were affected from errors contained in the draft electoral roll should do the checking."
How are people able to know if they are affected by these errors if they are unable to check for them? It's a chicken and egg, Catch 22, 'heads I win, tails you lose' situation with the EC.
Mushiro:
Obviously former minister Raja Nong Chik Raja Zainal Abidin is planning to try another attempt at contesting the Lembah Pantai parliamentary seat, and that is why the noise - but arrogantly late, as the 14th general election (GE14) is coming very soon.
Raja Nong Chik still feels he has done wonders for Lembah Pantai, but he has nothing good to show except to talk bad about incumbent MP Nurul Izzah Anwar.
Anonymous_1388029052:
Raja Nong Chik, Nurul defeated you in the 2013 general election, when you were a federal minister and had enormous government funds and machinery to your advantage.
In the preceding 2008 general election, Nurul, then a novice and 28 years old, defeated a senior minister cum Umno Wanita chief, Shahrizat Abdul Jalil.
What does all these tell us?
Anonymous #37634848:
Raja Nong Chik, your take on Nurul Izzah is not the same as the rakyat's. She is not "touch and go" as you insinuate.
She could turn out to be our future prime minister. Of course, BN is in control and you discriminate against the elected MP and the rakyat who had voted for her.
The EC is busy with its redelineation project, allegedly to help you win. There is no need to beat your breast to hear the sound in the air.
Drngsc:
It is true that Nurul Izzah's seat is under threat. Not because of Raja Nong Chik, but because of the Election Commission redrawing the boundaries of Lembah Pantai.
We have to work very hard to overcome the alleged abuses by the EC to help Nurul Izzah retain her seat, so that we can change the tenant at Putrajaya.
Basically:
Raja Nong Chik, you can fool the uneducated PPR (low-cost public housing) residents but not the rest of us Lembah Pantai voters.
Umno has held this seat for decades and you have destroyed this place. We ask you, what have you done, besides use your power as Federal Territories minister to woo the poor voters, but ignore basic services to the constituency, as minister?
When you campaigned in the 13th general election, you didn't even upgrade the facilities in the place, you merely used cheap cement to pave over the cracked sidewalk, on which you distributed oranges to voters.
But the horrible conditions of Bangsar have remained untouched for over two decades. Broken railings just metres away from where you campaigned are still broken. Broken pavement tiles haven't been replaced.
Worse, as FT minister, you couldn't even build a multi-storey carpark for the Bangsar mosque. By the way, using government resources and claiming this is how you can serve the voters is pure abuse.
You were a minister and a member of the government. Nurul Izzah, in contrast, is only an MP. If you can't tell the difference between the two, please don't run for the seat again.
Ib:
Here is a good example of an opportunist. If BN were a good government, it would have treated all fairly and not persecute those that don't support them.
Now it's too late. Najib's wickedness is out for all to see.
Allforit:
The money for public housing belongs to the rakyat. I am so ashamed that a country's leader would discriminate against his own people.- Mkini