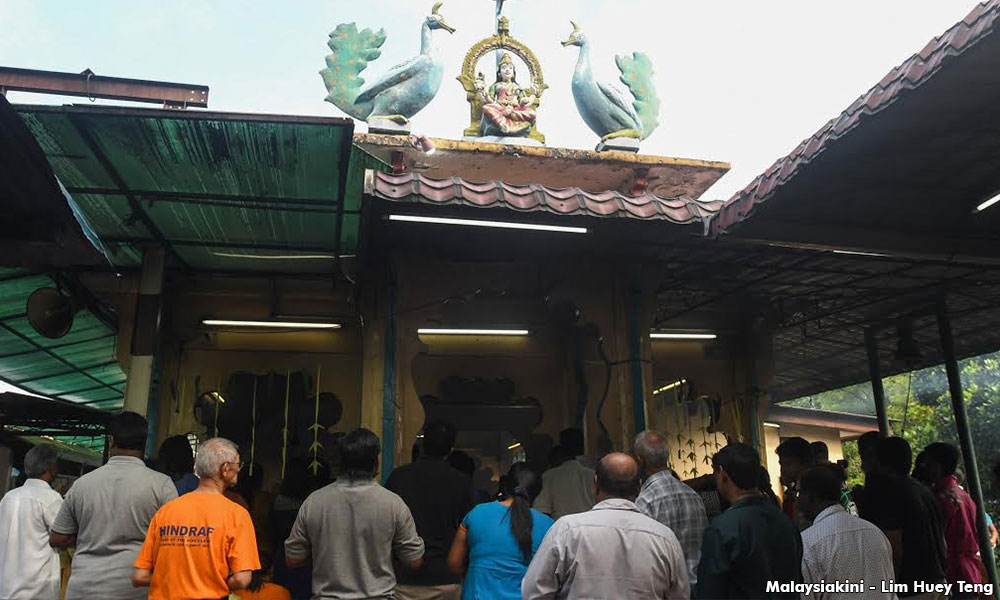 The Selangor state government has been urged to step into a tussle involving a Hindu temple in USJ-Subang Jaya.
At the crack of dawn, devotees began gathering at the Seafield Sri Maha Mariamman Temple, which is located off the Damansara-Puchong Highway (LDP), spurred by a message spreading on social media that the temple would be demolished.
While the demolition crew did not come, an eviction notice for the temple to be vacated expires today.
Devotees are said to have been praying at the site since at least 1891, when the temple grounds were opened by Indian estate workers.
A fig tree - which is sacred in Hinduism - on the land is said to be over 140 years old.
However the temple grounds are now on private land, which in 2007 was purchased by One City Development Sdn Bhd.
In a press statement two days ago, the temple's management committee president KK Chelapa said a larger piece of land in USJ 23 has been secured to relocate the temple, with One City Development agreeing to contribute RM1.5 million for the construction.
Chelapa said a consent judgment in 2014 saw all interested parties - including a rival claimant to the post of temple committee chief, M Nagaraju - agreeing that the temple be moved.
But Nagaraju - who claimed his grandfather had built the current temple structure - and several Indian NGOs backing him, now want the temple to stay where it is.
They have urged the state government to step in and save the temple on its religious and historical merits.
Nagaraju said the temple's devotees are also willing to buy the land from One City Development
"But they (the developer) said we couldn't buy the land. We said don't worry, you just quote the price," he said at a press conference at the temple today.
Nagaraju said an alternative option was for the developers to build around the temple.
Concerns over location for new temple
Malaysian Indian Progressive Association (Mipas) president Rajaretinam Armuggan, who was also present, expressed concerns about the proposed location for the new temple.
Rajaretinam said the new location was a Muslim majority area, and as such, temple celebrations, including chariot processions, may disrupt the local community.
"This could create problems," he said.
Malaysian Indian Education Transformation Association (Mieta) chairman A Elangovan, who was also present, expressed similar concerns about the possibility of religious tensions.
When contacted, Chelapa said the developer and state government would have taken these factors into consideration before proposing a new site for the temple.
He said the court order and the consent judgment were clear and that there was no further need to discuss the relocation.
"We want to follow the law, not the law of the jungle," Chelapa told Malaysiakini.
Those opposed to the temple move warned that the state government may face political backlash over the matter.
"They will end up paying a big price if they fail to settle this issue. Are they ready for that?" Rajaretinam said.- Mkini