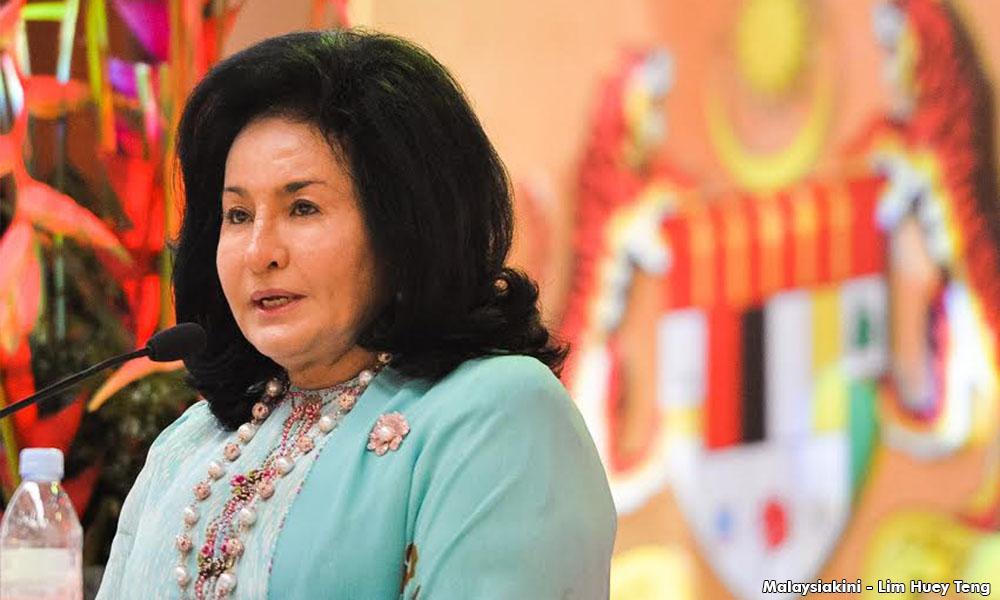 http://www.malaysiakini.com/news/385760

(DOJ) finally shed light on US$620 million that (MO1) returned to "donor".

US$27.3 million used to buy 22-carat pink diamond for "MO1's wife."

returned "donation" used by Jho Low to purchase US$750k photo gift for DiCaprio

Rahman Dahlan confirmed MO1 was Najib
DOJ claimed US$731m misappropriated 1MDB funds in MO1 personal accounts

included US$681m transferred in March 2013
money was transferred to MO1 from, and later returned, to Tanore Corporation.

Singapore court on 1MDB established account controlled by Low.

what happened to US$620m mystery until listed in DOJ's 251-page suit y'day

June 2013, 2 months before sum returned, Low contacted jeweller Lorraine Schwartz
urgent diamond necklace with "18 carrot (sic) pink heart diamond"

next month, Schwartz travelled to Monaco with 22-carat pink diamond to meet Low
on board yacht were wife of MO1

On yacht, group discussed design of necklace to hold pink diamond.

Schwartz's next encounter with MO1's wife was in New York on Sept 28

Najib and Rosmah in New York at the time for UN
Najib addressed assembly on Sept 28.

necklace delivered in Hong Kong on March 7, 2014, delivered to MO1's wife

US$27.3m for jewellery from the US$620m MO1 returned to Tanore in Aug 2013

Sept 9, 2013, US$58.85m from Tanore channelled to Midhurst Trading Limited
S'pore courts established opened by Low under alias Eric Tan

US$32.76m transferred from Midhurst to DBS account for Blackrock, held by Tan

2 transfers made to Schwartz's Bank of America accounts totalling US$27.3m

Low used Tan's email to ensure his name not associated with diamonds

Low purchased 27 different 18-carat gold necklaces for MO1's wife, total US$1.3m

using funds misappropriated from Deutsche Bank loan meant for (IPIC)
diverted to dubious company mimicking IPIC subsidiaries.

another purchase using US$620m was photo titled "Boy with the Toy Hand Grenade".

U$750k photo purchased with funds from Tanore

Aug 30, 2013 US$334m sent from Tanore to Enterprise Funds and Cistenique

Sept 4 - Sept 6, 2013 US$232.9m wired from Enterprise and Cistenique to SRC Intn'l

US$233.4m wired from SRC Intnl to Pacific Harbor Global Growth Fund.

Sept 10 US$228.7m transferred from Pacific Harbor to Affinity Equity.

Oct 28 - Oct 30, 2013, Affinity Equity transferred US$1m to Platinum Global

from this account US$750k for photo paid on Nov 1, 2013.

in March 2014, Low gave photo to DiCaprio as gift

The US$681m MO1 received become popularly known as RM2.6b donation
My comments : Masalahnya orang Melayu UMNO tak faham benda ini semua. Entah apa benda lah "wire transfer", "carrot" itu sayur kan, Pink Panther kami tahu lah, tapi apa benda itu pink diamond?
Tentu saudagar emas dan berlian Syed Akbar Ali pun tak akan tahu apa itu pink diamond. Apa benda ini semua?
Folks, this was just a case of outright theft.
Tidak ada beza daripada kes curi itek dan ayam di kampong.
Depa curi duit orang - duit rakyat umum. Berbilion duit kita depa sudah curi.
Lepas itu depa pi joli dengan duit kita yang dia curi itu.
Beli berlian, beli kapal, beli rumah, buat filem lucah dsbnya.
Itu yang telah berlaku. Ini adalah kes curi.