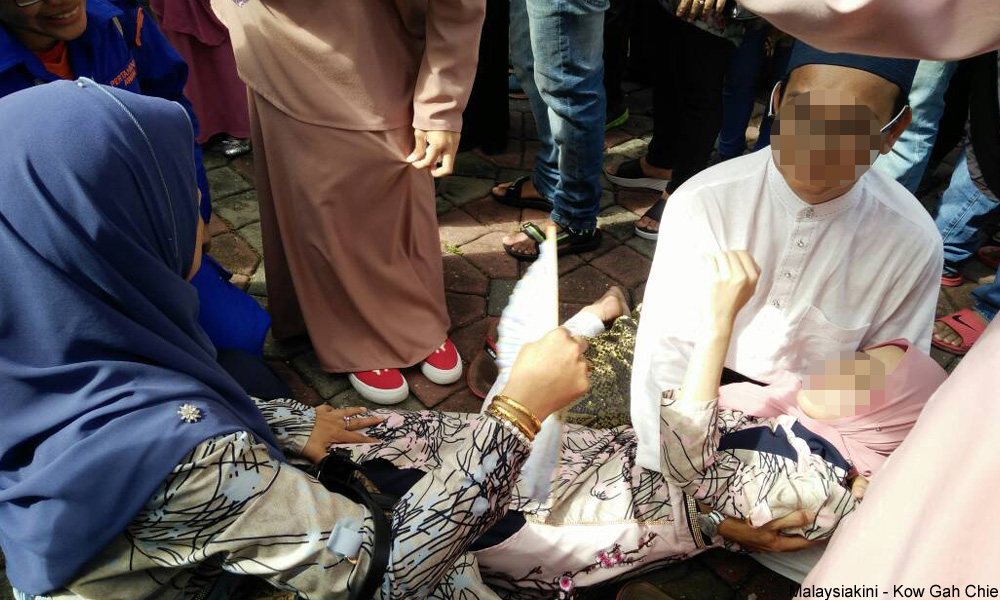 A trip to the prime minister's open house today took an unfortunate turn for a young woman, who was hit by a motorcycle outside Seri Perdana in Putrajaya this morning.
Malaysiakini found her lying in pain on the ground as her family was queuing up to enter Prime Minister Najib Razak's official residence.
However, the precise location where the accident took place is unclear.
At first glance, she appeared as if one who had suffered dizziness while standing in the long queue under the hot sun.
When asked, another lady clad in the same traditional Malay outfit, believed to be a relative, said the victim was hit by a motorcycle.
An ambulance then arrived and sent her to the hospital.
It is a tradition for the head of the executive to hold an open house on the first day of Hari Raya Aidilfitri.
The security at Seri Perdana was tight this year, and the public were made to go through a security scan.
The police conducted body checks and inspected the bags of visitors.
Several hundreds waited at least half an hour before they could enter.
After seeing toddlers and children crying, the security eventually allowed parents to enter without having to queue up.
"It is getting very difficult (for us) to see the prime minister," said a man sitting on a road divider in front of the queue.
Most of the public were however content with waiting patiently for their turn.
Meanwhile, Bernama reported guests gathering as early as 9am at the entrance to Seri Perdana. The open house is from 10 am to 4 pm.
Buggies transported senior citizens and disabled people to the tents where food and drinks were served.
The well-wishers were greeted by Najib, his wife Rosmah Mansor, Deputy Prime Minister Ahmad Zahid Hamidi, and the ministers, among them Tourism and Culture Minister Mohamed Nazri Abdul Aziz, International Trade and Industry Minister Mustapa Mohamed and Works Minister Fadillah Yusof.
Najib, clad in a red-orange 'baju Melayu', and Rosmah as well as the cabinet ministers arrived at noon and began greeting the guests, among them leaders of political parties, foreign diplomats, NGO representatives and corporate leaders.
The Seri Perdana grounds were transformed into a sea of people who took the opportunity to exchange greetings and take photographs with Najib.
The well-wishers were served a variety of food, mostly local delicacies such as satay, rendang, lemang, ketupat and nasi himpit, and handed goodies packs while children were given 'duit raya' (money packets).
A free shuttle bus service was provided to pick up and drop off people at three locations, namely Putrajaya Sentral, Tuanku Mizan Zainal Abidin Mosque and Putra Mosque, at 15-minute intervals.
-Mkini