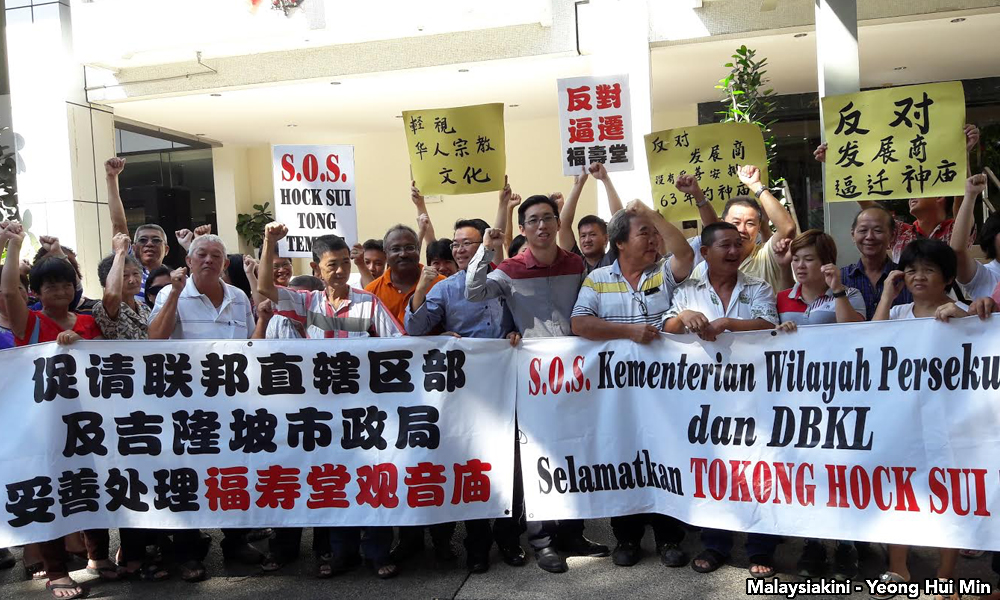 A Taoist temple caretaker and its devotees today won a bid to stop the demolition of a place of worship by a private developer.
Lawyer P Uthayakumar said Kuala Lumpur High Court judge Justice Mohd Zaki Abdul Wahab delivered the decision on an originating summons filed by Kepong Development on Dec 7 last year, seeking an order to demolish the Hock Sui Tong temple in Kepong.
"The judge ruled that Kepong Development Sdn Bhd had named the wrong defendants in its originating summons filed for an order to demolish the temple," he told Malaysiakini when contacted.
According to Uthaya, the plaintiff had in the lawsuit wrongly named the temple caretaker Ng Ah Sang and those whose names were unknown as occupants of the three plots of land at Lot 19126, 19127 and 19128 in an area known as Taman Kepong.
Uthayakumar represented 170 temple devotees, including former deputy minister Tan Chai Ho, who had last December
filed
an application to be named as defendants in the suit.
In the application, Uthayakumar said he argued that the plaintiff had intentionally failed to name Tan as a party although it knew that Tan was one of the patrons and main devotee of the temple.
Hearing of the application was however postponed several times and will no longer be heard now after today's decision, he added.
At the time, it was reported that Ng himself had filed an affidavit to support the application to substitute his name with Tan as the first defendant, and the Persatuan Penganut Hock Sui Tong to replace the unnamed others as the second defendant.
Uthayakumar, meanwhile, also described the judgment as a landmark decision that represents a victory for freedom of religion in Malaysia.
"The judge also ruled that even if the developer had named the proper parties, the Chinese temple is not a 'trespasser simpliciter'," said Uthayakumar.
He explained the ruling meant that the temple was not a trespasser or squatter on the land as the plaintiff had claimed in their affidavit.
In delivering the decision, he added that the court also ordered Kepong Development to pay costs amounting to RM3,000 to the temple.- Mkini