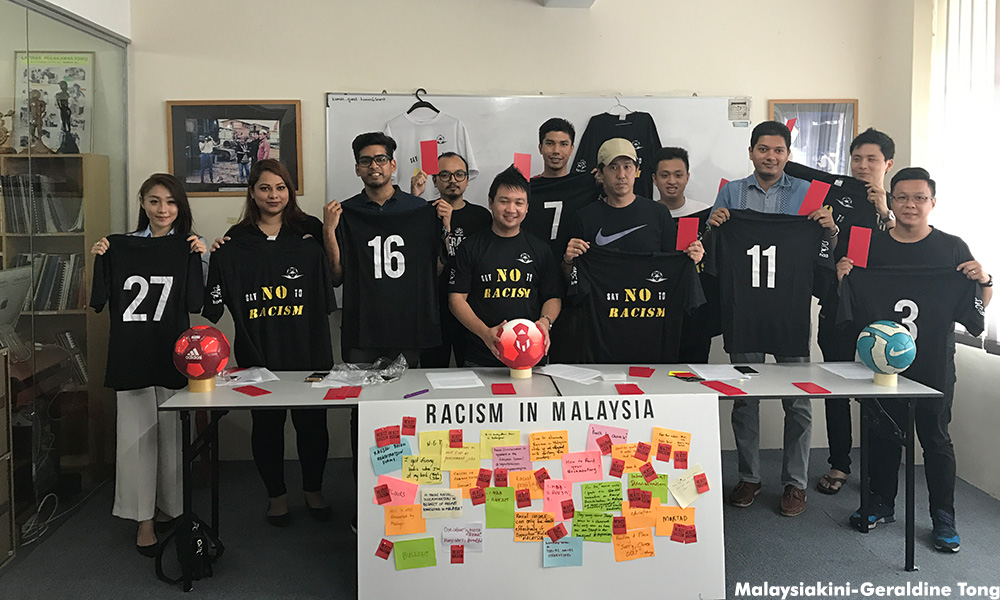 Project Football Rakyat, a football team consisting of players from various racial and political backgrounds, intends to host a match in conjunction with Malaysia Day to promote unity among Malaysians.
"This year we are planning to organise another special Malaysia Day match and we hope to continue our campaign to promote unity with football," Project Football Rakyat manager Vince Tan said in a press conference in Petaling Jaya today.
He also said that the football team had won a grant of RM2,000 from Pusat Komas this year, which they used to make their team's football jerseys.
The words "Say No to Racism" are emblazoned on the front of the jerseys and Tan said he hopes that along with the power of unity of sports, will inspire others to fight racism in Malaysia.
It is also part of their ongoing initiative called Red Card Against Racism, he added.
Tan said the football team, which was started in September 2015, consists of members from all sides of the divide, whether by race, religion or political affiliation.
Among the members in attendance at the press conference, today were activists, lawyers, and politicians from DAP and Gerakan.
"Together, we send out messages like our theme 'Red Card Against Racism' so that all Malaysians can come together (against) the racism and extremism that is spreading in the country and play a sport that unites all of us," Tan said.
Their method of campaigning against racism, he said, includes organising friendly matches with different local groups and sending players to play with teams from other communities.
They also plan on doing community outreach programmes soon, he added.
"We hope to be able to spread and carry the message of unity to other local communities," he said. - Mkini