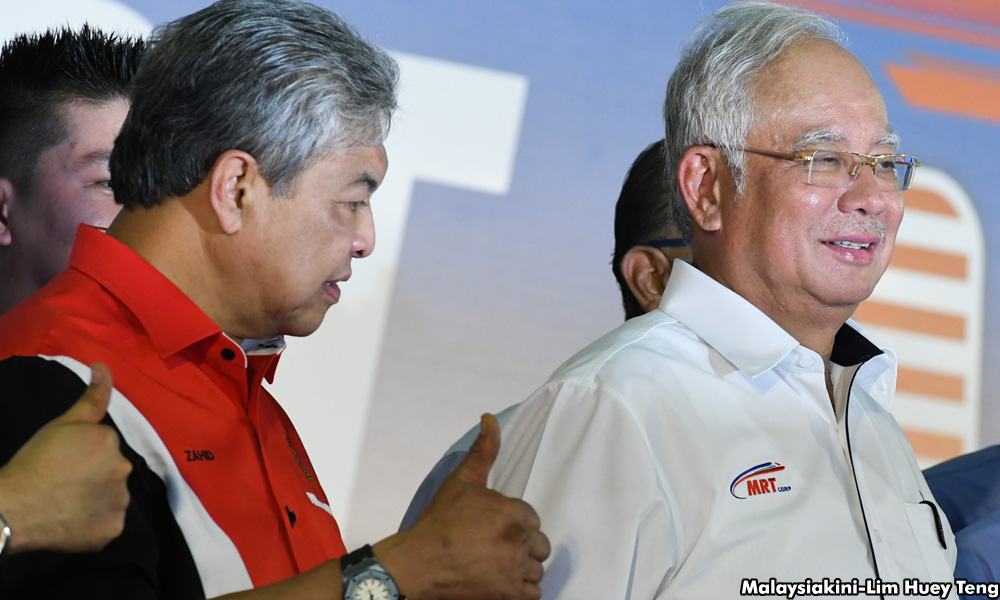 Prime Minister Najib Abdul Razak today expressed confidence in the loyalty of his deputy Ahmad Zahid Hamidi despite former prime minister Dr Mahathir Mohamad's attempts to cast doubts.
Najib said he believed Zahid will not go back to Mahathir after what the latter did to Zahid when he was prime minister.
Najib referred to Mahathir's detention of Zahid under the Internal Security Act (ISA), which he likened to putting a "pistol to his head".
"He (Mahathir) used his full power (against Zahid), like putting a pistol to his head.
"That is why Zahid does not forget. That is why it does not make sense for the deputy prime minister to meet Mahathir and ask for his support.
"It is impossible and false, it is a slander," Najib told delegates when officiating the Shah Alam Umno division delegates' meeting in Shah Alam today.
Mahathir in a blog posting alleged Zahid had sought for his support in replacing Najib as prime minister.
Brushing aside the claim, Najib went on to speak about his long relationship with Zahid.
"Now he (Mahathir) wants to pit me against Zahid. He doesn't understand that Zahid and I go way back to 1986, we went through thick and thin together.
"I defended Zahid in Bagan Datoh (during the party election) against the then Umno division leader, in the end, he (Zahid) won with 11 votes.
"I defended Zahid since the start because he was my friend... I knew about his misery.
"Zahid was Umno Youth chief but he was placed under the ISA. Can you imagine if I were to put the Umno Youth chief under the ISA?" he said.
-Mkini