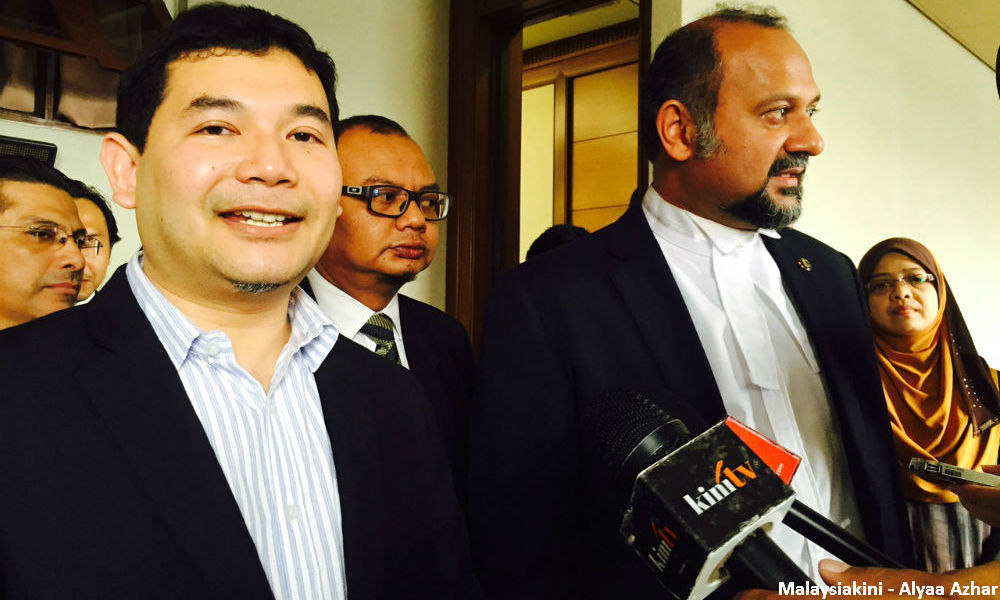 The Kuala Lumpur High Court was told that a Sessions Court judge took the "wrong approach" in convicting PKR lawmaker Rafizi Ramli of breaching the Official Secrets Act 1972 (OSA), for which he was sentenced to 18 months in prison.
Defence counsel Gobind Singh Deo pointed to the inconsistency in the meaning of page 98 of the 1MDB audit report, where the Sessions Court judge and prosecution perceived it as a "partial page" whereas the accused perceived it as an "entire page".
"Only part of the page was presented (in court). It was obvious that the prosecutor failed to prove the case. The learned judge was wrong in his approach," he said.
If Sessions Court judge Zulqarnain Hassan had told Rafizi that page 98 could be defined as a partial page from the beginning of the trial instead of three months later, Gobind said the defence would have taken a different approach.
Gobind said that his client would not have given an unsworn statement from the dock
"If the judge has something else in mind, he must tell the accused, then I would have advised him to take a different stand.
"How can we have a scenario whereby the judge who called for defence, interpreted the page 98 differently but remained silent," he asked during submission in Rafizi's appeal.
Deputy public prosecutor Abazafree Abbas, however, argued that the protection of official documents is the purpose of the OSA.
"We just need to prove that the document (in Rafizi's possession) was classified under the OSA, this is sufficient," he submitted.
Although the document was just part of the page, he said it still came within the remit of the OSA.
"As such, the disclosure and possession of a part of page 98 constitute an offence under the OSA. The defendant is not denied of any rights," he added.
After hearing submissions from both parties, Justice Azman Abdullah fixed Aug 23 for decision.
Rafizi, who is also PKR vice-president, was found guilty of unauthorised possession and disclosure of page 98 of the 1MDB audit report at the Parliament lobby on March 28 2016.
He was
convicted
under Section 8(1)(c)(iii) and (iv), which carries a jail term of up to seven years each.
He was sentenced to 18 months in prison by the Sessions Court in November 2016.
The court ordered that the sentences run concurrently and granted a stay pending Rafizi's appeal to the High Court, and raised the bail from RM3,000 to RM5,000. - Mkini