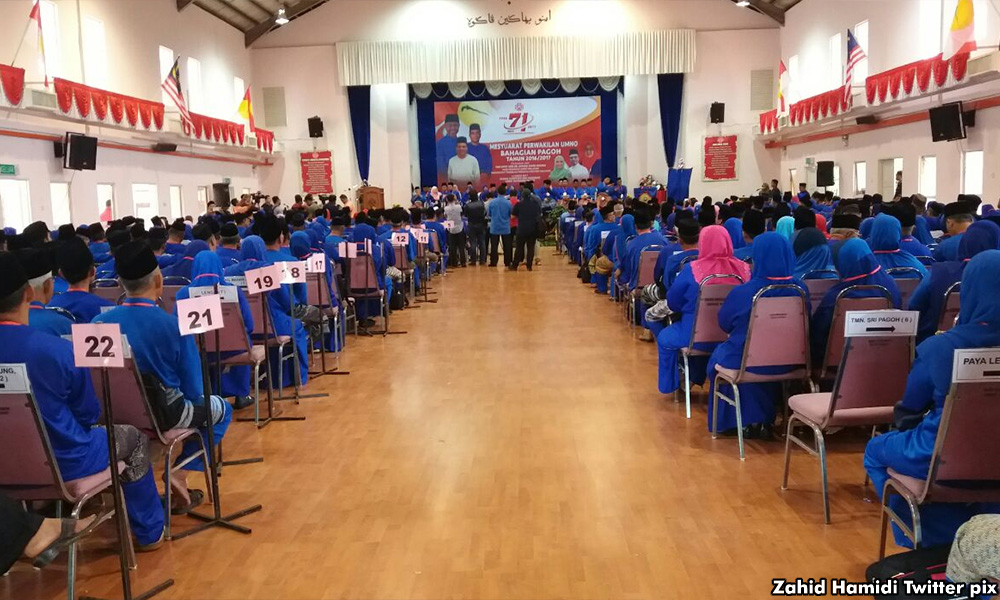 It has been slightly over a year since Parti Pribumi Bersatu Malaysia president Muhyiddin Yassin was sacked from Umno for his criticisms towards party president and prime minister Najib Abdul Razak.
However, he remains an MP for Pagoh, with seven terms under his belt. He first won the seat on July 31, 1978 and was later appointed as Pagoh Umno division chief in 1984.
While it remains unclear whether he will defend his seat in the 14th general election, one thing is for sure - Pagoh Umno members are ready to move on from his legacy and prepare for a possible battle.
At the Pagoh Umno division meeting in Dewan Pekembar yesterday, delegates from all four party wings told
Malaysiakini
that the time has come to unite under leadership of Bukit Serampang state assemblyperson Ismail Mohamed, who has held the post of acting division chief since Muhyiddin's
abrupt departure
last June.
At least 20 branches in the division also passed motions in full support of Ismail and Umno under Najib's leadership.
Durian Chondong Umno branch chief An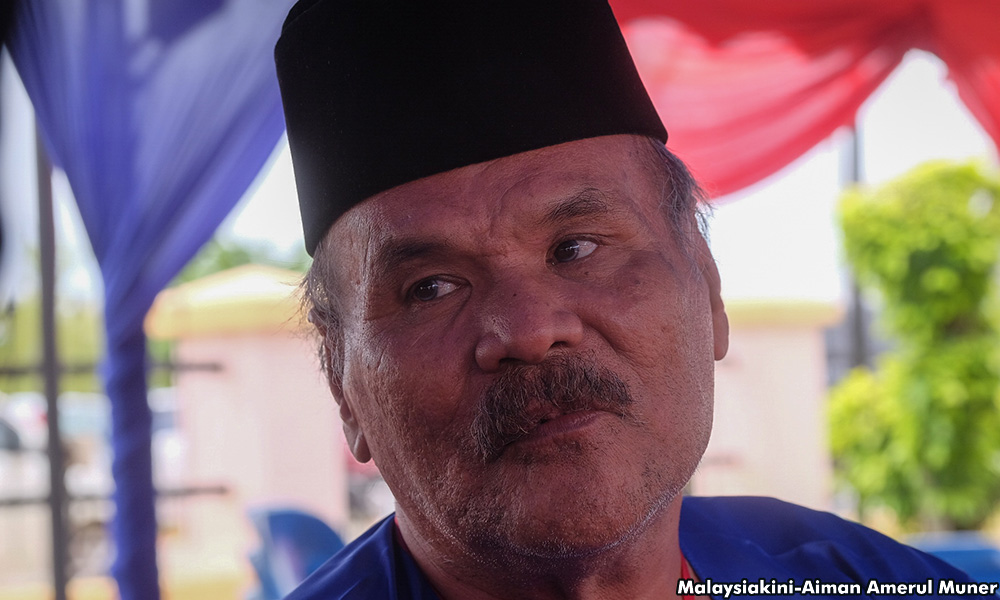 uar Hamzah (
photo
) said that loyalty to a leader is the key to Umno's strength in Pagoh.
"From what I have seen and experienced, so far there has been no problem (in Pagoh).
"What is needed now is to maintain cooperation between Pagoh Umno and all the branches," said the veteran Umno member of over 40 years.
Anuar, who is also a village chief in Durian Chondong, said that Ismail is perceived to be more approachable than Muhyiddin, who was often busy with his ministerial duties.
Asked whether Ismail should be promoted to contest the Pagoh seat, Anuar said he should be retained to defend his state seat, and the party should put forward another candidate to be fielded at the parliamentary level.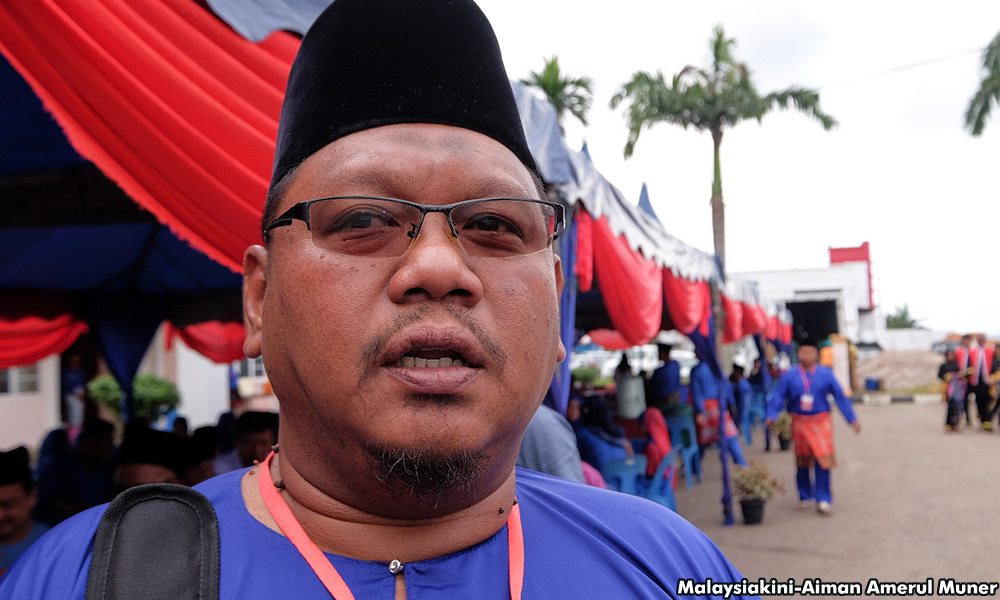 Pagoh Umno deputy youth chief Helmy Afendy Ismail (
photo
) concurred with Anuar's view that the current leadership has been more in touch with the constituents' needs.
"(Ismail) has a created a new political culture where he often goes down to the ground to meet the people.
"So much so that he has dedicated his time to meet with first-time voters who all this while did not even know who were their elected representatives," said the 41-year-old. He added that he had served both Muhyiddin and Ismail in various capacities.
On Muhyiddin and Bersatu's influence in the area, Helmy said it was undeniable that his departure had left some impact on Pagoh Umno.
"But to see what is happening in Permatang Pauh? That will never happen," he stressed, alluding to the sacking of jailed PKR de facto leader Anwar Ibrahim in 1998 as then deputy prime minister and Permatang Pauh MP.
The "Justice for Anwar" struggle had triggered an exodus from Umno and eventually gave birth to PKR's predeccessor Parti Keadilan Nasional, reminiscent of how Bersatu was formed after Muhyiddin's sacking.
Umno Pagoh division secretary Fajardin Mohd Salleh meanwhile said he did not consider Bersatu a threat to Umno.
"It was only in the very beginning that we felt like something was different," said the 60-year-old, who has been an Umno member for over four decades.
"Now we are used to it," he added.
On the question of Umno's candidate for Pagoh, Fajardin, unlike his party colleagues, said that Ismail has the potential to contest the seat.
Since Bersatu was formed earlier this year, observers noted that it had yet to present any prominent women leaders or gain traction among women supporters.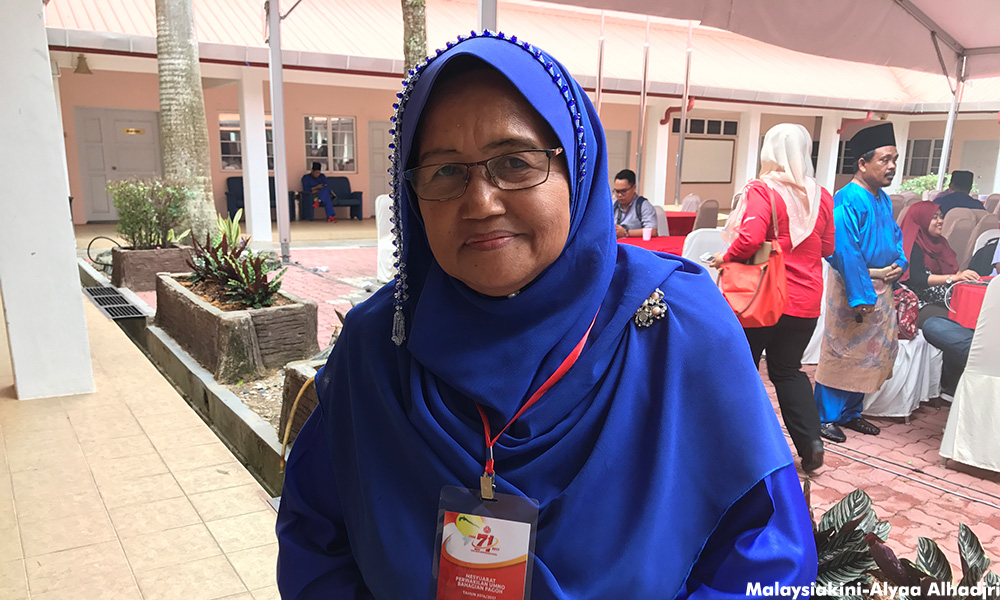 Pagoh Wanita Umno committee member Jamilah Mahadi (
photo
) said the same trend can be observed in the area, with none of her friends having left the party to join Bersatu.
"My spirit will remain the same because Umno 'dulu, kini dan selamanya' (then, now, and forever)," said Jamilah, citing the party's motto.
"Wanita (Umno) has not changed. None of us has resigned. In fact we increased our members," said the 63-year-old who was accompanied by her son, also an Umno delegate.
"This is a challenge. The attention is now on Pagoh," she noted.
As a member of the youngest wing in Umno, Rafidah Talib from the Felda Sri Ledang Puteri branch is open to allow her elders to continue leading the party.
At the same time, she noted that Ismail's leadership has signalled an opportunity for the younger leaders to rise within the ranks.
Johor Menteri Besar Mohamed Khaled Nordin had in his speech urged delegates to
move on
from nostalgia for Muhyiddin and ensure a plan to defend Pagoh.
De facto Umno deputy president Ahmad Zahid Hamidi also spoke to delegates, encouraging them to stop being overly "obsessed" with a leader and instead channel their obsession into loyalty towards the party. - Mkini