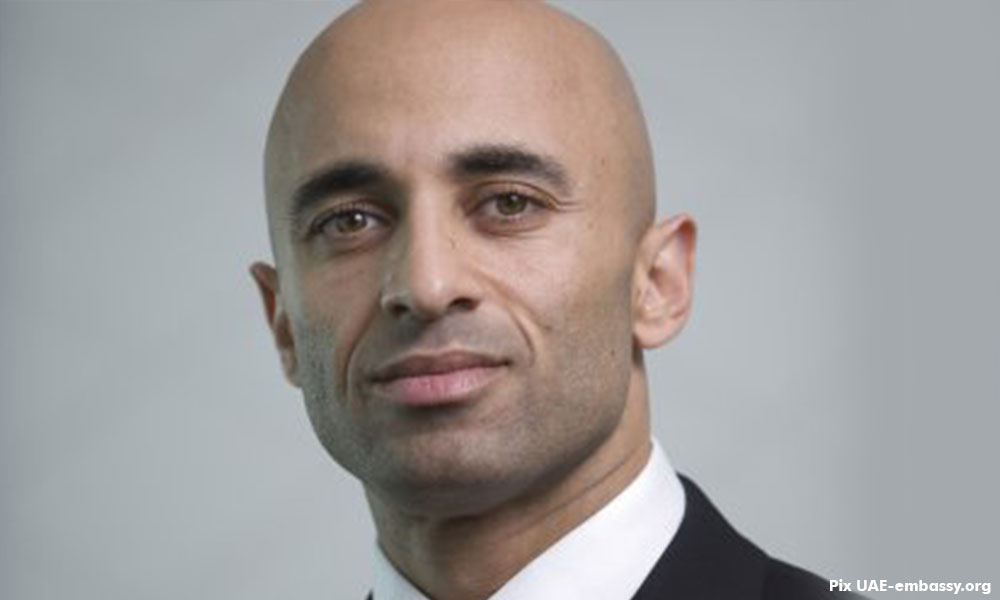 Leaked email communications have exposed alleged links between United Arab Emirates (UAE) ambassador to the US Yousef Al Otaiba and key figures in the 1MDB scandal including Penang-born buinessperson Low Taek Jho, better known as Jho Low.
According to the Wall Street Journal (WSJ), the email communications provided by Global Leaks showed Yousef used his diplomatic influence to persuade banks in the UAE to provide a loan to 1MDB.
The report said Yousef had in September 2014 encouraged Abu Dhabi banks to participate in a short-term refinancing loan being arranged by Deutsche Bank for 1MDB, stating that it was important for UAE-Malaysia relations.
"We appreciate your attention and commitment to successfully executing this facility," Yousef had allegedly wrote to the banks, based on the leaked emails.
The WSJ, which had reviewed the emails, said the text was identical to what Eric Tan had provided to Yousef.
The US Department of Justice (DOJ) had described Tan as an associate of Jho Low and Singapore court proceedings revealed that Jho had used the name "Eric Tan" as an alias for banking and communication purposes.
The DOJ in its third civil forfeiture filing on the 1MDB scandal found US$700 million out of a US$975 million Deutsche Bank loan from 1MDB was diverted, some of which was used by Jho Low to
purchase jewellery
for Australian model Miranda Kerr.
The WSJ, citing Singapore investigation papers, said British Virgins Islands (BVI) company controlled by Yousef and his business partner Shaher Awartani received a total of US$16 million before and after the endorsement.
Days before Yousef's email backing the Deutsche Bank loan to 1MDB, a US$3 million payment was made to the company and another US$13 million was paid two months later, it said.
The report said both payments originated from a BVI company owned by Tan.
The US$16 million payment was on top of another
US$50 million
received by companies linked to Yousef which the WSJ in a report last month claimed originated from 1MDB.
DOJ seeking to seize the hotel
The WSJ, citing another email, said Yousef had in December 2009 also urged the billionaire founder of Colony Capital in California to accept a bid from a hotel operator to buy the L'Ermitage Hotel in Beverly Hills.
The hotel operator was partly owned by Low's family trust.
"I'm contacting you today to endorse this bid as the UAE ambassador but also as someone who understands that the full weight of a major investment entity is behind this project," Yousef allegedly wrote.
Low's private investment company eventually bought the hotel for more than US$45 million in 2010.
The DOJ is now seeking to seize the hotel which it claimed was acquired using stolen 1MDB funds.
The report said the emails included a discussion between Yousef and Shaher about buying "toys" after allegedly receiving a "transfer from Jho".
"I think we each deserve to buy a nice toy in celebration, what do you think? The 458 Italia maybe?" Shaher and allegedly wrote to Yousef, in reference to a Ferrari.
However, Yousef wrote back to say such "toys" in Abu Dhabi "will attract unnecessary attention", said the report.
The report said both Yousef and Shaher had declined to comment.
Low's spokesperson had claimed that the emails provided a "biased and inaccurate picture".
The WSJ said the emails also included communication from Low to Shaher as the transactions gained scrutiny from US, Swiss and Singapore authorities.
"Need to speak as questions being asked. Want to ensure coordinated," Low had allegedly written to Shaher from an email address affiliated with the island of St Helena in May this year, according to the report.
It said the emails also showed that a Credit Suisse banker handling the finances of Yousef and Shaher had in 2015 informed the duo that Low instructed for their bank accounts to be closed amid queries being made about the source of their funds.
The bank also said Low had asked for them to answer queries about the accounts in person and not through emails.
The report said Yousef and Shaher closed their bank accounts a few weeks later and moved the funds elsewhere.
Malaysiakini is unable to independently verify the WSJ report.- Mkini